Surviving Holiday Flights
Tips For Dealing With Peak Travel Season
COVID slowed us down for a couple of years, and now a few health issues challenge us.  We're still traveling if not writing about it quite so much. Our goal in 2022 was get to all seven continents in one year... and we did it.

Going forward health issues may not allow us to travel.  No one can take away those memories though.  We hope all of you are well and staying safe... and that you find some inspiration here for YOUR future travels. 

Surviving holiday flights... OK, surviving travel during any peak travel season... takes some thought and planning.
You know there are going to be crowds. There are probably going to be inexperienced travelers. That means lines will be long.
What can you do to make it better?
Plan your flights strategically.
Try to catch the first flight in the morning... there are fewer delays.
Try to make that flight a non-stop if you can.
Go ahead and look for the lowest airfare, but often those come with plane changes and layovers.
The weather could be fine where you're departing and arriving... but you could get stuck in a snow storm where you change planes in between.
Weigh your options... is it really worth it to save a few bucks? Consider paying a little more for that non-stop flight...
Non-stop flights can make surviving holiday flights easier.

That leads us to... watch the weather.

Check local weather reports frequently leading up to your flight.
You can't change the weather, but you can anticipate delays caused by bad weather... and if you're resourceful and lucky, you might be able to change your plans.
(Holiday flight trials include more than just winter storms. Summer thunderstorms in the U.S. or monsoons in Asia can disrupt your flights just as easily. Surviving holiday flights takes patience in the summer too.)

Arrive at the airport even earlier than you usually would.
Expect long security lines.
The day before your flight (24 hours in advance), check in and pay for any checked luggage online. (Better yet, don't check any luggage at all. Try for carry-on only.)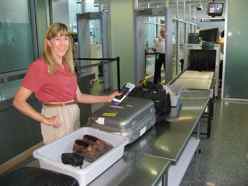 Be prepared at security....
Help keep those lines shorter, and we'll all be surviving holiday flights more easily.
Have your ticket and ID handy at all times. Yes, you'll have to take your shoes off in the U.S., even in winter, so leave the lace-up boots at home or in your suitcase.
Check the Navigate Our Site box on the right for more tips----->

Send gifts ahead... or shop and ship online.
If you do carry gifts with you, don't wrap them for carry-on. You may have to unwrap them, and that will create more stress!

If you're traveling with kids, keep them busy...
Pack puzzles, crayons, coloring books, or their own electronics.... but quiet ones please. Your fellow passengers will be much happier if there aren't all those bells and whistles!

Once you've checked in, walk around the airport.
Exercise can help reduce stress. Don't stray too far from your gate for too long though... you don't want to miss your flight! If there is a delay, the same thing applies.

BUT... Don't stray too far from the departure gate.
In rare instances, they may say there will be an hour delay... but the plane could be ready in a half hour. They WANT to get it out on time. Announced delays may be approximate. Be there.

Take the train or bus to the airport.
That can save stress and reduce your carbon footprint. Use off-airport parking if you must drive... you'll save money and avoid at least some of the traffic. Some off-airport lots will let you make reservations.

Try to plan for a day at home at the end of your trip.
You'll be less stressed not having to rush back to your routine, plus you'll have a built-in time buffer in case your return trip is delayed.
Here's an alternative idea for surviving holiday flights....
Take the train! If the option is available, short trips can be faster by train... Plus there are no security lines and fewer problems with weather.
Whether it's a major holiday or just the summer travel rush, plans for surviving those holiday flights will help you enjoy your trip.
Happy travels... even if you don't travel the world... just remember that life is a journey... embrace and enjoy it! Judy and Mark
Curious about what else we've written about?  Search our site for a destination or travel tip.

But... We'd love to have you share this page or comment on it…
Thanks, Judy and Mark

Return to International Travel Tips l Europe Travel Tips
Go from Surviving Holiday Flights to MouseToursTravels Home Page