Airport Departure
Oh Boy!
Security Lines and Passport Control
COVID slowed us down for a couple of years, and now a few health issues challenge us.  We're still traveling if not writing about it quite so much. Our goal in 2022 was get to all seven continents in one year... and we did it.

Going forward health issues may not allow us to travel.  No one can take away those memories though.  We hope all of you are well and staying safe... and that you find some inspiration here for YOUR future travels. 

Airport Departure! You've conquered getting around in that foreign country.
You're tired and ready to go home, or at least move on to the next city....

How do you communicate with airline agents?
What do you have to go through to get to the departure gate?
If you're an experienced traveler, you have a good idea of what to do next...
...But if you're new at this, here are some tips on what to expect at your airport departure.


See our tips on Airport Arrival too, and why we think the Airport is Your Friend.
If you're moving domestically within a country or within special zones like the European Union, some of these steps may be skipped, but internationally, most will apply.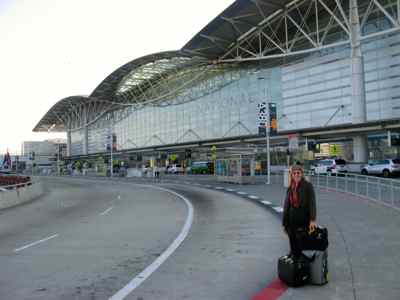 SFO - International Departures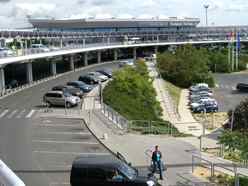 Budapest Airport (BUD)
Get there Two Hours Ahead of Airport Departure  ...or MORE!
Make sure you pay attention to how early you should get to the airport...  There will usually be an announcement about this from the airline on arrival, and you can check with your air carrier.
Advised or even required check in times are getting to be earlier all the time...
Even twenty-five years ago, I remember getting to the airport in Delhi, India, and if you weren't there two hours to flight time, you weren't going to get on your flight.... and that's CHECKED IN two hours to flight time!
In some counties just getting to the front of the check-in line can be a real competition, so we recommend just planning on getting to the airport well before your flight and hope to get ahead of the crowd in counties where that may be the case.
It's much easier on our nerves to just sit and read a book once we're checked in than it is to worry that we might not get to the front of the line in time!

First Stop for Airport Departure
-- The Ticket Counter
Your first step for leaving any country is to check in with the airline. There may be security questions to answer before you even get to the ticket counter especially if you're traveling to the United States. Questions about where your bags have been and who packed them.
Most airline agents speak English as well are their local language.... and probably several languages.
Have your passport out and ready. The agent can check it and access your e-tickets. Have your tickets ready if you have paper tickets.
It's pretty straight forward... get your seat assignment, check in luggage if you need to. Some airlines have tight weight restrictions for carry-on luggage, so you may have to check bags you usually carry.
You may be given a government departure card to fill out.
Departure Tax?

Some countries require a departure tax, it always pays to check on this earlier in your trip.
It may be included in the price of your airline ticket, or it may need to be paid at the airline counter... or even at a special government cashier.
If you need to pay it separate from your ticket, check to see if this departure tax must be paid in local currency so you save enough to get out of the country.  Sometimes you can use dollars or euros or a credit card.... sometimes not.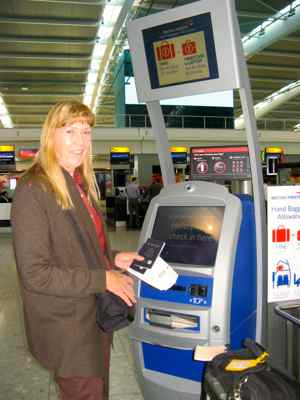 Kiosk Check-in

Kiosk check-ins are getting more sophisticated all the time. You may be able to check in from home or at an airport kiosk, but you will have to show an airline agent your passport.
Before you can go through the security line, you will be asked for your identification and boarding pass to verify that they match.

Airport Departure and Passport Control
In the US you don't go through a government passport control checkpoint. It's the airlines that check your documents... once we let you in, it's usually pretty easy to leave! There's just the TSA security to negotiate. The lines may be long (another reason to get to the airport early) but follow the rules and you'll get through with a minimum of aggravation.... read our Travel Security Alert Packing Guide and related pages.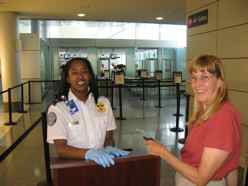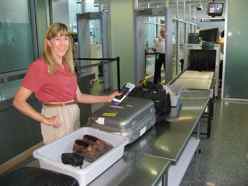 Most other countries, you will to through a passport control check to get "stamped out" (though some counties don't stamp your passport anymore).
But don't think you'll get out of security lines... you'll find those everywhere in the world now.
Some counties require that you hang on to half of the form you filled out when you came it. The Immigrations Agents will give you the half of your arrival/departure card if this is the case... don't loose it! (Or you may have been given a form at check in as I mentioned above.)
Some countries may require proof of money you've changed. Don't worry too much about this... unless you've changed tons of money on the black market which we don't recommend. Just save your ATM or bank receipts.... you may never even be asked for them.
Get Through To The Departure Area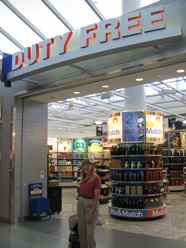 We like to go through security and passport control as soon as we can, so we know there are no hang ups to delay us.
Inside the secure area, big airports will have lots of duty free shopping, book stores and food places.
Smaller airports may have next to nothing, but they will usually have at least a small bar with local food and water.
DO get to your departure gate with plenty of time to spare.

Watch For Changes For A Smooth Departure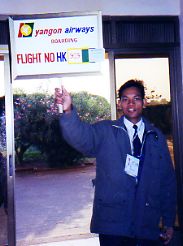 Departure announcements may be clearly posted and announced in several languages or they may be in the local language... and perhaps English as well.
The announcements may be garbled or hard to understand with local languages.  It's up to you to stay alert and stay on top of it.
If you have any questions ask an agent or even fellow travelers. If you have problems with the language... show them your boarding card with your flight number and destination. People everywhere are nice and will help you.

Watch for gate changes or delays... or even flights taking off early in really remote areas.
It isn't hard to keep track of your flight.... but just don't be daydreaming or duty free shopping until the very last minute.

There Is ALWAYS An Announcement

Remember Mark worked for an airline, and he has hundreds of stories about passengers saying... "I was just sitting in the bar, and I didn't hear the announcement."
There is ALWAYS an announcement. You just have to be paying attention so your airport departure goes smoothly, and you don't have to spend another night!
MORE Security?!?

Yes... You may have to go through another round of security at the gate and show your passport again... especially if you're traveling TO the U.S.

Security is tighter than ever these days. Just remember the agents aren't trying to make it hard on you, they're just following the law and doing their job. Answer the questions, pull your computer and liquids out yet again if necessary and just think.... you're almost on that plane home or to your next destination.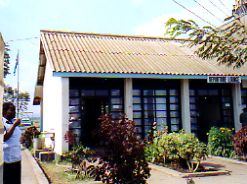 Airport departures from small domestic airports may not have changed through the years, but you should be prepared for any of these procedures anywhere.
As with airport arrivals, I don't want to make this seem overwhelming. I just figured information is a good thing, and if you know what to expect, your airport departure won't be a problem.
Remember.....going or coming, the airport is your friend. You may not believe that, but we do! Before long, you're on your way home with great memories of another trip of a lifetime... I can say that because near or far from home, we love travel so much that we think of each one as the trip of a lifetime.
Happy travels... even if you don't travel the world... just remember that life is a journey... embrace and enjoy it! Judy and Mark
Curious about what else we've written about?  Search our site for a destination or travel tip.

But... We'd love to have you share this page or comment on it…
Thanks, Judy and Mark

Travel Security Alert Packing Guide  What Can You Fit In That Plastic Bag?
Foreign Money Matters   Foreign Language
return from Airport Departure to MouseToursTravels Home Page