One, One Quart Carry-on Plastic Bag
What Goes In It? What Really Fits?
COVID slowed us down for a couple of years, and now a few health issues challenge us.  We're still traveling if not writing about it quite so much. Our goal in 2022 was get to all seven continents in one year... and we did it.

Going forward health issues may not allow us to travel.  No one can take away those memories though.  We hope all of you are well and staying safe... and that you find some inspiration here for YOUR future travels. 

"If you must put your liquids in a carry-on plastic bag for airline travel, can you really pack enough in that little bag for a whole trip?"
Ah yes, the carry-on plastic bag dilemma...
Ready travelers?
All of us have been dealing with the restrictions on your liquids, gels, and creams for years now.

We've gotten pretty good with fitting our "stuff" into those little bags, so we'll tell you how we do it.
And to answer the question,
Yes...
We can usually go a whole trip for up to a month with what we fit in the two bags that we're allowed between us.
To get right to our lists, scroll down now... or...
We'll go over the basics first.
How big is that carry-on plastic bag? What size bottles?
The rule started out as 3 ounces (about 90 ml) or less in a one quart-sized, clear, plastic, zip-top bag. Of course most of the world uses the metric system, so it's a one liter plastic bag, and 100 ml. And since this is pretty much a world-wide requirement, it has been modified through the years to make for a uniform requirement.
Now the standardized upper limit for those containers for your liquids, creams and gels is 3.4 ounces or 100 ml.
One bag per passenger...
...and it must be taken out of your carry-on and placed in the screening bin unless you have TSA PreCheck, then you can leave it in.  Some countries also let you leave the bag in the carry on... just ask... they'll tell you their rules.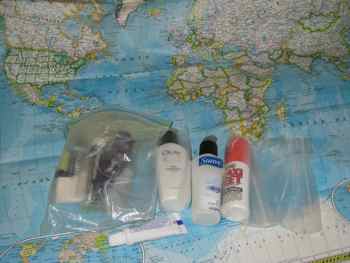 And remember, no half full larger bottles...
... that won't fly!
I know... Bad pun, but lots of people still think this is OK.
Still confused? We've tried to explain the frequently misunderstood points of this rule on our page about What you have to do to carry your shampoo and other liquids on the plane...
Remember when you're packing your medications, they don't have to go in that plastic bag.
That carry-on plastic bag is so little! How much can you fit in it?
Can you possibly survive without your giant size shampoo and lotions?
We do, and we think you can. We thought it might be helpful to see our list of what we pack in ours. We always travel together, so we have two bags to work with, but here is basically how we divide it up.
Judy...

3.4 oz (100 ml) shampoo

3.4 oz (100 ml) hair cream rinse

1 oz (28 ml) hair "detangler"

sample size toothpaste (or 90 ml when I can find it)

3.4 oz (100 ml) facial cleanser

2 oz ( 59 ml) facial moisturizer/sunscreen

1 oz (28 ml) night moisturizer

2 oz (59 ml) Liquid hair spray

mascara

Lipstick and 1 oz eye drops, and 2 oz contact lens solution can usually go "outside the bag", but I can squeeze them in if I have to.
Mark...

sample size toothpaste (unless I can find that 90 ml size!)

3.4 oz (100 ml) sunscreen

1 oz. (28 g) cortizone cream

1 oz. antibiotic cream

2 oz (50 ml) Preparation H

3.4 oz (100 ml) insect repellent if we need it

Chapstick if they insist on it going in the bag.
Many hotels provide shampoo, so unless you MUST have you're own brand, a small amount of shampoo will go further than you think. I try to buy toothpaste when we travel. I can't find that 90 ml size in the US, but it is available in most of the world.
Can't Deal With These Security Restrictions?
Remember, if you can't fit it in that one quart plastic bag... or if you forget something.... you can always buy it there... no matter where THERE is!
And if you absolutely positively can't live without those larger amounts... check your luggage. You can carry as much as you want as long as you check it.
If you want the official version...
In case you really want to read the rules and regulations, here's a link to read about the restrictions right from the source... The US Transportation Security Administration - the TSA Liquids rule.

Hope this helps... really you can get by with that pesky carry-on plastic bag... and still enjoy traveling!
Happy travels... even if you don't travel the world... just remember that life is a journey... embrace and enjoy it! Judy and Mark
Curious about what else we've written about?  Search our site for a destination or travel tip.

But... We'd love to have you share this page or comment on it…
Thanks, Judy and Mark

Travel Security Alert Packing Guide  Packing Your Cosmetics  Carry-on-Packing Tips  
Packing Your Cosmetics   Packing Medications for Security Alerts  
Form to Declare Medications  
Basic Packing List   Cold Weather Packing List
Go from Carry-on Plastic Bag to MouseToursTravels Home Page