Electricity Worldwide
Travel Tips for Foreign Plugs and Power

COVID slowed us down for a couple of years, and now a few health issues challenge us.  We're still traveling if not writing about it quite so much. Our goal in 2022 was get to all seven continents in one year... and we did it.

Going forward health issues may not allow us to travel.  No one can take away those memories though.  We hope all of you are well and staying safe... and that you find some inspiration here for YOUR future travels. 

"I was looking for packing tips… Who knew I needed to know about electricity worldwide… I didn't know there was a difference!  Thanks for the helpful tips," Paula
When you're excited about planning all the fun places you'll go, lights and power are really the last things on your mind, but there are some things you should know...

Flip a switch, and you have electricity... the lights come on. You just expect that most of the time...
I mean as long as you're not camping or staying in a remote jungle lodge. Then you sort of expect lanterns and candles.
Plug in an appliance, and it will go on too... right?
Not necessarily.

It will only turn on if that appliance or electronic gizmo will run on the current that's used in the country you're visiting.


Electricity is the same all over the world, but DIFFERENT!!!
There are different voltages and currents all around the world... not to mention the shape of plugs.
Electricity worldwide is always there.... it's just delivered differently. So what do you need to know about electricity around the world?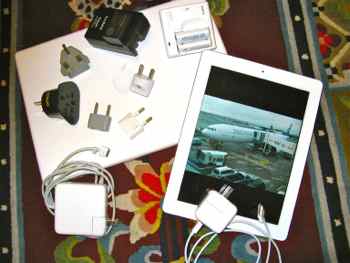 There are two basic standard wall currents in electricity worldwide.... 100-120 versus 220-240 volts. --The U.S. mostly operates on 110. --Europe and much of the rest of the world on 220.
Everyone is taking a bag full of electronics these days… This is some of what we carry...
Don't forget you need to charge your phones and cameras. 
And remember shavers and curling irons too...

So what should you do to make sure yours will work?


Check the voltage requirements on the gadgetry you plan to take abroad... and compare it to what is available in the country you're visiting.
Two basic standards of voltage to deal with for electricity worldwide
There are two basic standard wall currents in electricity worldwide.... 100-120 versus 220-240 volts.
      --The U.S. mostly operates on 110.
      --Europe and much of the rest of the world on 220.
You'll need to read the guidebook or look up what is used in the country you're visiting.
When you're traveling, it's important to know if you need to "step up" or "step down" your voltage with a transformer or converter so you don't damage your appliance. We don't carry a converter... most of what we take has one built in... one way or another.
Dual Voltage Appliances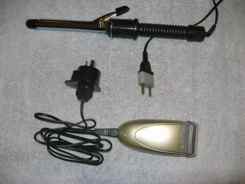 Our shaver and curling iron are dual voltage, but if yours are not, you'll probably need a voltage transformer or converter so they will work, and you won't burn them up.
Dual voltage appliances are great for travel. They'll work with electricity around the world without requiring a transformer or converter... though they'll probably need adaptors.
See how they're attached to the plugs in this photo?
Some dual voltage appliances accommodate automatically. On other appliances you may need to flip a switch. (That's the way Mark's old razor was. If that's the case, you might want to change that setting as you pack so you don't forget to change it once you arrive.)
So now you've got the voltage figured out... whether it's dual voltage or if you need a converter. But you're not ready yet...
Now what about the socket shape?
A bunch of different plugs!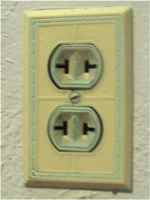 Huh? Yep, there's more to learn about electricity around the world!
Electrical socket shapes differ from country to country. Some countries have more than one socket shape!
Not where I live, you say?

Think about it... even in the US you can find these two and three prong sockets.
Remember, if you have a dual voltage appliance or that transformer, you'll probably need an adaptor so that you can plug it into the wall socket.

So... What about charging your electronic equipment?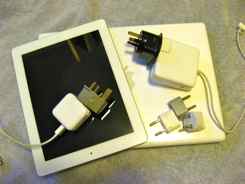 Most modern electronic equipment like laptops are multi-voltage, meaning they will operate on voltages ranging from 100-240 volts.
The plugs usually come with their own built in converter...
...So you will be OK with just an adaptor... and you probably will need one... so know which adaptor you need. 
Then, you can go ahead and charge your computer, cameras, camera batteries and phones…

Even off in jungle camps and safari lodges, we've found that our computer and cameras charge just fine....
...when they turn on the generators.
At Cock of the Rock Lodge in the Peruvian Amazon, we had candles in the rooms, but we could charge our cameras in the dining room.
What about a jungle lodge in Madagascar? Generators on when you need them.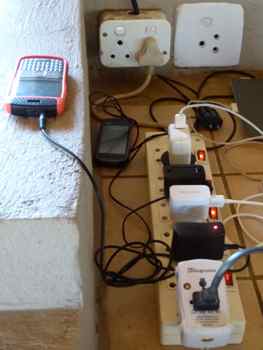 A remote farm and jaguar preserve in the Brazil's Pantanal? Everything charged just fine.
Camping in Kruger National Park in South Africa? Our safari trailer had a generator and plugs for charging whatever we needed to charge… wouldn't want to miss those photos of lions!
Tented camps in Africa?  Power strip gets crowded when the generator's on.  And check out those round three hole plugs---> 
But don't worry... if you carry the adaptors, you'll find something that works, and everyone is usually pretty cool about sharing.
So for travelers, electricity worldwide is almost always on... at least some of the time.
A safety tip for power surges and brown outs or black outs...
Electricity is delivered a little… ah… inconsistently in some parts of the world.  Just know that you could encounter blackouts, brownouts, and/or power surges.

Blackouts with NO power are one thing. Lots of candles in your room might tip you off that this could be something to expect!
You might encounter rolling brown outs in some parts of the world… where there is less power delivered… Some are actually scheduled… some are not. Either way, that might be hard on your electronics.
And there could be power surges… just in general or when the power comes back on.
If you're worried about power surges, spikes or dips for your laptop, plug your laptop in only to charge it...
...and operate it on battery power.
If you really want to be safe, get a surge protector designed to operate with the power system in the country you're visiting. In the U.S that's a 110-120 volt surge protector; in most of the rest of the world you'll need a 220-240 volt surge protector.

Take Care Shopping for Some Electronics Abroad
One last thought about electricity worldwide... and shopping this time....
If you see an electronic item that you wish to bring home as a souvenir, check it's voltage requirements... you may need a transformer to operate it at home!!!
We were visiting a sick uncle one time who went to Germany for treatment. He wanted to buy a portable CD player (this was before iPods and MP3 players!). Anyway, he bought it, but when he got it back to Florida, he needed both an adaptor and a converter to use it.
This business about electricity around the world being different works both ways!
Happy travels... even if you don't travel the world... just remember that life is a journey... embrace and enjoy it! Judy and Mark
Curious about what else we've written about?  Search our site for a destination or travel tip.

But... We'd love to have you share this page or comment on it…
Thanks, Judy and Mark

Go from Electricity Worldwide to MouseToursTravels Home Page