Mixed Weather Packing List....
What If It's Hot AND Cold!
COVID slowed us down for a couple of years, and now a few health issues challenge us.  We're still traveling if not writing about it quite so much. Our goal in 2022 was get to all seven continents in one year... and we did it.

Going forward health issues may not allow us to travel.  No one can take away those memories though.  We hope all of you are well and staying safe... and that you find some inspiration here for YOUR future travels. 

"On my vacation I'll have hot and cold weather. Any tips?"

Our mixed weather packing list should help you out.
We've taken many trips where we had to pack for hot and cold weather in the same trip.
A basic packing list needs to be tweaked for each trip...


...with this one we like to add layers.

We like traveling in May and September.
The weather is usually good in those months almost anywhere in the world...
Unless you're looking at wet and dry seasons instead of just hot and cold.
When you're planning a trip that's what you need to research.... all of that... hot, cold, wet and dry.  
Fickle Weather Calls For A Mixed Weather Packing List
Spring and Fall can also be fickle when it comes to weather, so it's good to have a mixed weather packing list.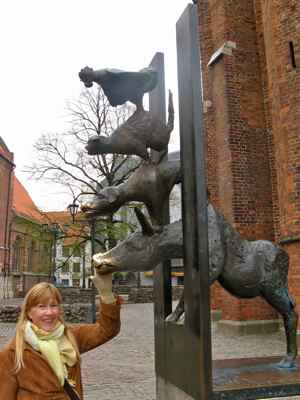 We went to the Baltic countries a couple of years ago in May. They ARE pretty far north, so we used our mixed weather packing list.
We leave the heavy coats at home unless we really know it's going to be cold... and we just layer.
I'll admit, our first day in Riga, Latvia, it was sooo cold I thought I was going to have to buy a coat.
Notice the coat, scarf, gloves.... and the runny nose in this picture!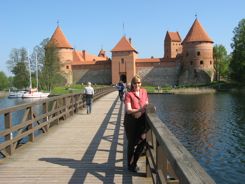 Two days later...
And only a little further south, we had a sunny warm day in Trakai, Lithuania, and I was in short sleeve shirts and needed a hat!
Most of the trip was somewhere in between, but it sure was nice being able to layer as needed.
That's what a mixed weather packing list let you do. Modify ours to make it your own.
Maybe You're Traveling To Different Climate Zones
A few years ago we went to China and Bhutan, starting in Bangkok, Thailand.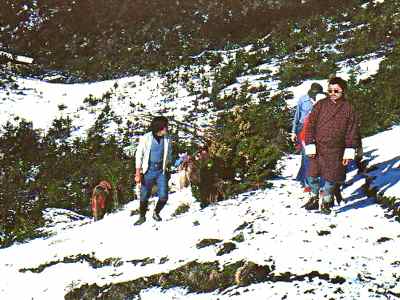 We knew it was going to be hot in Bangkok, but Bhutan is fairly high in the Himalayas.... the weather can be nice in April and May, but it can also be cold.....
And we were worried about this because when we went to Bhutan many years ago, we were caught in a blizzard when we went trekking!
We used our mixed weather packing list then too.
Don't Always Believe The Weather Forecasts
You can look up average temperatures and the long term forecast on weather.com or similar website, but you know how often weathermen are right (or wrong!).
When we went to Scotland a couple of years ago, the 10 day forecast was for a week of rain. That sounded normal. What we got was a week of sunny, glorious weather!
When we looked up China and Bhutan on different web sites for that other trip, the projected temperatures varied by 10-20 degrees F (about 5-10 C) from site to site. So we left the parkas at home, but packed layers for potential cold too.
Think HOW You're Going To Mix It Up
You can take shorts and tank tops, but think about where you're going....
Shorts may not be acceptable everywhere.
When we visited Dzongs and Temples in Bhutan, long pants and collared shirts were required for men, and women couldn't wear sleeveless tops.
It always pays to check on the customs of the country you're going to.
The main thing is to have everything mix and match. That cold day in Riga I had on every layer I took! It may sound difficult, but with a little planning, you can pack well for hot and cold weather and still carry it all on.
So... Our Mixed Weather Packing List....
Judy's clothes for that Mixed Weather Packing List:

2 long sleeve blouses
2-3 short sleeve blouses or t-shirts (t-shirts layer too!)
1-2 pairs of light weight, colored jeans (I like black or brown)
1 pair khaki slacks
1 pair black slacks and matching top
      (to dress up or down; and wear on the plane)
1 light knit cardigan... to dress up or down; I pack this
1 heavier sweater/blazer/jacket to wear on plane
1 pair light weight walking shoes (I wore these on the plane)
1 pair sandals or a second pair of comfortable shoes
underwear -- 6 panties and 2 bras
3 pairs of socks and 3 pairs of Peds
Nightgown
1 silk long john top
1 turtle neck
1-2 light weight pull-over sweaters to layer
1 wool pull-over sweater
swim suit (I always take one... could be hot or an indoor spa)
1 scarf and gloves
1 hat

Mark's clothes:

1 pairs of khaki slacks (to wear on the plane)
2 pairs of denim slacks or jeans
1 long sleeve shirt
5 short sleeve shirts (Mark is almost never cold)
1-2 t-shirts (to sleep in or layer if needed)
1 swim suit that doubles as sleep wear
1 pair walking shoes for the plane and cities
1 pair tennis shoes
6 pairs socks (4 white, 2 black)
6 undies (laundry service was cheap)
1 pull over sweater
1 turtle neck
1 bandana or scarf and maybe gloves
1 hat
1 light jacket
Amenities Are Mostly The Same For Any Packing List:

curling iron (dual voltage so we don't need a voltage converter)
razor (dual voltage)
adaptors for those funny foreign plugs
shampoo and rinse (pack in plastic bags to prevent spills)
small containers of cosmetics
deodorant
travel alarm clock
binoculars
camera and plenty of memory chips
Digital video camera and charger
laptop or tablet (sometimes we do, sometimes we don't)
1-2 umbrellas and/or maybe raincoats or rain ponchos
sunglasses
prescription glasses ( and your prescription if you can)
contact lenses, eye drops and solutions
toothbrush, toothpaste and dental floss
plastic bags (in case your laundry or bathing suits don't dry)
insect repellant if needed
sun screen
2 small flashlights (one for each of us)
1 day pack
Inflatable contour travel pillow
A light weight "expandable" bag.... (folds to about 4x6 inches, expands to a respectable size carry on.)
Miscellaneous Papers.....
Passport!
paper airline tickets - or printout of your reservation number
visa confirmation vouchers
itineraries
confirmation of payment

Medications
all of your prescribed medications plus a copy of your prescription if you can
prescribed medications for the trip (like malaria pills)
Dramamine
Hand santizer wipes
aspirin
sinus/cold tablets
Tums or similar
     and of course.......
Pepto Bismol! We always take a box of tablets, and we were glad to have them!
Small First Air Kit....
adhesive bandages
antibiotic ointment
Preparation H
alcohol wipes
cortisone cream
And If You Forget Something
Even in far flung corners of the world you can buy most of what you might need.
Umbrellas, t-shirts and sweatshirts may be cheaper than at home.

Pharmacies have an amazing number of recognizable brands and pharmacists are more that willing to help you find what you need.
Remember that we advocate carry-on size luggage... even if you might run into heat or cold... with this mixed weather packing list, you can do it.
However you end up packing, remember, try not to check anything you can't afford to lose....... cameras, computers, medications. (Security alerts will influence what you can and can't take on the plane.)
If you do a lot of shopping or you find that your clothes expand as you travel (they do.... I don't know how!) you can use the day pack and expandable bag for extra space.
Happy travels... even if you don't travel the world... just remember that life is a journey... embrace and enjoy it! Judy and Mark
Curious about what else we've written about?  Search our site for a destination or travel tip.

But... We'd love to have you share this page or comment on it…
Thanks, Judy and Mark

Go to International Travel Tips l Europe Travel Tips
Hotel and B&B Tips l Packing Lists and Tips
Go from Mixed Weather Packing List to MouseToursTravels Home Page