The Normandy Beaches
Beauty Now and Lessons In History
COVID slowed us down for a couple of years, and now a few health issues challenge us.  We're still traveling if not writing about it quite so much. Our goal in 2022 was get to all seven continents in one year... and we did it.

Going forward health issues may not allow us to travel.  No one can take away those memories though.  We hope all of you are well and staying safe... and that you find some inspiration here for YOUR future travels. 

The Normandy beaches that are most famous... as least for historians... are the ones between Cherbourg and Le Havre.
They are also known as the D-Day Invasion Beaches.

While Normandy beaches are great for family holidays...
...there are miles of peaceful, sandy beaches to enjoy...
The area is a special draw for those interested in the history of World War II.
Americans, Canadian, English, and some French troops stormed these beaches on June 6th, 1944.
On D-Day, the beaches were anything BUT peaceful.
If you like history and airplanes, here is an event to plan a trip around….

In June 2019, the D-Day Squadron commemorates the 75th anniversary of D-Day, leading an American fleet of restored C-47 WWII aircraft in "Daks Over Normandy", a flyover of more than 30 international aircraft to drop 250 paratroopers over the 1944 drop zones in Normandy.   Should be pretty amazing.


Normandy Beaches - Names In History

The Allies gave the beaches code names....
Sword, Gold, Omaha, Utah, and Juno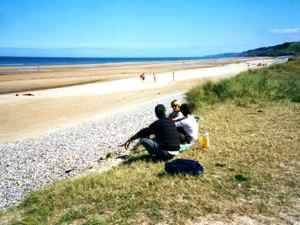 The British were assigned to Sword and Gold.
The Americans landed at Omaha and Utah.
The Canadian sector beach was Juno.
The beaches are still known by these code names.
The area is dotted with museums and reminders of that historic time.
We went because both Mark's and my fathers had been there, and survived.
We rented a car and did a drive through Normandy ourselves.

Drive Through Normandy

If you want to follow our route, start your drive in the east of Normandy.
Take Route 514 which winds its way up the coast past Juno and Gold beaches, the sites of the British and Canadian landings.
These beaches slope gently up to the town. Visit the little town of Arromanches.
Arromanches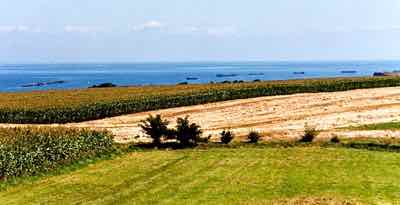 This is where the British created a "prefab harbor" by sinking old ships and cement blocks called "Mulberries".
You can still see the remains of some of this "temporary harbor" from the D-Day Landing Museum (Musee du Debarquement).  Those little black dashes in the photo above are bits of that temprorary harbor.

A similar barrier was built at Omaha Beach, but it was swept away within two weeks.
Omaha Beach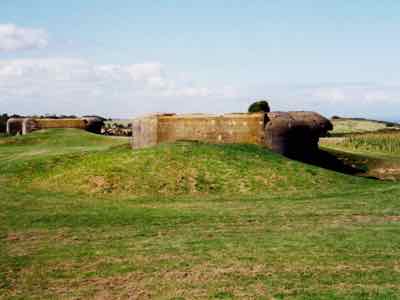 Continue on to Omaha Beach.
Both Omaha and Utah beaches end in steep cliffs, which contributed to the great number of American casualties.
Ruins of the German bunkers above Omaha Beach are still in place.
We've read that the French government says you can't picnic at the bunkers because they're considered grave sites.
There is an Omaha Beach Museum (Musee Omaha) which is interesting...
But walking that wide expanse of beach, now so peaceful, is an experience that will leave you reflecting on how freedom comes with a price.
Colleville-sur-Mer
Continuing west, you will come the the US Military Cemetery at Colleville-sur-Mer.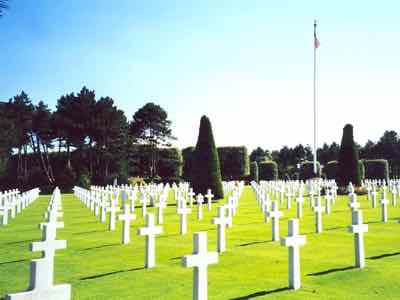 The Colleville memorial and cemetery overlooks Omaha beach, with a beautiful view of the English channel.
If this expanse of peaceful green, with the rows and rows of white grave markers doesn't leave you misty eyed, nothing will.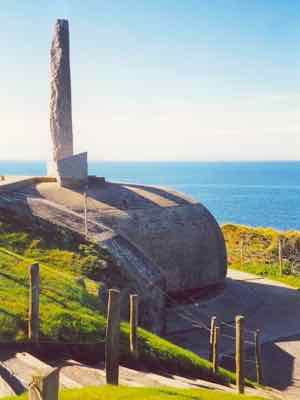 Pointe du Hoc
The last site you will come to is the Pointe du Hoc.
It is a rocky cliff jutting into the sea between Omaha and Utah Beach...
This is where the US Army Rangers struggled to take the cliffs at such great cost.
How To Get There

We think the best way to reach the Normandy Beaches is to get a rental car and drive from Paris like we did.
There are signposts all along the roads directing you to the different beaches and museums.
Visits to the area can be arranged in Paris... You can even do it as a day trip, but we think that would be rushed.

Where To Stay

There are small inns and B&Bs to stay at the towns along the beaches, and even some grander "manor houses" that have been turned into hotels.
You could choose to stay at an inland base for a couple of days at Caen or Bayeux.
The Museums

There are several museums in the area.  There is also a Memorial for Peace in Caen. It is sometimes called the Peace Museum.
If you really want to get an overview of the entire invasion, you might want to start here instead of rushing right to the beaches.
They organize day trips to the beaches with a guide.
Pause and Reflect

If you just want to wander the beaches and reflect, you can do that too.
All of the Normandy beaches look so peaceful that it's hard to imagine what it must have been like on D-Day.
Happy travels... even if you don't travel the world... just remember that life is a journey... embrace and enjoy it! Judy and Mark
Curious about what else we've written about?  Search our site for a destination or travel tip.

But... We'd love to have you share this page or comment on it…
Thanks, Judy and Mark

Return to International Travel Tips l Europe Travel Tips
Hotel and B&B Tips l Packing Lists
Go from The Normandy Beaches to MouseToursTravels Home Page