You Have Your Passport, Now A Visa....
COVID slowed us down for a couple of years, and now a few health issues challenge us.  We're still traveling if not writing about it quite so much. Our goal in 2022 was get to all seven continents in one year... and we did it.

Going forward health issues may not allow us to travel.  No one can take away those memories though.  We hope all of you are well and staying safe... and that you find some inspiration here for YOUR future travels. 

What is visa? Where do you get one and where does it go?
Did you think that all you needed to travel was your passport?
Sometimes that is all you need, but some countries also require a visa, so let's take a look at them.

Visas go in all those blank pages in your passport.
I'm assuming you've read the pages on passports, and you've got your passport or you'll soon have one.
If you're going to travel you need a passport...
I mean, come on, you need one just for bragging rights.

OK, Now Just What Is A Visa?

No, it's not that piece of plastic that you carry in your wallet.
Although I do recall one time entering Nairobi, Kenya and seeing a sign directing tourists to the proper office... the sign came straight from an advertisement for that very same credit card!
O.K. Let's get serious. A visa is permission from the country you are going to visit to enter their country.
We'll review some of the basics at the top, and get to questions you may have to answer at the bottom.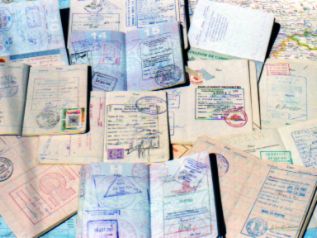 It's True, You May Not Need One

Many countries do not require a visa for entry if you are only going to visit on vacation for less than 30 or 90 days.
They will look at your passport when you enter the country, probably scan it into a computer, and they may or may not place an entry stamp in your passport.
For example, American citizens can travel to most countries in the European Union, Canada, Mexico and some South American and Asian counties without a visa.
You May Get One On Arrival

Some countries require a visa, but it can be obtained at entry.
This requires you to fill out paperwork on arrival. It may require passport size photos and a fee payable at application.
You should check ahead to see how many photos may be required for each country and how you can pay for it. For instance when we went to Cambodia a couple of years ago, the requirement was one passport size photo and US$20.00 cash.... no matter what country you came from, it had to be US dollars.
A Tip On Passport Photos:
You will need two 2" x 2" photos for your passport application anyway. Get extras in case you need them for visas.... 6-12 so if you need some you will have them on hand.
Carry them with you when you travel. They can be handy for those applications at the border or in case you lose your passport...
Though as we keep saying, we hope you've got your passport tucked safely in your money belt and you will never need to use them for this!
Just remember that they should be "current" photos, so you can't save and use them forever.

If You Need A Visa Before You Depart

Some countries require you to obtain a visa stamp in your passport BEFORE your departure.
This is not difficult. To do this you must obtain an application.... either by contacting the Consulate, United Nations Mission, or Embassy of that country and having them mail you one or by downloading an application off of the web.
Check with your government's website for information. U.S. citizens can check at the U.S. Department of State site.  Their Learn About Your Destination section lets you look up the country or countries you will be going to.  Look for their Foreign Entry Requirements. The State Department site also has links to Consulates and Embassies.
This site gives you general information on what is required if you are traveling for tourism, but check the link to the country anyway... for instance, the State Department site tells you most of the information you need, but you'll have to check with the Chinese Embassy to find out that China requires your passport to be valid for six (6) months and at least one full blank page.
Why worry about blank pages? There seem to be a lot of blank ones when you start. But if you really get into it and travel a lot, you may collect a lot of large stamps and have to add pages to your passport as we just did.
Once you have collected all the documentation you need, you will then have to carry your passport, application, photos and fee to one of those entities if you live near one, or you will have to mail your passport with the application, fee and photos to them.
Check With Each Country's Website

Each country has it's own rules and requirements, check on the web or with an official representative to get the appropriate information. You will probably have to provide return postage.
Allow Plenty Of Time
If you live in or near a city with a Consulate, you can drop off your passport and application yourself and pick it up... sometimes later the same day.... sometimes later in the week.
Some Consulates will mail your passport back to you, some won't. If you have to use the mail or an express delivery service it will take longer.
If you have to use the mail... Just remember to send your passport as securely as possible.
If you are visiting more than one country that requires a visa, it could take you a few weeks to get everything arranged... you and your passport can only be in one place at a time.
Remember that some counties require that your passport be valid for at least 6 months after the end of your visit.... so if it is getting near to the expiration date on your passport, you might just want to go ahead and renew.
Requirements may change from time to time, so even if you think you know what the requirement are because you checked years ago.... check again. You don't want to ruin a trip because you didn't get the visa!
Let's just say you want to go to Timbuktu... yes, there IS a Timbuktu. It's in Mali in West Africa. Check out the entry requirements for every adventurer's fantasy destination.
Now... Let me repeat myself. To find out what the procedure is for each country you want to visit, check with the Embassy of that country.
You can look up basic information on the US State Department site, but the ultimate requirements are defined by each country, and it's best to check with them.
Some Questions You Need to Answer Before You Apply:
     
Does your passport need to be valid for 3 or 6 months after your visit ends?

What are the photo requirements?

What is the application fee?

Can you pay with a credit card? A cashier's check? A personal check? Cash?

Do you need a letter or "invitation" from a travel agency?

Do you need a copy of round trip airline tickets?

Do you need proof of "sufficient funds"?

Do you need proof of a hotel reservation?

Do you need a copy of your Yellow Fever Vaccination Certificate?

Single entry or multiple entry.... you may think it's only one trip, but if you pass through a county more than once in visiting multiple counties in a region, you may need a multiple entry visa... which will almost always cost you more, but is worth it not having to work that out once you're on the road.
This may not be a complete list, but these are some of the questions we have come across in our travels.
There Are Companies To Help

There are service companies that will get visas for you for a fee. You still need to allow plenty of time. If you are using a travel agent they may be able to advise and assist you.
Remember to protect your passport on the road.... Wear your money belt... put the passport in it when you won't be using it.
Another good tip is to wrap the passport and money in a water tight zip lock bag.
Keep a photo copy of your passport in a more accessible place you may be able to show when asked; that may be enough, but you can always dig out your passport if you have to.
So get going. Get your passport, collect those visas, pack and get on the road.
Happy travels... even if you don't travel the world... just remember that life is a journey... embrace and enjoy it! Judy and Mark
Curious about what else we've written about?  Search our site for a destination or travel tip.

But... We'd love to have you share this page or comment on it…
Thanks, Judy and Mark