Acceptable Identification Document
What Do You Need In The Airport?
COVID slowed us down for a couple of years, and now a few health issues challenge us.  We're still traveling if not writing about it quite so much. Our goal in 2022 was get to all seven continents in one year... and we did it.

Going forward health issues may not allow us to travel.  No one can take away those memories though.  We hope all of you are well and staying safe... and that you find some inspiration here for YOUR future travels. 

The acceptable identification document you should have if you are going to be traveling outside of your home country?
First of all... Your passport of course.
This should be obvious, but here are some other details concerning your passport and other documents that you want to pay attention to.

There are a few things people seem to forget about or overlook…

… but not knowing the rules is no excuse. 

If you're going to travel... anywhere... you must know what kind of identification you need to take with you.

I shouldn't have to say this, but I will because it's happened…. 
If you plan to travel abroad, and your passport isn't in hand and valid... as in it expired last year….  or if you forget it at home....
You're not going.  Simple as that.

Your Passport Must Be Current  and…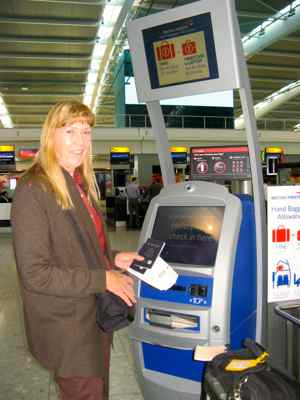 An old, expired passport is NOT an acceptable identification document in most cases. 
Your passport must be valid…. on the day you're traveling, when you're retiring home, and probably for 3-6 months after your return.

More and more countries are requiring that… So don't chance it…. Your passport must be valid for three or even six months AFTER your visit to their country.  Renew early!

Your passport should have blank pages so that there is room for visas or entry and exit stamps.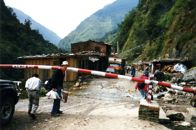 You need to think about this if you are flying or cruising or driving....
Sometimes even when you're walking.  When we went from Tibet into Nepal, our tour driver dropped us off just short of the border.  We walked across into Nepal, but we still needed those passports and visas!


Your Acceptable Identification Document Needs:

For most countries the requirements are similar. 

The Acceptable Identification Document should contain:

your name
date of birth
gender  
an expiration date

And it should have a tamper-resistant feature to make forgery more difficult.

For Domestic Travel, A Driver's License or Government ID
If you are traveling within your home country, you will probably need some form of local ID.  In most cases, it should be a government issued document with a photo and the above information... and not expired.

OK… there MAY be some instances where you can get by with an expired driver's license, but why chance it?


U.S. Citizens May Use A Passport Card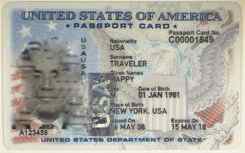 U.S citizens now need passports to fly into Canada and Mexico.  
However, if you are a U.S.citizen, and you are driving or cruising into and out of Canada and/or Mexico, you can use a Passport Card.
But your driver's license will not cut it… even if you take a birth certificate with you.
And the passport card is not acceptable identification if you are flying into or out of those countries.

You Might Need More Than Just Your Passport
Travelers FROM the U.S. may need a visa depending on the country or countries you're traveling to.  This isn't an identification document… but it is a document you will need to enter certain countries.  And in most cases a visa is stamped into or attached to your passport, so it becomes a part of that document.

Foreign visitors to the USA need a passport to enter the country, and depending on your home country, you will need a visa. 
Even visitors from visa waiver countries need to register in advance of their visit now.  This law became mandatory in January 2009.
 
All travelers need to stay alert to changes like this.

Remember Infants and Children Need Passports
This is something many parents miss. 
All children… including infants and new-borns need their own passport.
  And allow plenty of time to get it because you must apply in person, and both parents must be present or there will be lots of documents to fill out.  Read what the U.S. State Department says in their Parents Corner.

Rules Can Change
Just because you "didn't need it last time"... doesn't mean that you can travel without the proper documents today. 

Rules change. 

Remember what we said above about U.S citizens flying into Canada and Mexico?  They "didn't need passports" before... now they do.

Doing your research on the acceptable identification documents you'll need for your destination is just as important as doing your research of the destination itself.


Some Horror Stories
Mark used to come home with all kinds of horror stories…

Families traveling where one member had an expired passport… That traveler will have to stay home until they get a current passport.

Leaving passports at home.

One lady got her new passport and shredded "the other one"… problem was, the one she shredded was the NEW one!


You don't want to have to go through that!!
The U.S. Transportation Security Administration says, "Passengers who do not or cannot present an acceptable ID will have to provide information... ...in order to verify their identity. Passengers who are cleared through this process may be subject to additional screening. Passengers whose identity cannot be verified by TSA may not be allowed to go through the checkpoint or onto an airplane." 


I'm sure it's pretty much the same worldwide.  Just take your acceptable identification document and avoid the hassle.  You're a traveller.... you should never be without your passport!


Happy travels... even if you don't travel the world... just remember that life is a journey... embrace and enjoy it! Judy and Mark
Curious about what else we've written about?  Search our site for a destination or travel tip.

But... We'd love to have you share this page or comment on it…
Thanks, Judy and Mark

Return to International Travel Tips
Go from Acceptable Identification Document to MouseToursTravels Home Page