Collecting Passport Stamps
Great Travel Memories, BUT...
Sometime You Get 'Em - Sometimes You Don't
COVID slowed us down for a couple of years, and now a few health issues challenge us.  We're still traveling if not writing about it quite so much. Our goal in 2022 was get to all seven continents in one year... and we did it.

Going forward health issues may not allow us to travel.  No one can take away those memories though.  We hope all of you are well and staying safe... and that you find some inspiration here for YOUR future travels. 

Is collecting passport stamps a thing of the past?
We found that depends on where you travel!
All travelers delight in collecting those immigration stamps in their passport.... or they used to.
Fly into a country and go through Immigrations, and you get a stamp in your passport... permission to enter the country.
 But now in much of Europe, they just scan your passport.
They may or may not stamp it in the first country you enter.
Then because you're in the European Union... the EuroZone... you may not even have your passport looked at...
...Forget about collecting passport stamps there!

But that is not the case all over the world.
Many countries still stamp you in and out and even require a big page-size visa in your passport.
We recently went on a trip where we collected 17...
That's right seventeen new stamps in our passports. Plus one really cool visa. How's that for collecting travel memories?
On a trip to Southern Africa we opted for a small custom tour for a cultural look at some of the small nations there. Those border crossings were actually part of the experience.
Stamp 1 - We got our first stamp in the passport the day we flew into Johannesburg. We went on to Durban for the start of our custom tour.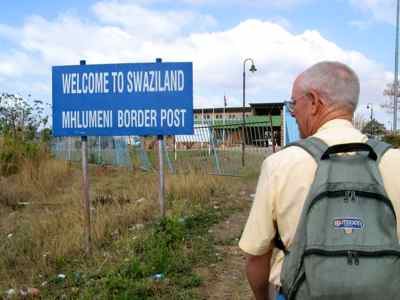 Stamps 2 & 3 - The first day we merely went from South Africa into Swaziland.
That was two more stamps in the passport...

...one leaving South Africa
   ...and...

...one entering Swaziland.


Swaziland is a very small country so we only spent one night, though it was in a nice wildlife area called Royal Hlane National Park where we saw a dozen White Rhino around the water hole as well as Giraffe, Kudu and Impala.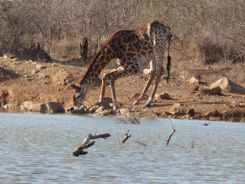 Stamps 4 & 5 - The next day we went from Swaziland back to South Africa so we could spend few days in Kruger National Park. Two more stamps... one out of Swaziland, and one back into South Africa.
We spent three days in Kruger Park. It's a great place for an affordable safari and a great place to see the animals you came to see. We did see the Big 5... Lion, Leopard, Elephant, Cape Buffalo, and Rhino (both black and white!). There were giraffe, zebra, wildebeest, kudu, warthogs, and impala galore as well as assorted small antelope and cats. Not bad for three days, eh?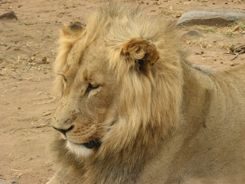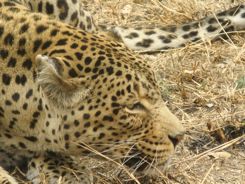 Stamp 6 - Then we went from South Africa to Mozambique (or Moçambique since it was a Portugese colony at one time). One stamp out of South Africa... no problem, but getting into Mozambique took more time.
Stamp 7 - Plus a Cool Visa - The border crossing into Moçambique was a long process as we had to get visas at the border. We needed the right money (South African Rands worked.... in spite of the fact that they said they would take dollars or euros they didn't.) We also had to get our picture taken.... get fingerprinted... and get that fancy visa pasted in our passports.
Here's the big day for collecting passport stamps...
...Stamps 8, 9, 10, and 11!
A stamp out of Mozambique (Moçambique)
A stamp into Swaziland, a short drive through that little country, then
A stamp out of Swaziland... and...
A stamp into South Africa.
We might have had two more stamps but we drove a little further south so we could avoid passing through a small portion of South Africa before cutting through Swaziland. Still 4 stamps in and out of three countries in a couple of hours is pretty amazing.
We could have rented a car and done all that ourselves, but it was nice to have someone who knew the ropes with us.
Collecting Passport Stamps
...12, 13, 14, and 15
But we weren't done yet.
We did rent a car at this point and drove to Underberg in the Drakenberg Mountains.
There we found a day trip for a 4x4 drive up the Sani Pass to the little country of Lesotho.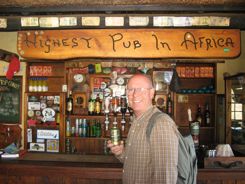 We collected another 4 stamps in our passports...

...as we went out of South Africa

...into Lesotho for lunch at the Highest Pub in Africa

...then back out of Lesotho and

...into South Africa.


Stamps 16 & 17 - We still have to count the stamp as we departed South Africa for home... or the welcome home stamp from U.S. Immigrations.
The official word is you must have at least one blank page in your passport in order to enter South Africa, but if you undertake several border crossings like we did on that trip, you'd better have a few more than that!!
We didn't take this trip just for collecting passport stamps... but it was fun to count 'em up after we came home.
Happy travels... even if you don't travel the world... just remember that life is a journey... embrace and enjoy it! Judy and Mark
Curious about what else we've written about?  Search our site for a destination or travel tip.

But... We'd love to have you share this page or comment on it…
Thanks, Judy and Mark