Types of Accommodations For All

COVID slowed us down for a couple of years, and now a few health issues challenge us.  We're still traveling if not writing about it quite so much. Our goal in 2022 was get to all seven continents in one year... and we did it.

Going forward health issues may not allow us to travel.  No one can take away those memories though.  We hope all of you are well and staying safe... and that you find some inspiration here for YOUR future travels. 

There are as many types of accommodations as there are types of travelers... there really IS something for everyone.
The types of accommodations you stay in on your trip can make just as big a difference as the itinerary… so this is something you should think about as you make your travel plans.
Your choices can go from from having a reservation in a big hotel to just finding a room in a local village as you travel.

Ask yourself these questions...

What do you want or need in the way of a room?
What makes you comfortable when you travel?
Do you want lots of luxury, a big room, and a concierge to get you tickets to the latest play?


...Or... Are you an adventurous traveler who carries a backpack and wants to find an inexpensive local place?
…Or… Are you like us, and fall somewhere in-between?
Whichever way you go, make up your mind that it's not going to be just like home. (If you want that... you might as well STAY home.)
Through the years we've tried many of these types of accommodations depending on our destination. Let's look at your options.
Types of Accommodations at the High End
Big Hotels

You can stay in five star hotels, big name brand hotels, or big hotels that are famous in the city you are visiting.
Some of these are not as expensive as you might think... and if you are on a long trip and the traveling is a challenge.... that name brand hotel might just give you a night to really recover a bit... that happened for us in Jordan... we just couldn't resist the Intercontinental after spending a night in a tent in the desert.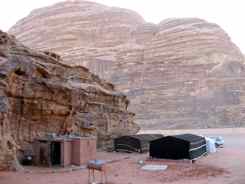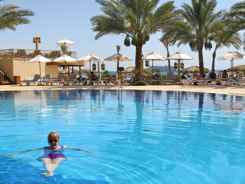 Check carefully, though. Most five star hotels would break our budget. It seems like they try to outdo each other these days with all the amenities and fluff. But if that's what you like... go for it!
Luxury Spas

You can find luxury spas where they will pamper you or help you lose weight or get you exercising.
Types of Accommodations For Adventure

Resorts
You can find resorts of all kinds... like beach resorts, ski resorts, or golf resorts.
Dude Ranch

You can stay at a dude ranch and ride horses and play cowboy.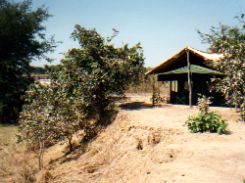 Wildlife Safaris

If you're traveling to wildlife areas there are safari lodges or jungle lodges and tented camps.
These may range from bungalows to tented camps.
We LOVE safari lodges and tented camps!
Look at the cost for any of these... Some of these are high end... some are affordable. It just amazes me how upscale some safari camps have gone. I mean... don't you go to see the ANIMALS? OK... I'm over that for now.

Types of Accommodations For lots of Charm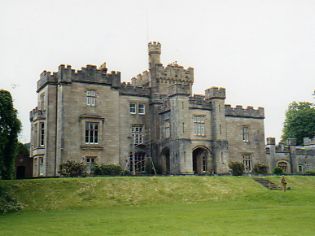 Many countries in Europe have

castles

that have been turned into hotels.

A similar experience is to stay in one of the grand old

manor houses

that have rooms to rent.

We love to splurge on Castles and Manor Houses once in a while. Some are very expensive, and some actually fit pretty well into our budget.

If you arrive at the last minute like we often do, you can ask if there is a break on the price... and sometimes there is...

It pays to be charming and enthusiastic and just ask.
There are small but luxurious

boutique hotels

. There are more of these popping up lately.
There are

small local hotels

that have all the basic amenities and lots of local charm.
Accommodations a Little Softer On Your Budget
There are B&B's and other Bed and Breakfast options almost everywhere. We often travel without reservations, so when we stop at some of these, we like to ask to see the room.

Some just don't fit what we're looking for at the time.... some are homey and welcoming... and some are too cute to pass up.
There are also cheap hotels almost everywhere. These can be very basic.

If you're on a tight budget, and you'll almost never be in your room, these can work. Only you can decide if these will do for your holiday.
Hostels are probably the cheapest accommodation you will find... especially in cities.

These are generally for younger travelers, but they have changed through the years, and travelers of all ages stay in them now.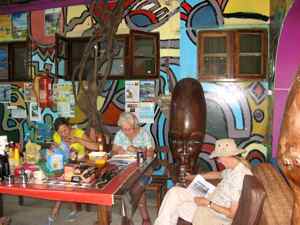 The tour that we joined for the first week of a South Africa trip took us to all the little countries that we wanted to see, but we camped in Kruger National Park, and we stayed in a "backpackers hostel" in Maputo.
We had an ensuite room in that hostel, but not all were...
It served our purpose on that trip, but it might not do for everyone.

Look on the Internet, But Beware!
When you're trying to decide on the types of accommodations that will serve you best, you can take a look at some of them on the internet.
Just remember, they will post pictures to make themselves look good. A wide angle shot may make that room look bigger than it really is.
When we were looking at places to stay near Durban South Africa recently, lots of the little B&Bs and small hotels looked good, but there was no restaurant nearby or they were hard to get to...
Those are all things you have to try to find out before you book.
We decided to wait until we got there, and we found that our concerns were well founded.
We ended up in a nice local hotel in Umhlanga Rocks. Yes, it was sort of big, but it was a local chain, and it was perfect at the time for getting over jet lag.


If you are going on a tour, look at the types of accommodations they use as well as the itinerary. If that tour looks like it's a bargain price, maybe it's because you'll be staying in cheap hotels that you'd rather not put up with.

You May Not Have Thought Of...
If you are the really friendly sort, there are organizations that can hook you up with private individuals to stay with. CouchSurfing will find you a sofa to crash on for free. For a membership fee and a small gratuity per night, The Affordable Travel Club will let you find people with a spare room to stay in. Both options are for short stays.
If you plan to stay in one place for a longer time... or if you want to "feel like a local"... You can rent an apartment or house.  Several sites advertise these.
You could consider a home exchange... that is cheaper than renting, but you have to trust strangers in your home while you stay in theirs. There are several website that can help you with that too.

To Book Ahead or Not?
If you are an independent traveler, decide if you want to book your hotels in advance or find them while you are on the road. We're comfortable finding rooms as we go... not everyone is. (We have friends we travel with that can't stand not knowing where they're going to sleep for the night.)
You may be able to book on the internet, but if all the websites you check say there are no rooms available, and there is a hotel you really want to stay in, consider calling the hotel direct. We have done that and come up with just the hotel we wanted.
When we went to Iguazu Falls, we decided we really wanted to stay at the Sheraton Hotel in Argentina at Iguazu Falls.
Every site we checked said there were no rooms… including the Sheraton site itself!
We called the hotel directly and got a room with a view at a great rate. It turned out not even to be that much a splurge… but it sure made our visit wonderful!
Often, cute little places are not on the internet, or you won't easily find them. If you can deal with finding a place to sleep as you go along, these can be real little jewels.
Some trips will call for certain types of accommodations... like a city hotel or a jungle lodge. Other times it's up to you to decide what kind of accommodations you want. If you think about what you want and need while you are planning your trip, then finding that room will be easier.
Happy travels... even if you don't travel the world... just remember that life is a journey... embrace and enjoy it! Judy and Mark
Curious about what else we've written about?  Search our site for a destination or travel tip.

But... We'd love to have you share this page or comment on it…
Thanks, Judy and Mark

International Travel Tips l Europe Travel Tips
 Packing Lists
Go from Types of Accommodations to MouseToursTravels Home Page