Eger Hungary
Taste Bull's Blood Wine
COVID slowed us down for a couple of years, and now a few health issues challenge us.  We're still traveling if not writing about it quite so much. Our goal in 2022 was get to all seven continents in one year... and we did it.

Going forward health issues may not allow us to travel.  No one can take away those memories though.  We hope all of you are well and staying safe... and that you find some inspiration here for YOUR future travels. 

Eger wasn't on our list of places to visit when we planned to tour the Hungarian countryside.
We were headed to the wine region of Tokay.  But that changed once we got going...

When we were in Tokay chatting with other wine lovers, they told us that we should visit that pretty little town...
...and taste the red wine of the region known as...
Bull's Blood!
Could we resist? 
(Yes... we'll tell you why it's called that.  Keep reading.)

Budapest to Tokay to Eger Road Trip
It's a small town that can be reached by a two hour train ride from Budapest, but we actually drove there on our Hungarian wine adventure.
Budapest to Tokay and back to Eger makes for a great road trip.
Valley of the Beautiful Women
We first found the delightful wine tasting area just outside of town known as the Valley of the Beautiful Women or the Sirens Valley.
Since we didn't have a map, we had to stop and ask some locals for help... and they were so helpful that they told us to follow them, and they led us right to it!
It wasn't until the next day that we made our way into the town itself.
The Sirens Valley is a horseshoe shaped area that has many cellars and caves carved into the side of the mountain where small wineries have tasting rooms.
Stay Close To Where You Are Wine Tasting
Don't drink and drive!

There are hotels right in the area so you don't have to worry about driving….
There is zero tolerance for drinking and driving in Hungary.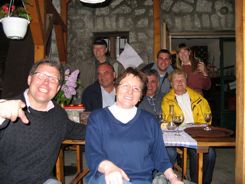 When I Understood Russian

We shared wine and food with a couple of friendly Hungarians who were also wine tasting.
Then we were joined by a family from the Czech Republic… and finally by the proprietor of the cellar and his wife.
The conversation went on in English, Hungarian, and Russian. As wine lovers we all had a great time, and Mark and I learned a lot about Hungarian and Czech history.
I finally had to tell our new friends that I had had enough because I was starting to understand the Russian!
(That had a lot to do with the wine, but we've also found that when you have good food and drink and conversation, you really DO understand each other even when you don't speak the same language.)
Downtown Eger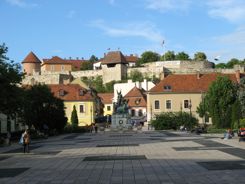 It's a small town with winding medieval streets, a castle on the hill above town, and an intoxicating history. (pun intended!)
It was when the Turks besieged the Eger Castle that Bikaver or Bulls Blood Wine was born. (More on that below)
The region is known for its robust red wines.... yes, Bull's Blood, but the town itself is charming.
Other than its wine, Eger's claim to fame is that, against all odds, they held off a Turkish siege and kept the Ottoman Empire from expanding across Western Europe. It was from the castle on the hill that the outnumbered Hungarians held out... and the wine they drank became the legendary Bikaver or Bull's Blood.
What To See In Town

You can tour the castle. There are museums inside, but the fun is to wander the grounds and enjoy the view out over town.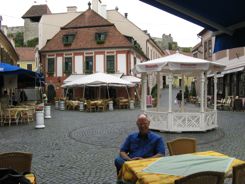 It's one of Hungary's oldest and most colorful little cities.
The old center of town is what is of interest to tourists.
There are several pretty cobblestone streets to wander and Dobo Ter, Dobo Square, is a nice place to stop at an outdoor cafe and enjoy a bite to eat... and a glass of wine.

You'll find churches to visit and many beautiful Baroque buildings to photograph.
Explore the fun covered market.
Find the minaret left over from the Turkish occupation (which came years after the Bull's Blood siege-breaking incident.)
There is also an old university, the Lyceum, where you can visit the library and observatory.
The Legend Of Bull's Blood Wine
Why would anyone call their wine Bulls Blood?  There's a great legend here.  The legend involves wine and history and heroics....
In 1552, the Turks were expanding their empire through Europe...  thousands and thousands of them were headed west through Hungary.  They besieged Eger on their way to Western Europe.  The townspeople holed up in their castle. 

Two thousand soldiers led by their Captain were in the castle with the townspeople for a month.  With food and water running short, Captain Dobo Istvan and his 2,000 Hungarian warriors dumped all the wine together. 
Who knows how many local varietals were mixed together creating a ruby-colored wine.  The warriors drank it to give them strength to fight off the Turks. 

The wine spilled over their beards and onto their clothes and armor... coloring them blood red. 

It seemed impossible for only 2,000 soldiers to hold off 60,000 or 150,000 or 200,000 Turks.  (The number varies depending on which account you read... and maybe how much wine the teller has been drinking?) 

Word spread among the Turks that the Hungarians were drinking the blood of bulls to make them strong. 

The Turks said they had been forced to retreat because they couldn't defeat the Hungarians.... why? 

They said the Hungarian's red-stained beards were proof that the bull's blood gave them super-human strength and endurance. 

And that is when the legend of Bulls Blood Wine was born.

Bull's Blood Wine, or Bikaver as the wine is known in Hungary is the pride of the region.

And sitting in the town square in Eger, you wouldn't want to drop a post card or use Twitter to tell your friends that you were drinking Bikaver.... 

Oh, no.... That's too tame.... 
You'd tell them you were drinking Bull's Blood!
How To Get There - Where To Stay
You can drive or take a little tourist train out to the Valley of the Beautiful Women to sample Bikaver at the wine tasting cellars that line the valley… or you can do as we did and spend a night in both places.
Mostly we just enjoyed the town as a pretty and quiet place to stop for a night... and enjoy the wine, of course.
Stay in town or out by the Valley of Beautiful women.
You can get to town from Budapest by train or by driving as we did.
Hotels were reasonable and easy to find. There were plenty of parking lots for the car.
If you're traveling to Budapest, why not take a little diversion and explore Eger.... and taste a little Bull's Blood... just for bragging rights.
Happy travels... even if you don't travel the world... just remember that life is a journey... embrace and enjoy it! Judy and Mark
Curious about what else we've written about?  Search our site for a destination or travel tip.

But... We'd love to have you share this page or comment on it…
Thanks, Judy and Mark

Go to International Travel Tips l Europe Travel Tips
Hotel and B&B Tips l Packing Lists and Tips
Go from Eger Hungary to MouseToursTravels Home Page