Bratislava? Never Heard Of It?
It's The Capital Of Slovakia, Of Course!
COVID slowed us down for a couple of years, and now a few health issues challenge us.  We're still traveling if not writing about it quite so much. Our goal in 2022 was get to all seven continents in one year... and we did it.

Going forward health issues may not allow us to travel.  No one can take away those memories though.  We hope all of you are well and staying safe... and that you find some inspiration here for YOUR future travels. 

Bratislava is a small city, by capital city standards...
...It IS a European capital city.
You've never heard of it?  Capital of what?
It's the Capital of Slovakia.
The country of Slovakia used to be part of Czechoslovakia...
...until they peacefully parted ways to become the Czech Republic and the Slovak Republic.
This great little city has only about half a million people.
The beautifully restored historic center is very easy to walk and enjoy... much of it is pedestrian only.
Arriving In Bratislava By Hydrofoil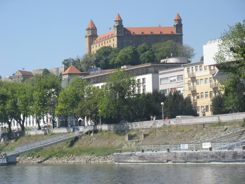 We arrived in the city by hydrofoil from Budapest...
...And there we were on a dock by the Danube without so much as a guide book or a hotel reservation!
But the city is easy enough to navigate....
So easy that we found a hotel just a block from the river.
The historic center of the city is a compact area right on the Danube, and information is as easy to get as hotel rooms are.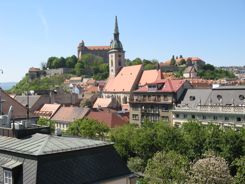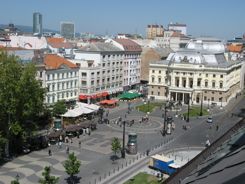 Bratislava Castle sits on a hill overlooking the city and the river.
The castle was closed for renovation when we were there, so since our time in the city was short, so we didn't hike up the hill for a closer look at it... We were content to just take pictures of it.


You Can See The City Center In A Day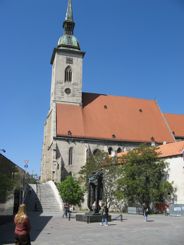 It's small enough that you can do that if you need to.
For our quick overnight tour of the city, we stayed in the old center and found plenty of sites to keep us busy.
St. Martin's Cathedral (Dom sv. Martina) is one of the largest and oldest churches in the city. It sits right under the castle.
As in all historic cities, there are several beautiful churches you can visit, and a smattering of Gothic, Baroque and Renaissance houses and palaces which sit along cobblestone streets.
Many were closed for renovation when we were there, but that was OK.
It seemed to us that the charm of the city was just to wander the narrow pedestrian streets. It has a small and concentrated historical center.
We enjoyed stopping at outdoor cafes for snacks and a beer. Outdoor cafes seemed to be everywhere which gave the town a very cozy and friendly feel.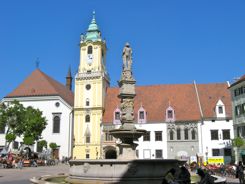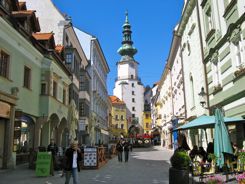 Check Out The "Street Art"


The amusing art scattered around the pretty old town make it fun too.
It peeks over your shoulder, pops up from sidewalks, and peers around corners to surprise you.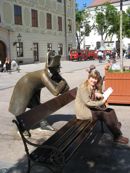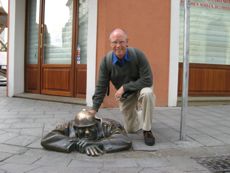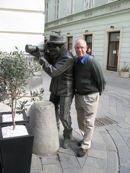 There's Even Some Wine Tasting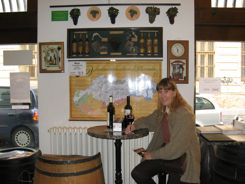 We even found a couple of wine shops right there in Old Town Bratislava where we could taste some Slovakian wines.
The wine merchant didn't speak a lot of English, but if you love wine, you really all speak the same language.
We think it's fun to try local wines and beers with the local food.

OK... So WHERE is it?

This Central European capital is only 37 miles (60 km) east of Vienna Austria.
You can fly into Bratislava from many European cities on low cost airlines...
...or you can fly into the Vienna International Airport, which is only 25 miles (40 km) from Bratislava, and take a bus from there.
It's also easy to reach the city by train from downtown Vienna.
A fun way to get to the heart of the city is by hydrofoil on the Danube. You can board the boat in Vienna or take it from Budapest as we did.
We think you only need a day or two to get a feel for this great little city. We could easily have missed it, but we're glad we took that hydrofoil trip to and from Budapest and spent a night in Bratislava.
Happy travels... even if you don't travel the world... just remember that life is a journey... embrace and enjoy it! Judy and Mark
Curious about what else we've written about?  Search our site for a destination or travel tip.

But... We'd love to have you share this page or comment on it…
Thanks, Judy and Mark

Go to International Travel Tips l Europe Travel Tips
Hotel and B&B Tips l Packing Lists and Tips
Go to MouseToursTravels Home Page