Buda is Budapest
Fun On Castle Hill
COVID slowed us down for a couple of years, and now a few health issues challenge us.  We're still traveling if not writing about it quite so much. Our goal in 2022 was get to all seven continents in one year... and we did it.

Going forward health issues may not allow us to travel.  No one can take away those memories though.  We hope all of you are well and staying safe... and that you find some inspiration here for YOUR future travels. 

Buda is Budapest with hills...
...the Pest side is flat.
 What???  Let's explore this...  Budapest straddles the Danube River.

Cities often grew up around rivers. 
We think river walks are romantic... they call for you to walk and explore the city...
And this great city has river walks in spades!

The old center of Budapest is compact and easy to explore crisscrossing over its famous bridges...

What you see today is one great unified city linked by the Chain Bridge and others...
But It Wasn't Always One City

That's right... It was once two cities.... Buda and Pest.
The two historic towns on each side of the river are different and unique.
Each part of this city offers its own surprises.
In Buda, you'll see Castle Hill and Gellert Hill on your city map. You can get a lot of exercise hiking up and town those hills.
To save yourself a steep hike up... catch the Budavari Skirlo. This is an old funicular railway which takes passengers from the Chain Bridge on the Buda side to the top of Castle Hill.
From the funicular stop on the top, you can get a great view back over to Pest.
Explore The Castle District

After you've enjoyed the view, start out and have fun exploring the walled Castle District and Old Town. Castle Hill has two distinct parts....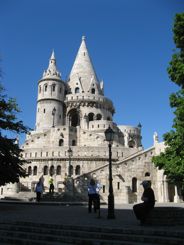 The Old Town of the Castle District is where the commoners lived during medieval times.
It's off to your right as you get off the funicular, and it's full of sloping and twisty street with attractively painted houses and decorative churches.
The Old Town is one of the most romantic pedestrian sections in Budapest. Buda is Budapest at its best here. It still looks like a little medieval town.
Stop at the Fisherman's Bastion. This is really a fanciful viewing terrace which is on the site of the old city walls...
It IS great for more views back over the Danube and Pest.  This is also a good spot to grab a sandwich and have a picnic with a view.

Trinity Square is the centerpiece of the Castle District and Old Town.
Here you'll find the Holy Trinity Column... This column is historic and quite a confection of saints and floating angels and clouds.
Buda's Old Town Hall is on the square.
This is also where you'll find the Matthias Church.
Pop into the church... It's worth visiting for its pretty stained glass windows, carvings and statues.
Buda Is Budapest With Caves

Because this is the hilly side of the city, this is where you'll find lots of caves.
There are cellar caves under almost every house running deep into the hill. One cave system you can visit is the Labyrinth of the Buda Castle.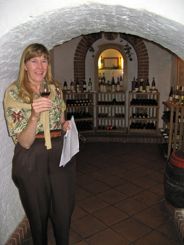 A cave we enjoyed housed the House of Hungarian Wines... the Domus Vinorum Hungarorum.
You can enjoy a do-it-yourself wine tasting... they let you taste your way through Hungary's 22 wine regions.
You sort of have to be looking for this one. There is a little sign out front, and you go down stairs into what used to be an old coal cellar.
Today you pay one set price and wind along aisles that have maps and information about each wine region... and three or four different wines from each region to try... including Tokaj and Bull's Blood wine!

Now there's a great way to go caving!


And Then There Is The Castle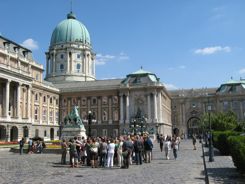 The Royal Palace is also known as the Buda Castle or the Budai Var.
It's to your left as you get off the funicular. It has been destroyed and rebuilt several times over the centuries.
Today it houses a number of museums. You can explore them if you want, or just wander the grounds and enjoy the view.
Gellert Hill

Gellert Hill is south of Castle Hill. It is topped with the Citadella, a type of fortress, and that is topped with the Independence Monument.
Below Gellert Hill are several thermal baths...  Many are open to the public.  We enjoyed the Gellert Baths.  Since spas are such a part of Budapest, it just seemed like something you should do.
So, Buda is Budapest, but Pest is also Budapest...
Cross over any of the bridges and start exploring that side of the Danube.
Happy travels... even if you don't travel the world... just remember that life is a journey... embrace and enjoy it! Judy and Mark
Curious about what else we've written about?  Search our site for a destination or travel tip.

But... We'd love to have you share this page or comment on it…
Thanks, Judy and Mark

Go to International Travel Tips l Europe Travel Tips
Hotel and B&B Tips l Packing Lists and Tips
Go from Buda is Budapest to MouseToursTravels Home Page