Budapest Thermal Baths
A Great Way To Relax After Sightseeing
COVID slowed us down for a couple of years, and now a few health issues challenge us.  We're still traveling if not writing about it quite so much. Our goal in 2022 was get to all seven continents in one year... and we did it.

Going forward health issues may not allow us to travel.  No one can take away those memories though.  We hope all of you are well and staying safe... and that you find some inspiration here for YOUR future travels. 

The Budapest Thermal baths may not be what draws you to Hungary, but you should know about them.
One of the special things about this city is the prevalence of thermal springs right in the center of the city.
There are over a hundred springs and bore holes that supply the city's spas and baths with millions of gallons of warm water daily.
Budapest has been known as a city of spas since ancient times... enjoyed by Romans and Crusaders, Kings and Queens...
...by modern day residents and, oh yea... by tourists.
We loved it!
Romans Enjoyed Budapest Thermal Baths
The Romans built baths everywhere their empire spread. One of the reasons the Romans colonized this area was to utilize and enjoy the thermal springs.
There are still ruins visible of the baths the Romans built here.
More baths were built in the Turkish period of the 16th and 17th centuries. Some of those are still in use to this day!
You might want to check out one or two of the Budapest Thermal Baths on your visit.
We visited the Gellert Baths. Men and women can enjoy these baths downtown at the venerable hotel by that same name.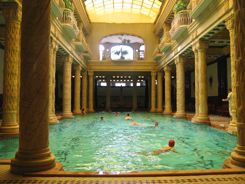 The public entrance to the baths is around the corner from the entrance to the Gellert Hotel.
You don't have to stay in the hotel to enjoy the bath experience. There is a modest entrance fee.
You will be given a locker in the men's or women's locker rooms where you can change into "proper bathing attire" - your swim suit.
There are indoor and outdoor pools and thermal spas.
It's a fun way to spend a late afternoon after a long day of sightseeing.
Visit Europe's Largest Bath Complex
We also visited, but did not bathe, in the Szechenyi Baths.
This complex is in the Varosliget or City Park which is a short ride from the Pest side of the center of town on the historic Number 1 subway line.  (The park is fun to walk in, and there are several museums to visit when you're out there.  We visited the aviation museum.)
The Szechenyi Baths are one of the largest bathing complexes in all of Europe. The indoor and outdoor pools are open to men and women.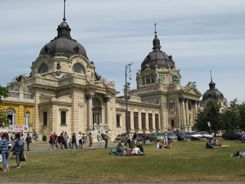 More Budapest Baths To Visit
Rudas Thermal Bath
The Rudas Thermal Bath is one of the oldest baths still in use. It is near the Gellert Hotel on the Buda side of the Danube.

The real jewel here is the old Turkish bath which was built in the 16th century. Other pools are housed in buildings with architecture dating from the Turkish period also.
It is a traditional Turkish bath.... and traditionally, Turkish baths were open to men only, but the Rudas Thermal Baths are now open to female bathers, without swimsuits, on certain days of the week.
And both men and women can now enjoy these baths on Saturdays and Sundays.... but on those occasions with mixed bathing, you must wear your swimsuit!
Kiraly Thermal Baths
Most of the buildings of the Kiraly Thermal Baths also date from the Turkish period.
As far as we know, they are still men only. They are on the Buda side of the river near the Margaret Bridge.
Budapest Thermal Baths Add To Your Experience

I don't know if you'll experience any miraculous cures by taking the waters..,
...but just to experience the Budapest thermal baths is great fun and a wonderful cultural experience that you might not find at home.
And isn't that what travel is all about... seeing something new... trying something different?

Don't be shy, just grab your swimsuit and jump in.
No one is looking at you really...
And besides, you'll probably never see these people again!
Happy travels... even if you don't travel the world... just remember that life is a journey... embrace and enjoy it! Judy and Mark
Curious about what else we've written about?  Search our site for a destination or travel tip.

But... We'd love to have you share this page or comment on it…
Thanks, Judy and Mark

Go to International Travel Tips l Europe Travel Tips
Hotel and B&B Tips l Packing Lists and Tips
Go from Budapest Thermal Baths to MouseToursTravels Home Page