Hydrofoil the Danube
An Alternative to River Cruises
For On The Go Travelers
COVID slowed us down for a couple of years, and now a few health issues challenge us.  We're still traveling if not writing about it quite so much. Our goal in 2022 was get to all seven continents in one year... and we did it.

Going forward health issues may not allow us to travel.  No one can take away those memories though.  We hope all of you are well and staying safe... and that you find some inspiration here for YOUR future travels. 

Hydrofoil the Danube... Don't we mean cruise the Danube?  No, we mean jump on a hybrofoil.  Some day we might take a river cruise on the Danube. River cruises are getting more popular all the time...

...but if time is short, hydrofoil the Danube like we did... or at least a section of it.


It's a speedy way to see the highlights.
River cruises that last for a week or so are a great way to see the Danube towns, but...
We had plans for wine tasting in Hungary. 
With a drive to Tokay and Eger in the offing, we didn't have time for a leisurely river cruise.

Hydrofoil The Danube In Summer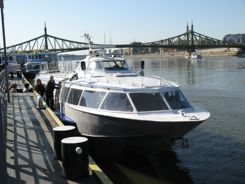 We discovered that hydrofoils regularly travel between Budapest Hungary, Bratislava Slovakia and Vienna (Wien) Austria.
Departures were daily in August when we were there...
And three days a week the rest of the summer... May to September.
There are generally no departures in the off season.

See The Danube Bend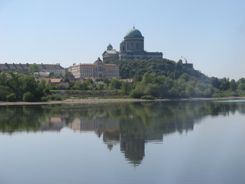 These cruises take you, speedily, by the beautiful scenery along the Danube...
...just as the more leisurely river cruises do. 
Of course you only see them... you don't stop. 
See cute little villages, castles, and the sites of the famed "Danube Bend".
There are two locks between Budapest and Bratislava and one more lock if you hydrofoil the Danube all the way to Vienna.

The Hydrofoil Makes For A Quick Trip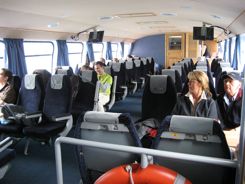 The trip for us between Budapest and Bratislava took a little less than four hours.
OK, you don't exactly have river cruise boat accommodations...
...But it's comfortable enough for the few hours that you're on board.
And they do have snacks available.



Make Reservations For Interim Stops

Most passengers travel from Budapest all the way to Vienna... or the reverse.
You can reserve ahead online or in person at the river office. 
The hydrofoils do stop in Bratislava, but you have to be sure to have reservations.
They will also stop in the pretty little town of Visegrad, Hungary, which is on the Danube Bend, if you made reservations in advance.
You can reserve only a day ahead if there is space.  Those reservations for the interim stops don't have to be made way ahead... We were going only as far as Bratislava, and we made ours just the day before we took the hydrofoil.
There is narration... Though you are speeding along, the trip is narrated in Hungarian, German and English, so you will know which towns and important sights you are seeing... however briefly.
There are snacks and drinks available for purchase on board.

Don't Expect To Be Met At The Dock

When we approached Bratislava, the Steward alerted us to our approach.
The hydrofoil moored at the dock, and we disembarked with our luggage....
Before we could think to ask any questions, the boat took off up the river... and there we were standing on the dock. One other couple got off with us, and we all just looked at each other and laughed...
It seemed so.... abrupt.
I mean, there we were in a new country, and we just got dumped off the boat!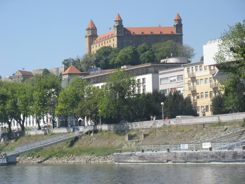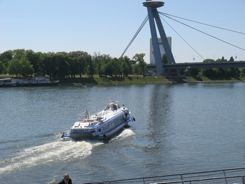 There was no customs house or information booth or anything.
But That's Not A Problem
This really wasn't a problem... it was just a surprise to us.
It's a funny story, and now you know what to expect if you decide to take a similar trip.
Bratislava doesn't straddle the river like Budapest does, but the main part of town is a short manageable walk from the dock. We found a great hotel only a block away.
All of Bratislava is walkable and tourist friendly.
We returned from Bratislava to Budapest the next day... that wine tasting drive was calling!
Be Sure You Have Reservations For The Return

We had made the round trip reservation when we booked the hydrofoil, so we knew they would stop to pick us up.
We had to search a bit for the departure dock... it was not the same dock where we had been dropped off, but it was only about a half a block away in a cruise terminal building.
We couldn't resist the opportunity to hydrofoil the Danube. We thought it was a great way to maximize our travel experience....
It might be just the thing for you too.
Happy travels... even if you don't travel the world... just remember that life is a journey... embrace and enjoy it! Judy and Mark
Curious about what else we've written about?  Search our site for a destination or travel tip.

But... We'd love to have you share this page or comment on it…
Thanks, Judy and Mark

Go to International Travel Tips l Europe Travel Tips
Hotel and B&B Tips l Packing Lists and Tips
Go from Hydrofoil the Danubeto MouseToursTravels Home Page