Pest Is Budapest
Flat, Colorful, and Chic - Easy To Like
COVID slowed us down for a couple of years, and now a few health issues challenge us.  We're still traveling if not writing about it quite so much. Our goal in 2022 was get to all seven continents in one year... and we did it.

Going forward health issues may not allow us to travel.  No one can take away those memories though.  We hope all of you are well and staying safe... and that you find some inspiration here for YOUR future travels. 

Pest is Budapest too.  Buda has Castle Hill and the Independence Monument on Gellert Hill... but today you can't have one without the other, and there is much to see "on the other side."

Budapest is such a beautiful city partly because of its site on the Danube.
The areas on each side of the river have their own personalities.
Two-thirds of the city lies on the flat east bank of the Danube.
Pest has no castle....
No castle?
Well then, what has it got?

The Pest Side Has Parliament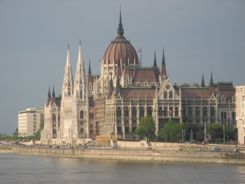 One of the major landmarks on the Pest side is the Parliament building. This huge Neo-Gothic structure sits right on the river north of the Chain Bridge.
(It looks like a castle doesn't it?  That's almost as good.)

You can take a guided tour and see paintings, tapestries and the Hungarian Holy Crown and the Crown Jewels as well as the sumptuous interiors.
Large squares and other government buildings dominate this immediate area around this building.


Chain Bridge and Roosevelt Square

Wandering south along the river you come to the Chain Bridge and Roosevelt Square. Go ahead and take time to walk over the bridge and back.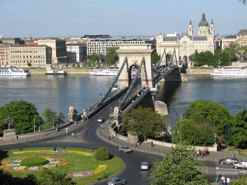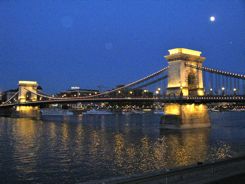 The Chain Bridge, Szechenyi Ianchid, is one of Budapest's most famous landmarks, and it was the first permanent bridge over the River to unify the two halves of the city.
We enjoyed the walk and the changing perspectives of the city from the bridge.... and the bridge itself is beautiful day and night.

Walk The Danube Promenade

Spreading south from the Chain Bridge you can walk along the Danube promenade, also known as the Duna Korzo.
River Cruise boats and restaurant boats are parked along the river here.
There are statues and flower shops all along the walk. It runs from the Chain Bridge to the Elizabeth Bridge.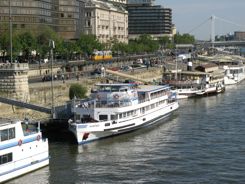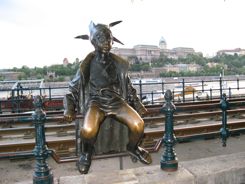 Pest Is Budapest Downtown

Pest is Budapest where the "downtown" is.
Parallel to the Duna Korzo you will find Vaci Street (Utca Vaci). Part of this street is pedestrian only... and along this street you'll find high-end shops and some great architecture.
Utca Vaci also has great cafes. We found a great little wine shop... they had a tasting room in their cellar. The proprietor was very helpful in teaching us about Hungarian wines and recommending wine regions to visit and places to stay.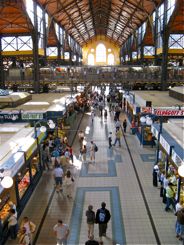 Great Market Hall

Stroll through the colorful Great Market Hall...
It's a treasure trove of fresh vegetables, fruits, meat, fish and local delicacies.
Try some paprika... which can be hot or sweet... and get some to take home for a souvenir.
Taste some real Hungarian goulash.
You can even find Hungarian folk textiles and embroidery which make great souvenirs.
Andrassy Avenue Cuts Through Town

Running out from the River is Andrassy Avenue where you'll find museums and nightclubs and the Opera House.
This broad avenue runs all the way out to the Heros Square and the City Park, Varosliget.

Budapest's Great City Park - Varosliget
Varosliget is where you'll find more museums...
And a castle.  But didn't I say Pest didn't have a castle?
Well, it really isn't a castle, but a castle-like building which now showcases Hungary's architectural styles. Sure looks like a castle!
You'll also find one of Budapest's largest thermal baths. You can join in the experience at the baths or just stop by for a look. You may have seen pictures of men sitting in hot pools playing chess.... this is where you'll see that.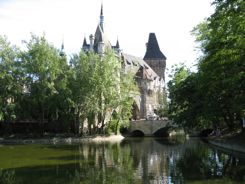 An Afternoon Walk Along The river

Walk along the promenade in the late afternoon....
Take a twilight cruise on the river... or have a beer or dinner or both on one of the boats permanently tied up along the promenade.
Sure it's touristy..., but you're a tourist!
And any of those boat restaurants offer dining with a great view of Castle Hill and the bridges.... all lit up at night.


Pest Is The Place For A Sweet Treat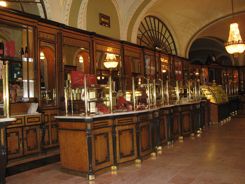 Pest is Budapest's best bet for a sweet treat late in the evening.
Find the Gerbeaud Cafe on the Vorosmarty Ter (Square) at one end of Utca Vaci.
For a hundred and fifty years it has been one of the finest coffee houses and pastry shops in Europe.

It was renovated in the late 1990s but not changed.
It has a very nostalgic feel with brocade wall coverings, fine wood panels and little marble tables.... oh yea, and the pastries are yummy too!

Buda may have the castle, but you need to see both sides of the Danube.... yes, definitely Pest is Budapest too.
Happy travels... even if you don't travel the world... just remember that life is a journey... embrace and enjoy it! Judy and Mark
Curious about what else we've written about?  Search our site for a destination or travel tip.

But... We'd love to have you share this page or comment on it…
Thanks, Judy and Mark

Go to International Travel Tips l Europe Travel Tips
Hotel and B&B Tips l Packing Lists and Tips
Go from Pest Is Budapest to MouseToursTravels Home Page