Our 2010 Travels
We Were All Over The Map Again
COVID slowed us down for a couple of years, and now a few health issues challenge us.  We're still traveling if not writing about it quite so much. Our goal in 2022 was get to all seven continents in one year... and we did it.

Going forward health issues may not allow us to travel.  No one can take away those memories though.  We hope all of you are well and staying safe... and that you find some inspiration here for YOUR future travels. 

Our 2010 travels marked another great year of travel.  We wanted to make it special…
...but then, every year ends up being special in its own way.  Each adventure it fun and exciting.


We celebrated our 40th wedding anniversary...
And we wanted to celebrate for the whole year in the best way we know how...
Travel!

The easiest way to do this is to go month by month....
Wish we could show you our whole slide show, but that's just not possible here.
So here goes... 2010 Travels...
2010 Travels...
March: Tunisia, North Africa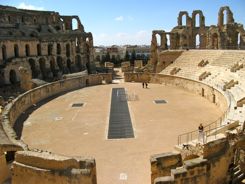 We visited some of the Roman ruins and had fun exploring souks in the cities.
We drove through a sand storm to the edge of the Sahara to Matmata - Luke Skywalker's Star Wars home planet was filmed here.

You can even hit the beach on the Mediterranean if you want.
...After we got home from the trip, we went to Phoenix to catch a San Francisco Giants' Spring Training game.

April: Florida -- Twice!
To see the Pitcairn Aurogyro...
...but alas, no flight in it for Mark… those old planes have mechanical issues at the darnedest times!
The first weekend was to the Punta Gorda Airshow near Ft Myers. Since we were hoping the weather and the aircraft would cooperate, we went back the next weekend to Sun 'N' Fun Fly-in at Lakeland.
While there was no AutoGyro ride, we did see some great airplanes.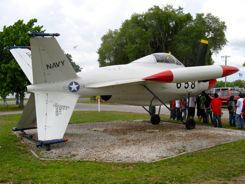 It was kind of a month for air shows. Later in April, we had some Australian visitors, and we took them to the West Coast Dream Machines weekend in Half Moon Bay. Airplanes there too, including that Cute Little Cub that you can read about at Antique-Airplanes.com.
May: "The Baltics" 
           Estonia, Latvia and Lithuania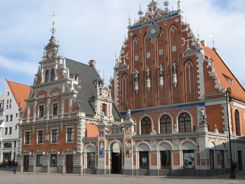 We landed in Riga, capital of Latvia, then took a looping drive through the three countries with travel buddies. The capitals: Riga, Vilnius and Tallinn were fun to visit... and we loved exploring the countryside.... manor houses in Latvia, Trakai Castle and the Hill of Crosses in Lithuania, Lake Peipsi and driving to the Russian border at Narva in Estonia. As a start for pages on our 2010 travels, see Crosses of Lithuania.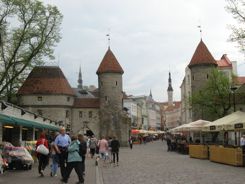 …And France
We stopped in Paris coming and going. Visited Le Bourget Air Museum at the beginning of the trip and at the end of the trip, La Ferte Alais Air Show... great French and European aircraft and lots of fun.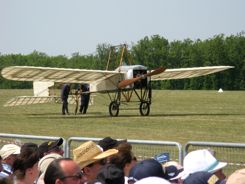 June: Flew the Zeppelin Eureka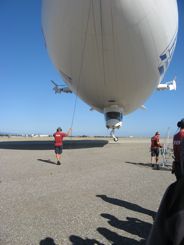 It was our actual anniversary and time to celebrate!
We flew in the Zeppelin Eureka out of Moffett Field in California with family and friends with us.
Up Ship!!
Because we needed calm air, we all got up for an early morning champagne flight...
It was a trip of a whole different sort!

(Unfortunately, the company that offered these rides went bankrupt, and rides are no longer available.)


July: Hawaii, Iceland and Oshkosh
Spent a long weekend helping the organizers set up for the Ninety-Nines, a women pilots group. Our days in Kona were the start of a string of volcanic trips.

….Iceland - Later in the Month
Talk about contrasts, eh? We spent a couple of fun days in Reykjavik, then drove to the Snaefellsnes Peninsula, for stunning views of that volcano. Visited Pingvellir... this is the historic site of ancient gatherings of Icelandic families, and it's also where the continental plates are pulling apart… You can walk right down the fissure… amazing.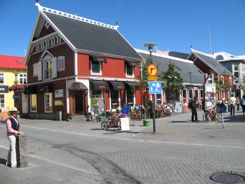 Two other great sites to visit in Iceland are Gulfoss, a beautiful waterfall, "The Golden Falls", and Geysir National Park.... where there are... yes, geysirs. Geysir is an Icelandic word... the only one that has entered the English language.
Then we drove around the south of the island to see that volcano that caused so much air traffic trouble in the spring. I can say Eyjafjalajokull now! Got all the way to their biggest glacier of Vatnajokull. It's beautiful, and I loved the 24 hour daylight. Probably wouldn't do so well in winter!!
….And Oshkosh, Wisconsin On The Way Home

More airplanes... We padded the end of that trip with a few days to see the beginning of the AirVenture again. We stopped in the little town of Brodhead on the way to Oshkosh... some of the little old antique airplanes meet there and "stage" for Oshkosh. It all was a bit soggy this year... they called it "Sploshkosh", but it's always fun!
August: Camarillo Air Show
Yep, airplanes again.... and an airshow with a great finale. What is a furball?
September: Peru and Chile
….First the Peruvian Amazon...

Flew to Lima and had a day to explore, then met travel buddies to fly to Cusco. We had day there to see town and meet our guide for an Amazon adventure.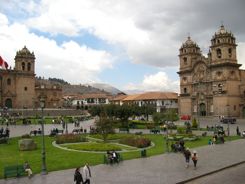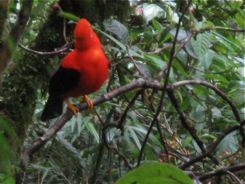 We drove over the Andes... one lane dirt road all the way. Stopped at Cock-of-the-Rock Lodge for a couple of days of bird watching in the cloud forest, then sploshed through heavy rain and mudslides to the Madre de Dios River and the Peruvian Amazon. We had only one night at Amazonia Lodge, but the hummingbirds were spectacular.
Then an 8 hour boat ride took us down the Madre de Dios to Manu National Park where we spent 4 days birdwatching and looking for jaguar... saw LOTS of birds and monkeys, but no cats... Sigh. One of the highlights was the Macaw fly-in at the clay lick.
I also managed to make a new friend of a Piping Guan... told that story at Inside Peru.  Many of our little 2010 travel stories were just plane fun!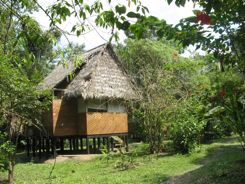 Flew out on a Twin Otter that was operated by the Peruvian Air Force. For airplane lovers like us, this was an air adventure... took off from a grass strip… flew at 16,000 ft. over a 13,100 ft pass to Cusco with no oxygen!
And then Easter Island...
Hmmm... more volcanos! We flew on to Santiago and caught a flight to Easter Island to see those statues of giant heads… the Moai.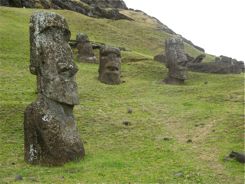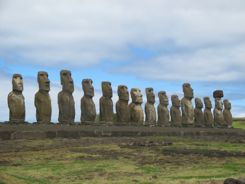 We got a rental car and drove around to see everything we could. Loved the volcano they call the "Moai Nursery" where the heads were carved... that's where dozens of them stand in the best condition.
Oh yea... and back home we made a dash to the Reno Air Races.
Whew... we're home for the holidays, and hopefully we'll find time to put up pages about some of our 2010 travels soon.
Happy travels... even if you don't travel the world... just remember that life is a journey... embrace and enjoy it! Judy and Mark
Curious about what else we've written about?  Search our site for a destination or travel tip.

But... We'd love to have you share this page or comment on it…
Thanks, Judy and Mark

Go from 2010 Travels to International Travel Tips
Go from 2010 Travels to MouseToursTravels Home Page