Crosses of Lithuania
The Old Soul of the Country
COVID slowed us down for a couple of years, and now a few health issues challenge us.  We're still traveling if not writing about it quite so much. Our goal in 2022 was get to all seven continents in one year... and we did it.

Going forward health issues may not allow us to travel.  No one can take away those memories though.  We hope all of you are well and staying safe... and that you find some inspiration here for YOUR future travels.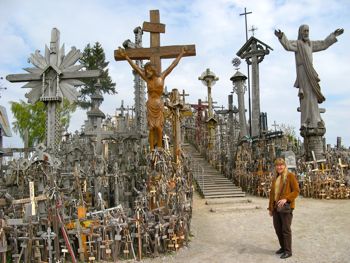 We read about the crosses of Lithuania in the guidebooks before our trip.
The Hill of Crosses went on our list as one of the sights we wanted to see....
But I have to admit, before we went I was kind of thinking...
How much of a tourist attraction are crosses?

Well, the fact is that the Hill of Crosses is not a tourist attraction... not as such, though it does attract lots of tourists. And once you're there you understand....
We toured the Baltic countries by car.  We started in Riga, Latvia... that is we didn't tour Riga by car... after seeing Riga, we picked up the car there and drove out.
Riga's Old Town was a great introduction.
We stopped by a castle on the drive to Lithuania, so we were off to a good sightseeing start.
Then we got to the Hill of Crosses on our way to Vilnius...
Tradition of the Crosses

It's not a big sight... It doesn't jump out at you from the road....
But once we found it and walked out to those two hills with the thousands crosses.... hundreds of thousands really... we discovered that here you feel the soul of the country...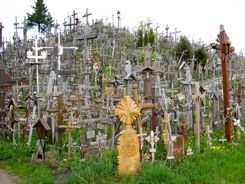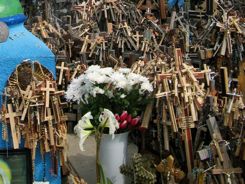 Some say the tradition of placing crosses on the hill started in the 13th century in defiance of foreign invaders.
Some say the tradition really started after a ruthless suppression of the 1831 uprising against Tsarist Russia. There were hundreds of crosses of Lithuania on the hill by the start of World War II.
During the Soviet era, a pilgrimage to the Hill of Crosses served as an expression of Lithuanian nationalism. Three times during that era, the crosses of Lithuania were hacked down and scraped, the hill bulldozed....
But the crosses reappeared... symbols of resistance to oppression. Today the thousands of large and small crosses are left by pilgrims and tourists from all over the world... representing their faith, but also in support of the Lithuania people.
Easy To Miss When You're Driving

As I said, it's not a big sight. If you're not careful you might even miss the road sign at the turnoff.
They do have "historical markers"... little brown highway signs, but they are not always also in English.... why should they be?
It's about 7.5 miles (12 km) north of the small town of Siauliai.
We drove right past it at first, but we knew we were close, and as we zipped past, we all said...
"Do you think that Kryziu Kalnas said Hill of Crosses in Lithuanian?"
It did.
See The National Museum in Vilnius

In Vilnius, we went to the National Museum. There we viewed a short film on the tradition of Lithuanian crosses... it was then that we started to understand even more their significance.
The people of Lithuania have great faith, and they have erected crosses in significant places for centuries.
As we drove through the countryside, we noticed more and more of those crosses... some simple, some elaborate... some in town squares, some just in peoples yards.
Crosses of Lithuania Are Everywhere

We found simple crosses in churchyards and elaborate crosses at where rural roads crossed...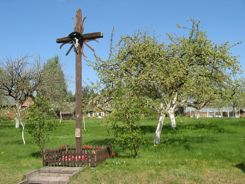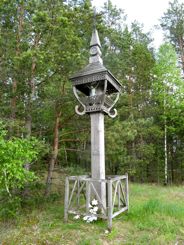 ---
We found crosses of Lithuania at the edge of forests and along the side of the road...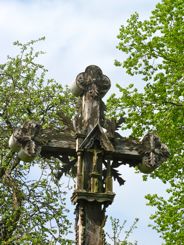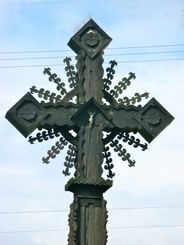 ---
We found them in farmyards and marking the ancient mounds of Kernave which archeologists say are the remains of 9000 years of habitation...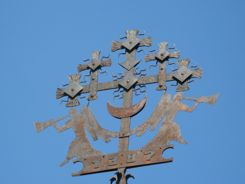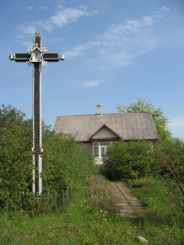 ---
We even found a cross marking the center of Europe. (Yes, one calculation puts the center of Europe in Lithuania. Did you know that? We didn't!)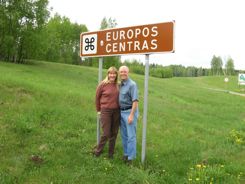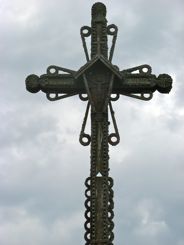 ---
Those crosses of Lithuania became part of our sightseeing...
...and along with the Old Town of Vilnius and the castles and the museums and the trains, those crosses of Lithuania became great memories.
Sometimes just a little thing gives your trip a little more color... a little thing like looking for those crosses.
Happy travels... even if you don't travel the world... just remember that life is a journey... embrace and enjoy it! Judy and Mark
Curious about what else we've written about?  Search our site for a destination or travel tip.

But... We'd love to have you share this page or comment on it…
Thanks, Judy and Mark

Go to International Travel Tips l Europe Travel Tips
Hotel and B&B Tips l Packing Lists and Tips
Go to MouseToursTravels Home Page