European Christmas Markets
Europe In Winter? Why Not!
COVID slowed us down for a couple of years, and now a few health issues challenge us.  We're still traveling if not writing about it quite so much. Our goal in 2022 was get to all seven continents in one year... and we did it.

Going forward health issues may not allow us to travel.  No one can take away those memories though.  We hope all of you are well and staying safe... and that you find some inspiration here for YOUR future travels. 

You could argue all day about where to find the best European Christmas Markets.
These markets are a distinctly German tradition, but they have spread across Europe.
If you're used to shopping in big malls and fighting for a parking spot...
These markets-in-the-middle-of-town will be a whole new shopping world for you....
They might just be worth a winter trip.
There are great Christmas markets across the continent.

European Christmas Markets Are A Growing Tradition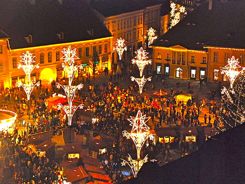 Some have been around since the middle ages...
....some have only recently become traditions.
Even the newer Christmas Markets in Europe are fun to see.
They've taken lessons from the older ones.
At the biggest European Christmas markets, you'll see lots of Christmas cheer....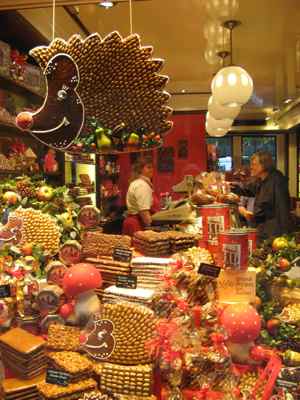 There will be many traditional Christmas decorations to buy from the area you're visiting...
...and lots of local food.
The shopping is for handmade ornaments, decorations, and children's toys.
The bigger cities may be easier to plan for, but don't neglect the smaller towns.
While the markets in the major cities may be among the best, keep in mind that bigger isn't always better...
...and the bigger European Christmas markets may be more crowded.

Choose A City You Want To See

Choose a city that you would like to see anyway.
Maybe visit a big city and a small town nearby to get both experiences.
Remember, it's going to be cold... White Christmas anyone?
You're also going to run into short days, so it will be dark early, but the Christmas lights on the stalls in the squares will make it all festive and be fun.

Where Can You Find Christmas Markets?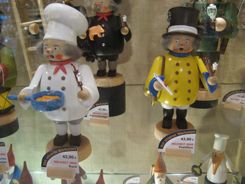 Visit any of the great German Christmas Markets...
Cologne, Nuremberg, Dresden, Munich, Berlin, Stuttgart, or any of the smaller towns. 
(The little town of Seiffen makes Christmas decorations year-round!)

Other countries with Germanic connections have great markets too.
In Austria, Vienna has had a market since the middle ages... some say it was the forerunner of the others.
Salzburg also has one of the oldest. It's smaller and more intimate than some, but what a romantic setting.
In Belgium, the Brussels Christmas Market hasn't been around all that long, but the Grand Place has been, and it makes a great setting. Look for the Fish Market transformed into an ice rink and lots of good food with the traditional arts and crafts.
In Denmark, Copenhagen's Christmas Market is set up in Tivoli Gardens, Europe's oldest amusement park, so you know you can expect a good time.
The Czech Republic has a beautiful market in Prague. It's a low key family affair. Look for good deals on Bohemian crystal as well as the wood carved puppets, toys and ornaments.
Tallinn, Estonia has one of the newcomers to the Christmas Market scene, but the medieval market square doesn't give that fact away. It's small but romantic. Hand knit sweaters, scarves and hats are specialties to look for here.
There is lots of Christmas cheer around London, but even here you can find a German-style Christmas market in Hyde Park.
Strasbourg's borders have changed several times through the centuries from France to Germany and back, so a Germanic style Christmas market has been a tradition here for over four hundred years.
In Rome, look for a totally different Christmas market experience with more traditional Italian handicrafts and lots of nativity scenes.

Book Ahead

Winter is usually the "off season" for European travel, but you'd better book ahead for the most popular Christmas Markets.
For better prices on airfare, avoid peak Christmas travel dates.
Markets go from late-November through Christmas. (Advent on the Christian calendar - the four weeks before Christmas.) Some extend the festivities to the new year.
Never thought about this kind of holiday?
This is one of the most picturesque times of the year in some ways. It might be worth checking out European Christmas markets.
Happy travels... even if you don't travel the world... just remember that life is a journey... embrace and enjoy it! Judy and Mark
Curious about what else we've written about?  Search our site for a destination or travel tip.

But... We'd love to have you share this page or comment on it…
Thanks, Judy and Mark

Return to International Travel Tips l Europe Travel Tips
Hotel and B&B Tips l Packing Lists
Go from European Christmas Markets to MouseToursTravels Home Page