Seiffen Germany
Christmas Decorations Large and Small
COVID slowed us down for a couple of years, and now a few health issues challenge us.  We're still traveling if not writing about it quite so much. Our goal in 2022 was get to all seven continents in one year... and we did it.

Going forward health issues may not allow us to travel.  No one can take away those memories though.  We hope all of you are well and staying safe... and that you find some inspiration here for YOUR future travels. 

Seiffen Germany... Never heard of it? Neither had we, and we never really intended to visit this little town. It's in a bit of an out-of-the-way corner of Germany; perhaps best visited if you're on a road trip across the country.
While you probably don't have this on your itinerary, it's a darling "toy-story" little town, and if you ever wondered where all those "Smokers" and Christmas trees with the wooden curls come from…
This is the place.



Exploring German Back Roads

We drove in from Poland and needed to stop for the night driving through Germany. Arriving in a country in a "non-capital" city is a different experience.
As we zipped down the autobahn, we chose the little town of Freiberg. (Not Freiburg... you've got to watch your "bergs" and "burgs" if you're going to look this up on a map!)
Freiberg was a cute enough little town to spend the night in. It has a pretty market square... two of them in fact. There is interesting architecture and nice restaurants.
Road trips can give you these nice surprises. We drove through Germany and spent two nights... both in towns that we would never have visited otherwise.
We talk to the folks at tourist bureaus in little towns like this, and they generally lead us to some surprising finds.

Seiffen Germany Was A Fun Surprise
So what's there? Like we said, all kinds of wooden toys and decorations...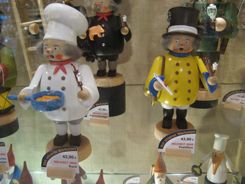 ...mostly Christmas decorations and smokers.
Not smokers as in cigarettes...
Smokers as in...
...you know...
Those little wooden figures that have a hollow in the middle for incense that makes them appear to smoke through pipes or round little mouths.


You see Smokers all over Germany. The Christmas decorations too…. nutcrackers, candle arches (Schwibbogen), candle pyramids, and those Christmas trees with the wooden curls....
You would think they are made all over Germany, but apparently this is where most of them are made.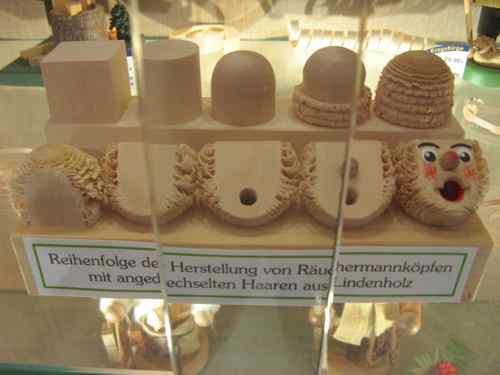 You're going to see more of them here than you ever have!
There are shops galore...
And you can visit several wood carving studios and see the artisans in action.



The whole town looks like a giant carved wood decoration.
There are shops on every corner and street.
Even the street signs are decorations.
There are several small hotels in town, so you could stay here if you really wanted to see all the shops in town.
There's a Toy Museum in town, a model railway museum and an open-air folk museum.... who knew?
How To Get There

Seiffen Germany is nestled in the Erzegebirge Mountains near the border with the Czech Republic. The area has a history of wood working from the 1800s when mining became less profitable. This is a corner of the old East Germany, so you will find fewer people who speak English, but that is changing.
The drive from Freiberg took us about 30 minutes.
To get there by train you would start in Dresden which is to the north. Take a train to Chemnitz, then a local train to Olbernhau, then a local bus to Seiffen..… driving is easier!
Those narrow two lane roads are a bit challenging, but the area is pretty, and we thought the side trip to Seiffen Germany was well worth it.
(Another nice surprise on our drive through Germany was Aachen.)

Happy travels... even if you don't travel the world... just remember that life is a journey... embrace and enjoy it! Judy and Mark
Curious about what else we've written about?  Search our site for a destination or travel tip.

But... We'd love to have you share this page or comment on it…
Thanks, Judy and Mark

Return to International Travel Tips l Europe Travel Tips
Go from Seiffen Germany to MouseToursTravels Home Page