Aachen, Germany
Gingerbread, Colorful Markets...
...and Charlemagne
COVID slowed us down for a couple of years, and now a few health issues challenge us.  We're still traveling if not writing about it quite so much. Our goal in 2022 was get to all seven continents in one year... and we did it.

Going forward health issues may not allow us to travel.  No one can take away those memories though.  We hope all of you are well and staying safe... and that you find some inspiration here for YOUR future travels. 

Aachen is a city in Germany that might not be on your vacation top ten list, but it's definitely worth a night's stop if you're driving through that part of Germany.
It's located about as far west as you can go in Germany...
In fact, you're right on the border of Belgium and the Netherlands.
It's one more thing we like about road trips...
...They can open up whole new areas that turn out to be well worth seeing.
We were actually heading from Poland toward Paris, but wanted to break up a long drive.
Friends told us that Aachen was a town worth seeing...
...So we stopped early enough that we could wander into the Old Town and see what it was all about.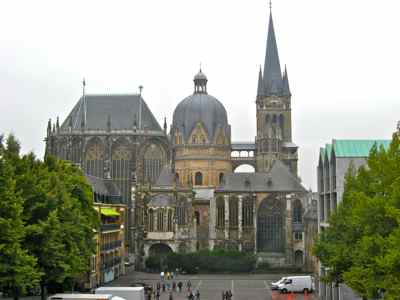 So What About Charlemagne?
So do you remember reading about Charlemagne in your history books? He was first crowned King of the Franks and the Lombards in medieval times... about 774. He was eventually crowned Emperor of the Romans in 800 AD starting a line of succession in what would become known as Holy Roman Empire. He never really took the title, but he is considered the first Holy Roman Emperor.
No, we didn't learn all of this in our history books.
We learned it in Aachen. The tourist board has a great little brochure that will lead you to all of the important sites that you should see relating to Charlemagne in Aachen.
Turns out that this pretty little town with its thermal hot springs became a major political center of his empire, and he was buried here when he died in 814 AD... so we're talking about a really historic and old town!
The King's Palace no longer exists, but the church that Charlemagne had built in 805 AD still stands... and the Cathedral is a UNESCO World Heritage Site. There are all kinds of treasures to see inside.... including Charlemagne's throne.

The Golden Arm of Charlemagne

The Palace Chapel... the octagonal chapel in the Cathedral, was part of Charlemagne's palace.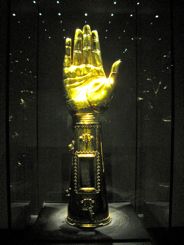 Charlemagne called it the Church of St. Mary, and he was entombed here. His original tomb has been lost. Supposedly he was moved into the Golden Shrine that is still in the Cathedral.
Later there were reliquaries made to display some of his bones, and those are kept in the Treasury.
In the Cathedral Treasury, around the corner from the Cathedral, you can see the Golden Arm Reliquary…. a giant arm and hand that has Charlemagne's arm bone in it. The Treasury is worth a visit as there are other religious treasures to see.
Because Charlemagne was buried here, most kings of Germany or the Holy Roman Empire were crowned here over the next several centuries.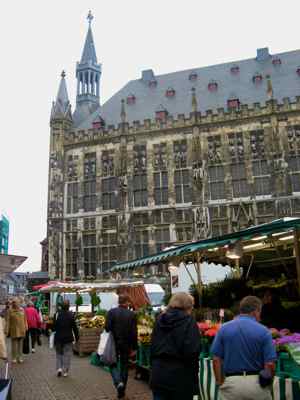 The Rathaus

The 14th century city hall or Rathaus lies between the market square, the Markt, and the Cathedral.
It was built on the foundations of Charlemagne's palace and within some of its surviving walls.
Kings of Germany held their coronation banquets in the Coronation Hall of the Rathaus.
Try to stop on a Tuesday or Thursday morning where there is still a fantastic market in the Markt square in front of the Rathaus.
AND Aachen Has Gingerbread!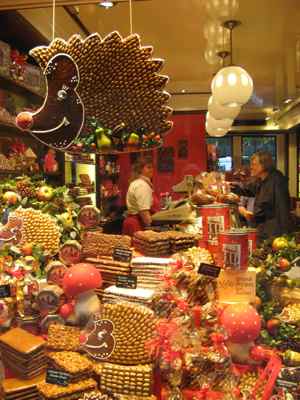 The flowers, fruits and vegetables look so artistic in these markets. The cheeses and sausages call to you.
Wander down some side streets in the old town for other shops. 
We found this great gingerbreaqd store.  It smelled sooo good, we just couldn't pass it up!
There are a number of hotels right in the Old Town, and lots of restaurants scattered around the pedestrian streets.
Road trips can yield unexpected surprises. Brushing up on our history and learning about Charlemagne in Aachen was one of those surprises.
So when you're driving in foreign countries... don't always press on to the next big destination...  go ahead and stop for the night.
Happy travels... even if you don't travel the world... just remember that life is a journey... embrace and enjoy it! Judy and Mark
Curious about what else we've written about?  Search our site for a destination or travel tip.

But... We'd love to have you share this page or comment on it…
Thanks, Judy and Mark

Return to International Travel Tips l Europe Travel Tips
Go from Charlemagne in Aachen to MouseToursTravels Home Page