The Rhine River
Vineyards, Castles and River Cruises
COVID slowed us down for a couple of years, and now a few health issues challenge us.  We're still traveling if not writing about it quite so much. Our goal in 2022 was get to all seven continents in one year... and we did it.

Going forward health issues may not allow us to travel.  No one can take away those memories though.  We hope all of you are well and staying safe... and that you find some inspiration here for YOUR future travels. 

If you've flown into Frankfurt, a short drive to the Rhine River Valley will ease you into a trip to Germany.
While the Rhine is hundreds of miles long, it is the short stretch between Koblenz and Bingen that you really want to see.

This stretch is only 36 miles long (58 km).  THAT's pretty do-able.
You could spend a couple of days in Frankfurt...
...But if you are more into seeing the countryside, the wine regions, the villages...
Get a rental car and head straight to the river and its cute little towns.

How To See The Rhine River

There are Rhine River Cruises.  These have gotten really popular the last few years.
You can take a two hour cruise from Bacharach to St. Goar and see the most scenic part of the river.
It's Fun To Drive The River

It's fun to see the Rhineland Castles from the river, but to really explore, we prefer driving the narrow roads on both sides of the river.
There are, surprisingly, lots of castles to see in this short stretch of river.

Castles, Castles, Castles

The castles of the Rhine started out as fortresses to protect the land owners or to collect tolls from river traffic.
In the 19th century, when Germany started coming together as a nation...
Many of the old castles were spruced up in a romantic way.
What you see today is a combination of restored castles and crumbling castle ruins.
You can tour some and stay in others.
The scenery here is beautiful and peaceful. There are hills climbing up from the river topped with vineyards as well as castles.
Spend time in the little towns the castles protected and watch barges and river cruises pass up and down the Rhine River.
Ferries Can Take You Back And Forth

Ferries will let you get from one side of the river to the other.
Roads on both sides of the river have excellent views as well as charming towns and restaurants with terraces that overlook the Rhine and the boat traffic.
The most popular towns are Bacharach and St. Goar.
Bacharach is a great place to find hotels and B&Bs.
It also has some of the best wine in the region.



Mermaids at Loreley?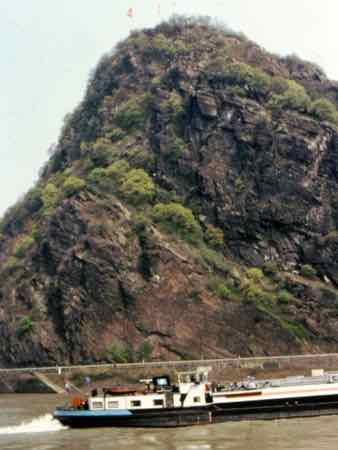 The Loreley is a very narrow spot in the river... so narrow and with a swift current that it proved very treacherous to boats. 
Soon, sailors were blaming the problems and wrecks on mermaids, and a legend was born.  The sailors said mermaids sat on the rock.
The town of St. Goar is near this rock.
It sprang up as a place that sailors could stop and give thanks for getting past the Loreley.
There are the ruins of Rheinfels Castle above town. It was once the mightiest castle on the Rhine River.
Katz and Maus Castles

See Katz and Maus castles. Katz Castle (Burg Katz, Katz means cat) was owned by a family named Katzenelnbogen.
Maus Castle (Burg Maus... mouse... get it?) got named because it was near Katz Castle.
Pfalz Castle

Pfalz Castle, shaped something like a ship, is in the middle of the river. That's it in the photo at the top.

It was built to collect tolls from boats passing on the river.
Gutenfels Castle sits on the bank above it.
Marksburg Castle
A Castle that you really should tour is the Marksburg Castle.
The tours are mostly in German, but it is the only surviving medieval castle on the Rhine.
Schoenberg Castle - A Castle To Stay In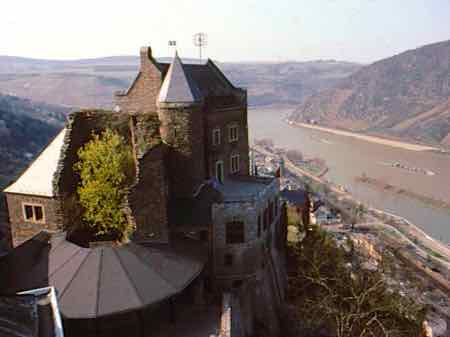 You can stay in Schoenberg Castle high on a hill overlooking the river.  We've stayed here twice and loved it both times. (We've seen it spelled Schonberg and Schönburg... some of those German letters don't translate properly into English.)

It's one of those romantic reconstructions, but who said romantic was bad?
Or..... how about a night in the Hotel Bur Reichenstein or Castle Liebenstein.
Take a day or two in this beautiful part of the Rhine River Valley.... EVen though it's a short stretch of river, there is lots to see and do.
Stay in a castle, or just tour one.
Have a little wine and enjoy your trip.
Happy travels... even if you don't travel the world... just remember that life is a journey... embrace and enjoy it! Judy and Mark
Curious about what else we've written about?  Search our site for a destination or travel tip.

But... We'd love to have you share this page or comment on it…
Thanks, Judy and Mark

International Travel Tips l Europe Travel Tips
Hotel and B&B Tips l Packing Lists
Go from The Rhine River to MouseToursTravels Home Page