Oktoberfest
Don't Miss This German Festival

COVID slowed us down for a couple of years, and now a few health issues challenge us.  We're still traveling if not writing about it quite so much. Our goal in 2022 was get to all seven continents in one year... and we did it.

Going forward health issues may not allow us to travel.  No one can take away those memories though.  We hope all of you are well and staying safe... and that you find some inspiration here for YOUR future travels. 

It's been a few years since we went to Oktoberfest, but when fall rolls around we always think about it.
And  one thing you should know is that it's a Fall festival... not an October festival.

One of our travel buddies is originally from Munich, so guess what...

He almost always goes…for the nostalgia and for the beer, and he almost always tries to coax us to join him.

The event is so famous that that communities in the U.S. and elsewhere have fashioned fall festivals after it.
Have you ever thought about going? 
If you have, there are some things you should know… like…


What Is Oktoberfest?
It's Munich's combination Bavarian beer festival and fair.  Yes, there's lots of beer.  Lots of food too.

It's all about the beer, of course, but there are all kinds of festivities and activities that go on for the duration of the event. 
It takes place on a big fairground in Munich, and just like a county fair at home, there are all kinds of carnival rides.


When Is It?

Are you planning a trip for October? Well, wait a minute! You're going to miss it, or most of it.
It starts the third Saturday in September and is over by early October. The festival lasts for 16-18 days. The first time we went to Oktoberfest, we learned that first hand.
Way back them, we were young and in Munich, just touring... and the host at our B&B told us that there were no rooms available from the weekend on for the next several days. It was the middle of September.... and Oktoberfest was about to begin.

It Starts With A Parade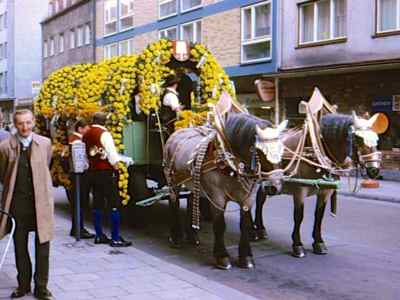 That turned out to be OK...
Our little B&B was right on one of the corners where the parade turned...
...So we got to see all of the beer carts with their big draft horses from the first floor above the fray.
On the first day, it starts with a colorful parade through town to the fairgrounds, the Theresienwiese (called the Wies'n for short). The Wiesenwirten (the breweries) have oompah bands and horse drawn carts piled high with beer barrels.
The beer wagons and the draft horses are decorated, and there are lots of people marching and dancing along in traditional clothes. If you're lucky enough to be there on opening day, dance along behind the parade and follow them to the Wies'n just like we did.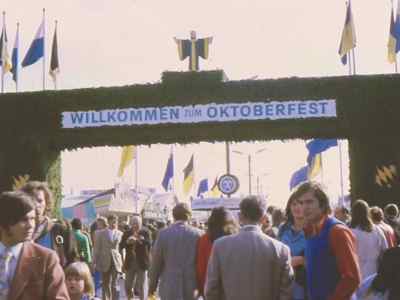 We followed the oompah bands into the Theresienwiese fairgrounds and got our first taste of the raucous festivities that are what Oktoberfest is all about.

It originated as a wedding feast fit for a prince in 1810, and apparently they had so much fun that it just kept going.


How To Get A Beer

It's free to get into the Wies'n grounds, you pay for food and rides as you go... and of course the beer.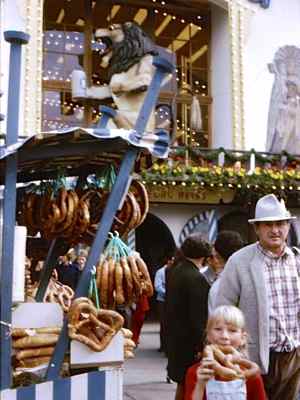 There are about fourteen big beer tents set up by the breweries. You can choose your tent by beer preference if you like; we've always just chosen a tent where we were lucky enough to get a seat!

It's harder to get a seat the later you arrive. Many tables are reserved. Don't sit there, but don't be shy, do squeeze in where you can and get friendly.

Here's the deal… In order to be served a beer at Oktoberfest, you must be seated.

Don't worry if you can't get into a beer tent. Each of them has tables outside, and it can be easier to get a seat there.
And loud as they are, you can probably hear the bands from outside.

Oktoberfest beer is potent stuff. 8 percent alcohol. AND it comes in those LITER mugs.


More Tips:  Money, Toilets, Comfortable Shoes

Be sure to take plenty of cash, those beer toting beer maids don't want to stop to swipe your credit card! There are ATMs at the Weis'n, but the lines could be long.

Drinking all that beer, you'll want to find a toilet. Americans want to look for "restrooms", but you need to look for "WC" or "toiletten". If you have a seat, make sure you leave a friend behind to keep it reserved for you. If you leave a tent, it might be hard to get back in.

Walk around and see the rides and the rest of the fair. There are plenty of food stalls outside of the tents, and lots of carnival type rides, both new and old style.

The Weis'n is a big fairground. The ground is uneven, and if you wander to see all the rides, you'll be walking a long way. You'll be walking to get to the the subway too, so wear comfortable shoes.

It's very crowded, and you will probably get a little tipsy, so leave your valuables locked in a safe in your hotel. By all means take your camera, but keep track of it. All the caveats about watching out for pickpockets apply, but when you're going to something like this, you should know that!


Reserve Your Room Well In Advance

Reserve your room well in advance.  Rooms will be more expensive during the festival and hard to get. 
The last time we went, we did have friends in Munich find us a room at the last minute... so it is possible, but expect to pay dearly if you reserve at the last minute like that.

How To Get There And Back

Getting to the fairgrounds is easy.... There is public transportation. It's right behind the Hauptbahnhof (the central train station). Just follow the crowds! Most of the beer tents open at 10:30 in the morning... a little early to start drinking, but you might want to grab a seat.
They close at 11:00 pm or midnight, but they stop serving beer earlier than that.... It takes a while to drink that whole liter!

If you stay until closing time, it is a mass exodus to the subway (U-Bahn or S-Bahn).... but the crowd is mostly friendly drunks.
If you know what to expect and you do a little advance planning, that September holiday to Oktoberfest should be lots of fun.

Happy travels... even if you don't travel the world... just remember that life is a journey... embrace and enjoy it! Judy and Mark
Curious about what else we've written about?  Search our site for a destination or travel tip.

But... We'd love to have you share this page or comment on it…
Thanks, Judy and Mark

Find More Europe Travel Tips   Return to Home Page