The Romantic Road of Germany
Romantic Towns For A Romantic Holiday

COVID slowed us down for a couple of years, and now a few health issues challenge us.  We're still traveling if not writing about it quite so much. Our goal in 2022 was get to all seven continents in one year... and we did it.

Going forward health issues may not allow us to travel.  No one can take away those memories though.  We hope all of you are well and staying safe... and that you find some inspiration here for YOUR future travels. 

Germany's Romantic Road is a tourists' dream. The road stretches through Bavaria from Wurtzburg, near Frankfurt to Fussen near Munich.
Make it part of your travels in Germany.

If you're going to travel from Frankfurt to Munich, you could fly...
You could take a train directly between them...
But really, the way you should go is via the Romantic Road.
It is actually a very old route.... It was a trade route during the Middle Ages... and before that it was a Roman highway.



The Romantic Road Is A Series Of Towns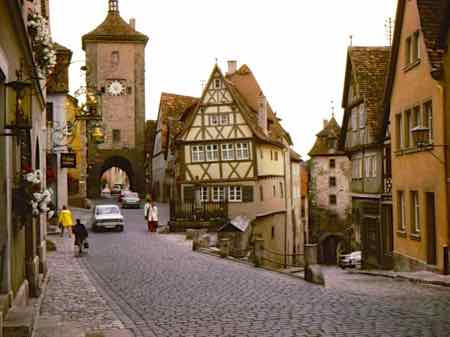 The towns strung along this road still retain much of their medieval character...
Towns with walls and gateways and towers.
The Romantischastresse, as a tourist route, was organized in the 1950s by the mayors of the towns to inspire more tourism.... and boy were they successful!
The quaint towns could call you all by themselves... we have a page to tell you more about the Romantischastresse towns themselves...
But the beauty of this road is that it passes through some of Germany's prettiest countryside... all the way into the Alps.
How To See The Romantic Road

Take A Bus

The first time we visited some of the towns on this route, we took a bus from Munich.
We had stops in Dinkelsbuhl and Rothenburg ob der Tauber.... It was a day trip. At the end of a long day, we caught a train back to Munich.
That was all the time and money we had on that first trip, but it just whetted our appetite to see more of the towns preserved along this road. And if that's all the time you have, it works.
There are buses that run daily both north and south along the Romatischestrasse between April and October. Much of the time it is actually a guided bus tour with commentary.
You could break your trip and spend more than the couple of hours they give you to explore Dinkelsbuhl and Rothenburg ob der Tauber. Both towns deserve more time.
Catch A Train or Ride A Bike

You can reach most of the main destinations by train. 
If you like active travel and have the time and energy, you can tour by bike.
Tourist Offices can provide maps and information for cyclists. Bikes can be rented at train stations.
If you're really adventurous, there are campgrounds all along the way.
There are plenty of tours that will take you along this route as part of a tour of Germany too.
It Makes A Great Drive

We think the best way to enjoy the Romantic Road is to rent a car and drive along spending as much time as you want in each of the little towns along the way.
The Romatischestrasse is one of the most popular tourist routes in all of Germany. All the towns tend to be crowded during the day in the summer.... especially Dinkelsbuhl and Rothenburg ob der Tauber.
All the more reason to get there on your own and spend the night in one of them when the day trippers will be gone, and you can explore the streets in peace.
Accomodations
There are plenty of hotels and Bed-and-Breakfasts (zimmers in German.... look for the zimmer-frei signs).
These run the gamut from reasonable to expensive.
There are plenty of places to eat and drink.
Because the whole region is so well organized for tourists, you can get lots of information at Tourist Offices at all of the towns.


How Long Should You Spend?
However you plan to see this scenic and historic route, plan to spend a few days...
Allow enough time so you don't have to fight the crowds.
Try to go in off peak seasons. But if all you can manage is a day or two during the summer.... go for it.
The Romantic Road is worth it, and just like it did for us on our first trip there, it will whet your appetite to explore more of it.
Happy travels... even if you don't travel the world... just remember that life is a journey... embrace and enjoy it! Judy and Mark
Curious about what else we've written about?  Search our site for a destination or travel tip.

But... We'd love to have you share this page or comment on it…
Thanks, Judy and Mark

International Travel Tips l Europe Travel Tips
Hotel and B&B Tips l Packing Lists
Go from Germany's Romantic Road to MouseToursTravels Home Page