Munich Beer Halls
Fun For Locals And Tourists
COVID slowed us down for a couple of years, and now a few health issues challenge us.  We're still traveling if not writing about it quite so much. Our goal in 2022 was get to all seven continents in one year... and we did it.

Going forward health issues may not allow us to travel.  No one can take away those memories though.  We hope all of you are well and staying safe... and that you find some inspiration here for YOUR future travels. 

Why not get into the "spirit" in Munich? Try Munich beer halls for meals as well as for a stein of that famous brew.
Those great halls are not just there to attract tourists...
The locals definitely hang out there.
You'll get proof of those local customers if you try to sit at a table with a sign in the middle that says "Stammish".
Those table are reserved for regulars....
That's where you'll see the locals hanging out.

Go Ahead And Eat There

There are all types of restaurants and cafes in Munich, and they come in all price ranges.
You can get traditional European cuisine and also Japanese, Indian, you name it....
But in Bavaria, why not try the Munich specialties... Weisswurst, Leberkaese, and Schweinebraten.
A Munich beer hall is about the best place you can choose to try a brat and a beer.
If you just want a snack to soak up some of that beer, try one of the pretzels you can find everywhere... they're called "Brezen".

Some Etiquette For Munich Beer Halls

Squeeze In Family Style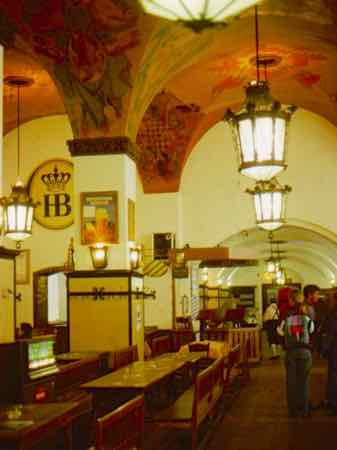 The tables that are not reserved are often "family style",
...and you're expected to share the table.
If you see a free space, ask if the seats are taken and squeeze in.
(Ask if they're "Frei" - just like in zimmer frei for rooms available).
Don't do this at a table with that "Stammish" sign.
Those locals are very protective of their table. Look for a locked cabinet nearby.
They also often keep their beer mugs locked up in little cages just waiting for them in their favorite beer hall.
How Will You Be Served?

In most Munich beer halls, you will probably be served at the table.
If you don't have someone come after a few minutes... head for the bar and order.
These beer halls are associated with a single brewery... the big ones are named after their brew, so unless you want a wheat beer or a dark beer... if you order just a beer, you'll get their regular lager.
Beware The Size Of The Beer!

You DO need to be aware of the size of the beer. You may be drinking out of a liter mug!!!
Beer is served in half liters or whole liters... 1/2 liter = 17 ounces... a good size beer.
Many Munich beer halls only serve 1 liter beers!!! That's 34 oz... Almost as much as three of those 12 oz bottle you get in U.S. six packs!
Just so you know when you're ordering, a liter mug is called "ein Mass"... a half liter mug is "ein Halb".
And that beer mug or glass is not called a "beer stein"
...it's a "Krug" or a "Seidel".

Hofbrauhaus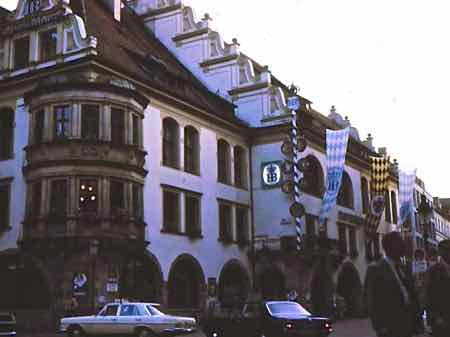 The most famous Munich beer hall is probably Hofbrauhaus.
Some websites will warn you away because it's touristy... well, you ARE a tourist.
There are plenty of locals there.
And even though the oompah bands may seem a little put on, they're not. It just shows the local traditions are alive and well.
And isn't that what you came for.... at least one time? Enjoy it for what it is.
Another amusing travel story for you...

Our first time at the Hofbraushaus, we sat at a table with a slightly inebriated German.
We weren't sure what to do.
He decided to help us... and he ordered a meal and beer for us.
Very nice of him, but...
That was probably the only time I will ever have pigs knuckles.
It may not have been my favorite meal, but we sure had fun.

Other Beer Halls And Beer Gardens

Some of the other beer halls are Augustiner Keller (or Gaststatte), Lowenbraukeller, and Donisl.
Unless you are a devoted fan of one particular brew, just walk down the street, find a beer hall that looks inviting and try it....
You can't go wrong.
In the summer there are also beer gardens.
You can bring your own food as long as you buy a beer. They're good cheap places to picnic for the price of a beer.
Just remember year round, you'll find good beer, food and fun in the Munich beer halls.
Happy travels... even if you don't travel the world... just remember that life is a journey... embrace and enjoy it! Judy and Mark
Curious about what else we've written about?  Search our site for a destination or travel tip.

But... We'd love to have you share this page or comment on it…
Thanks, Judy and Mark

Return to International Travel Tips l Europe Travel Tips
Hotel and B&B Tips l Packing Lists
Go to MouseToursTravels Home Page