Neuschwanstein Castle
One More Reason to Visit Bavaria
COVID slowed us down for a couple of years, and now a few health issues challenge us.  We're still traveling if not writing about it quite so much. Our goal in 2022 was get to all seven continents in one year... and we did it.

Going forward health issues may not allow us to travel.  No one can take away those memories though.  We hope all of you are well and staying safe... and that you find some inspiration here for YOUR future travels. 

Neuschwanstein looks like a fairy-tale castle.  The German state of Bavaria is chockablock with picturesque villages and castles...
But this one is really outdoes them all.
That's because it actually was built to be a fairy-tale castle.
It may look medieval, but it's not.  
It was built by King Ludwig II in 1869.
It's more fun to call him by the moniker he earned with his frenetic building spree... Mad King Ludwig.
What building spree?  He built two other castles in short order!

Theatric Setting For Neuschwanstein
Think about this...
For Neuschwanstein, Ludwig had the help of a stage designer!
Talk about theatrics.
He did a great job of creating a wildly romantic castle too....
We've read repeatedly that Neuschwanstein was the inspiration for the Sleeping Beauty Castle in Disneyland!
Don't just race up the hill to Neuschwanstein.
Entrance Tickets

Entrance tickets to the Castle must be purchased at the ticket center in Hohenschwangau.
This ticket center serves both castles that are here...
Yes, there are two castles right next to each other.

Lots Of Climbing

You can't wander the castle on your own; you must join a tour. Tours are given regularly in English as well as German.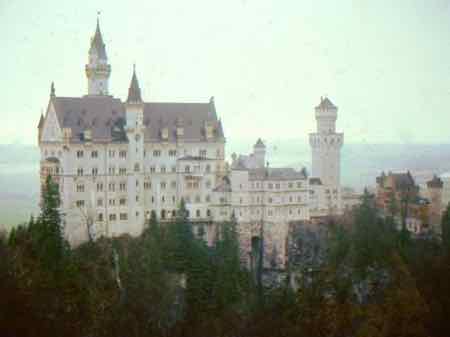 Be warned... that hill to the entrance isn't the only climbing you'll do...
There are stairs inside... LOTS of them.
165 stairs up and 181 down according to the guidebook we read. (Before you ask.... the exit is lower than the entrance.)
They do have tours for the disabled. Check their website for details.
If you don't want to walk up the hill, you can pay to take a horse-drawn carriage up the hill. (It's more expensive to ride up than it is to ride down.)
Make Reservations

If you really want to be a smart traveler... get a reservation.
It'll only cost you a couple of Euros more to do this.
Don't Miss Your Time Slot

Whether you get them at the ticket booth or online, tickets come with admission times....
Don't miss your time slot!!!
Tour both castles while you're there.... if you do this, you'll tour Hohenschwangau first...
You'll have two tour times on your ticket two hours apart.
If You Get Your Reservations There

Get there early...
Especially in the summer.  Remember, tours are mandatory... and there are a limited number of spaces on each.
If you have to wait for your tour, hike around to see the two beautiful lakes nearby.
The Schwansee is a nature reserve offering views of the castles. Just remember not to miss your tour time!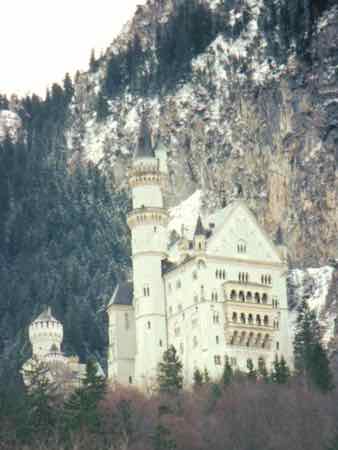 What You'll See

The lavish interior is full of fantastic furniture and imaginative wall paper.
There are amazing "modern" (for the time) amenities....
...flush toilets, running hot and cold water,
...and heating!
You can't take pictures inside the castle, but you can get great views outside.
Once you're done with your tour, walk up...
Yes, more up... to Mary's Bridge (Marienbruecke) for a great photo op view of the castle.

Getting There

You can make this a day trip from Munich.  We did that the first time and visited on a driving trip through Bavaria another time.
You can stay in Fussen or Schwangau, the little towns near the castle.
You can also choose to stay right in Hohenschwangau. There are a few hotels to choose from near the castles.
The castle complex of Hohenschwangau is 4 miles (7 km) east of the little Bavarian town of Fussen. The closest airport is Munich; the castle is 72 miles (116 km) from Munich.

You May Think It Sounds Touristy...

It is....
It was opened to tourism only seven weeks after the mysterious death of Mad King Ludwig.
No trip to this part of Germany would be complete without a visit to Neuschwanstein!
Happy travels... even if you don't travel the world... just remember that life is a journey... embrace and enjoy it! Judy and Mark
Curious about what else we've written about?  Search our site for a destination or travel tip.

But... We'd love to have you share this page or comment on it…
Thanks, Judy and Mark

International Travel Tips l Europe Travel Tips
Hotel and B&B Tips l Packing Lists
Go to MouseToursTravels Home Page