Munich
Culture and A Whole Lot Of Fun
COVID slowed us down for a couple of years, and now a few health issues challenge us.  We're still traveling if not writing about it quite so much. Our goal in 2022 was get to all seven continents in one year... and we did it.

Going forward health issues may not allow us to travel.  No one can take away those memories though.  We hope all of you are well and staying safe... and that you find some inspiration here for YOUR future travels. 

We're pretty sure you're going to like Munich. Most people we know who go to Germany hit this great city if they don't see anything else.


Yes, it's the capital of Bavaria in Germany...
But when you think of a capital city...
...don't you think of a serious place with government officials and boring buildings?
Well get that picture out of your mind....
Munich is FUN!

Where Is Munich?

It's in the southern part of Germany.
Truthfully, it might be best known for its fall festival of Oktoberfest.
Beer is a big part of touring this great city with all its famous beer halls, but there is so much more.

Lots Of Culture in München

There are great museums to visit...
historic churches...
and the great central square of Marienplatz which is full of flowers...
and alpen horns...
and the Rathaus looming over the whole pagent.
(OK, many of the buildings have been re-built since they were destroyed in World War II, but the reconstructions are so faithful that you'll never notice.)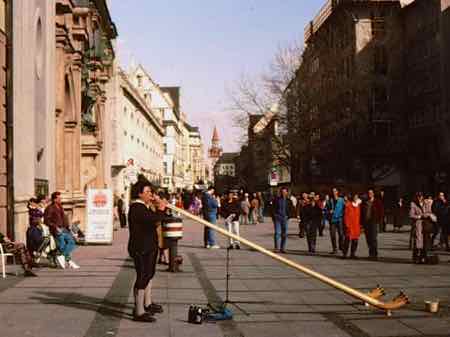 What's this about Alpen horns?
You'll find lots of those Tyrollean influences because it is close to the Tyrollean Alps;
They're only 50 miles (80 km) away.
We encountered a group playing Alpen horns right there on the pedestrian street.
The music and the people in Bavaria just seem more carefree than what you find in northern Germany.
It's Munich in English, I'll say it's Munchen in German, but that's not really right... it needs those two little dots over the "u" or they'll tell you it's misspelled.... so Müchen.  See?


What's There To See?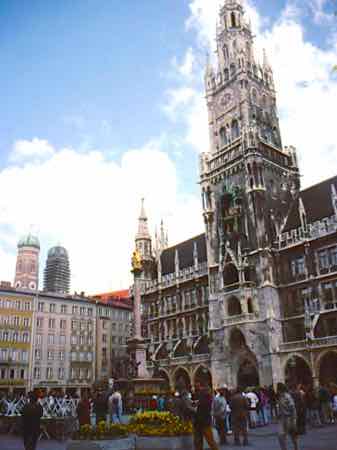 So what should you see in this fun loving city?
See the Marienplatz we mentioned above.
Join all the other tourists to watch the Glockenspeil that graces the top of the Rathaus (the New Town Hall) put on its show at 11 am.
(The bells and characters also come out at 12 noon and 5 pm in the summer.)
See the Frauenkirche, one of the symbols of the city, but don't neglect other churches...
And stay alert for concerts in them.
It's a real treat to hear organs and choirs in any church...
It's like listening to angels, and I guess that's the affect the architects were hoping to have on you!
Serendipity
One trip we got into the city on Easter. On Easter Monday, we wanted to see the Michaelskirche.
We dashed in before they started the service, but as we were wandering out a little old German man stopped us from leaving... he kept saying, "freies Konzert."
We decided to sit in the back row and see what he was talking about. The church ended up filling with standing room only, and we heard the most wonderful concert you can imagine.... we listened to those angels... for free.
Sometimes you've just got to listen and act on serendipity.
You'll also want to see the Residenz, the Palace in the middle of town. It can take you the better part of a day just to see the highlights. Its fabulous rooms are full of period furniture. Don't miss the treasury! I will never forget the little gold statue of St. George Slaying the Dragon that is encrusted with jewels.
There are museums too... the Alte Pinakothek full of old masters and the Neue Pinakothek with paintings from the 19th and 20th centuries, but you could also visit... say... the BMW Museum. There is a whole list of museums to choose from.

Food and Drink

For meals why not try a beer hall? There are plenty to choose from in Munich... and while there will be lots of tourists in them... there will also be lots of locals and plenty of atmosphere and music.

How To Get There And Get Around

Most major airlines fly into the Munich airport. If you want to get straight to this fun loving part of Germany, why not fly directly in?
Bus, trains and taxis are available to get you into town. The airport is only about 9 miles (15 km) from town, but it will take you about 45 minutes to get in from the airport to city center.
If you want to rent a car to explore the rest of Bavaria, do that AFTER you've seen Munich... you don't need a car in town, and you don't want the expense and bother of parking it. (on certain holidays, parking is free or cheaper. We got free parking with our hotel on Easter and Easter Monday.... yeah!)
So for a visit to the Bavarian corner of Germany consider starting in Munich where you can immerse yourself in culture and lots of fun.
Happy travels... even if you don't travel the world... just remember that life is a journey... embrace and enjoy it! Judy and Mark
Curious about what else we've written about?  Search our site for a destination or travel tip.

But... We'd love to have you share this page or comment on it…
Thanks, Judy and Mark


International Travel Tips l Europe Travel Tips
Hotel and B&B Tips l Packing Lists
Go to MouseToursTravels Home Page