The Mosel River

Wine, Swans and Castles
COVID slowed us down for a couple of years, and now a few health issues challenge us.  We're still traveling if not writing about it quite so much. Our goal in 2022 was get to all seven continents in one year... and we did it.

Going forward health issues may not allow us to travel.  No one can take away those memories though.  We hope all of you are well and staying safe... and that you find some inspiration here for YOUR future travels. 

A drive along the Mosel River gets you into a quiet, romantic corner of Germany.
(This river is called the Moselle where it meanders into France.)
There are different ways to see this river... tours and river cruises.
We drove, so we'll tell you about that.
We recommend that after a day or so, you leave Frankfurt behind, and see the castles of the Rhine.
Once you've experienced the Rhine River Valley...
You're ready to round the corner to the Mosel River.
This area sprinkles smaller castles among romantic, peaceful villages and hillsides covered with vineyards.

The Mosel River Is Sleepy and Romantic

If you approach it from the Rhine you will start near Koblenz. One of your first treats will be to get off into the mountains to see Burg Eltz (Eltz Castle).
Burg Eltz - Now We're Talking Castles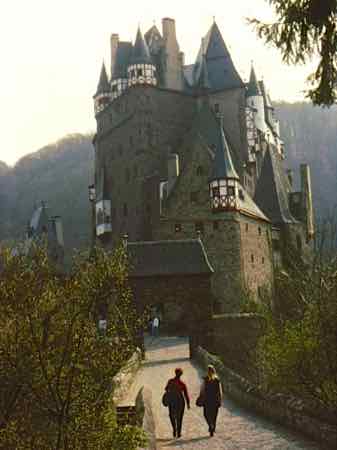 Burg Eltz is about an hour from the Rhine River. 
It's between Koblenz and the Mosel town of Cochem.
Your drive will take you off the main road and wind up a narrow road to a parking lot.
From there take a shuttle or walk to the castle.
It has been left intact for 700 years, never having been destroyed.
It is furnished as it was in the Middle Ages and is still owned by the Eltz family.
A tour of the castle takes about 45 minutes and is well worth it.
There are English as well as German tours.

How Often Can We Say Cute Little Towns?

Cochem
This is the first little town of size that you come to as you drive south.  Cochem is a picturesque town and a tourist hub.
You can easily find hotels, B&Bs (Zimmers in German) and restaurants. The old quarter is dominated by its 1000 year old castle, which can be toured.
The town itself is dotted with restored timber framed houses.
Beilstein
Beilstein is one of the quaintest of all Mosel River towns. It has narrow lanes and yet another ruined castle.
Along the river, you're sure to see swans... be sure not to invade their territory; they will probably try to chase you off.
Zell
Zell is a peaceful town with a fine riverside promenade.
It has plenty of wine bars, restaurants and Zimmers.
(Remember "Zimmer Frei" doesn't mean a free room.  We've been through that before... It means there is a room available.)
Punderich
Punderich is another cute little town (I told you so!)  We spent the night here in a cut little B&B and had a great dinner....
And got the photo, so we include it as another town on your drive south.


Bernkastel Kues and The Doctor Vineyard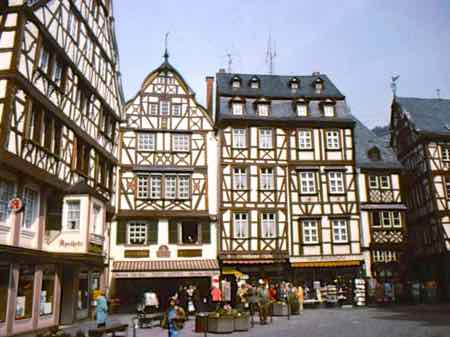 The town of Bernkastel is over 700 years old. It is on the middle Mosel.
In a valley full of wine towns, this little village stands out.
Half-timbered buildings dating from the early 17th century surround its old Marktplatz.
It is 30 miles (48 km) from Trier.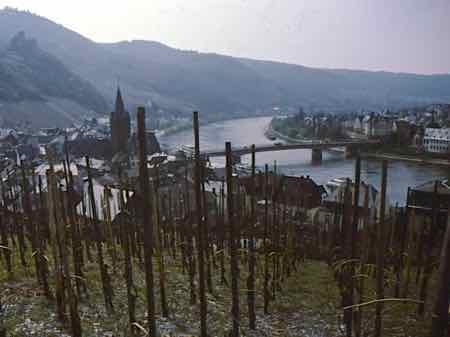 The legendary (among wine aficionados) Bernkasteler Doctor Vineyard is located along the Mosel above the town of Bernkastel.
You can sample wines in town, but you'll probably have to pay to taste this famous wine...
It is one of Germany's most famous and expensive wines.
This part of Germany is known for it's Rieslings, but there are other wines available.
Where To Stay

There are small hotels in most of the towns, but this is a great area to just look for one of those "Zimmer Frei" signs and stay with a family.
Pick the right place, and they might even make their own wine.... and let you sample it.
They'll feed you a great German breakfast and give you tips on where to have lunch and dinner.
You may have a quiet balcony to sit on and look at the swans float by on the river... and really unwind, which is what a holiday is all about..., isn't it?
Quaint, Picturesque, Cute - Too Much?

If you're getting the idea that all the little towns and villages along the Mosel River are quaint and picturesque... you're absolutely right.
Drive along the river.
Stop and explore where the whim strikes you...
And enjoy.  You'll be using all those superlatives too.

Happy travels... even if you don't travel the world... just remember that life is a journey... embrace and enjoy it! Judy and Mark
Curious about what else we've written about?  Search our site for a destination or travel tip.

But... We'd love to have you share this page or comment on it…
Thanks, Judy and Mark

International Travel Tips l Europe Travel Tips
Hotel and B&B Tips l Packing Lists
Go from The Mosel River to MouseToursTravels Home Page