Ship Your Shopping Home
Travelers Might Find It Easier and Cheaper
COVID slowed us down for a couple of years, and now a few health issues challenge us.  We're still traveling if not writing about it quite so much. Our goal in 2022 was get to all seven continents in one year... and we did it.

Going forward health issues may not allow us to travel.  No one can take away those memories though.  We hope all of you are well and staying safe... and that you find some inspiration here for YOUR future travels. 

Are you a shopper? If you love travel and shopping, you might want to ship your shopping home.
It all depends on how much you buy...
...when you buy it...
...and if you want to carry it around with you or not.
If you buy large souvenirs or just lots of things...
You might want to ship your shopping home rather than try to pack it in your suitcase.

With today's airline baggage fees, this could save you money, but that's not necessarily true.
Sometimes it's just easier.

How Do You Ship Your Shopping Home?

So where can you go for this service?
The Postal Service

There's always the mail.
We did ship some paperwork and clothing home for an uncle one time from Germany using their postal service.
The post office had a variety of boxes we could use, and it wasn't too expensive.
International Shipping Services

There are those big international shipping services like FedEx and UPS. You can find them around the world.
And there are lots of shipping services popping up just to ship suitcases.
Sometimes at special events, they are set up to help you ship your shopping home.
We attended the Masters Golf Tournament a few years ago with my brother. He about bought out the gift shop early in the morning.
We couldn't carry the purchases with us, but fortunately, UPS was all set up right there, and his packages were on their way home in only about 5 minutes!
The Merchant May Send Them For You - Be Careful, But...

If you buy large pieces, check to see if the seller will send them to you.
If you read travel magazines like we do, you have probably read horror stories about this.
We've had friends get the merchants they bought things from send those purchases home, and they got their items just fine.
Our only experience was shipping a large carpet home from India.
It arrived home only a couple of days after we did...
No problems.
Of course we did have to pick it up and take it through customs.
The vendor even sent us an e-mail asking if it had arrived safely.
Just be careful.
You are trusting that they will follow through.
Once you're home, it's hard to follow up on if something hasn't been shipped or something got broken.

Think About What You Buy and Collect

We do try to keep our souvenirs small enough to carry on with us.. that large carpet aside.
OK... We recently carried home a camel saddle bag from Oman. It was bigger than a carry-on bag, but we wrapped it well and tried to take it on the plane. They let us take it as far as the plane door, then the flight attendant said we'd have to check it. At least we avoided the baggage belt for that first part of the trip.
If you're on a long trip, and you collect lots of brochures or books, they're heavy to carry home. It might be cheaper to mail or ship them home than to pay than to pay for excess luggage.
Mostly we try to buy souvenirs that are small, pack flat in our suitcases or fit under the seat back in front of us.
Could You Buy It At Home?

If it's going to be expensive to ship it... could you buy it at home in an import store for less? Would it be cheaper to pay excess luggage?
Remember, if it's heavy.. as in overweight, that might be more than you think.

Take A Collapsible Bag With You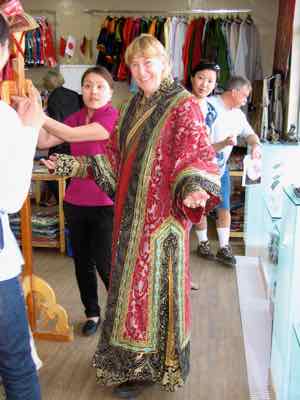 We also take a small collapsible bag that we can fill and check if we get really carried away with purchases.
We think this is a cheaper option than shipping your shopping home.... and it will arrive home when you do... at least it should!
Everyone loves to come home with some meaningful memento that will remind you of your trip... just give it some thought before you buy...
Should you ship your shopping home or just try to pack it?
Depends on what you buy.... we LOVE our carpet from India!
I carried my Mongolian outfit home in that collapsible bag... I love it too.

Happy travels... even if you don't travel the world... just remember that life is a journey... embrace and enjoy it! Judy and Mark
Curious about what else we've written about?  Search our site for a destination or travel tip.

But... We'd love to have you share this page or comment on it…
Thanks, Judy and Mark

International Travel Tips l Europe Travel Tips
Hotel and B&B Tips l Packing Lists
Go from Ship Your Shopping Home to MouseToursTravels Home Page