Enjoy Your Travel More
Join In, Participate, Make Friends
COVID slowed us down for a couple of years, and now a few health issues challenge us.  We're still traveling if not writing about it quite so much. Our goal in 2022 was get to all seven continents in one year... and we did it.

Going forward health issues may not allow us to travel.  No one can take away those memories though.  We hope all of you are well and staying safe... and that you find some inspiration here for YOUR future travels. 

To enjoy your travel you need to work a little at it. 
Work?  Didn't you leave that behind?  Well, yes, you left your job behind ...at least we hope you were able to.

If you had to bring some gadgets and work along, we hope you can limit how much you use them.
If this is a holiday just for relaxation, you can go ahead and float through the trip. 
But if you're traveling to experience new cultures and see new things…
...Yes, you'll have to work at it.


Your attitude and how much you try to connect with that new culture and join in will make all the difference in how memorable your trip is.


Keep A Positive Attitude

You do want to be positive and expect to have a good time.
We really believe you get what you're looking for, so you might as well expect to have good things happen and have fun.

On the other hand, don't expect to just float through this trip you've imagined without having to put a little effort into connecting with the local places and people.

Go With The Flow To Enjoy Your Travel More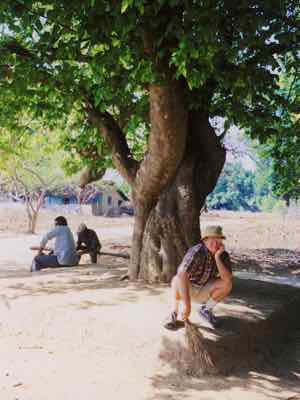 If you're used to operating at high speed… slow down.  Learn to go with the local time tables.

Not every culture operates at the same pace.

Some cultures even have words to slow you down...

in Swahili "pole, pole" means slowly, slowly.

In the Indian National Park of Bandhavgarh looking for tigers… we had to sit and wait for the documentation we needed.  No rushing involved.

In a culture where things just don't happen quickly, there is no reason to work yourself up over it.

The only way to enjoy your travel is to slow down to their pace and observe how it works for them.


Accept Invitations

Respect the local culture and don't gawk or make fun of it.

The right attitude can lead to wonderful experiences.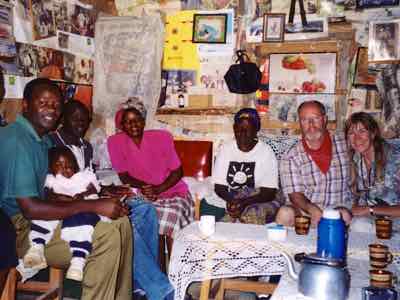 In Kenya one trip, our guide told us we were driving right past his village.

We asked if he would like to stop to see his wife and children. We went with him.

They lived in a house that was humble by western standards but fine by theirs.

His wife served us tea, telling us not to worry, that it was made with boiled water.

Then she apologized that her house was a mess because she wasn't expecting company...

THEN she said the next time we came to Africa, we should plan to stay with them.

Can't you just hear yourself or your friends making all of the same protestations and the same invitations?

Go Along With Their Customs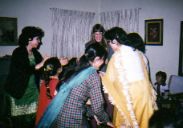 We were invited to a wedding in Pakistan.
We had to split up... Men and women partied separately.
Mark went with the men to eat and talk politics, I went with the women to eat and dance.
The groom's sisters had to teach me how... (I had more fun!)

Join In When You Can

In the Italian town of Gubbio, they were preparing for their annual "Ceri Race Festival". The teams were meeting in their neighborhoods.
We suggested to our friends that we should buy a jug of wine and ask if we could join the street party. Our friends didn't want to intrude, so we went to a local restaurant.

But wait....
One of the teams, the Yellow Team, came in to our restaurant and went into a back room.... when the conga line snaked out and onto the street, we joined in.
We sang for them... "Yellow Rose of Texas" and "Yellow Submarine" anyone?
At first our friends wanted to crawl away, but soon we were sharing wine with everyone. We partied the night away with the Yellow Team in fractured English and Italian.... and our friends haven't stopped talking about it since.
You can't sign up for that on a tour... you just have to lose your inhibitions and join in to enjoy your travel more.

Travel Isn't Always Easy

I'll admit that.
I had a friend who was recovering from a divorce and looking for a new relationship. She said before she ever got serious again, she would have to travel with her new partner because travel brings out the worst and the best in you.
I thought there was something to that.


Become an Extrovert

Join in.
Keep yourself humble... acknowledge that your way is not the only way.
Get lost, but don't get frustrated, take it as an opportunity to meet locals and ask questions.
Adjust your attitude and enjoy your travel.

Happy travels... even if you don't travel the world... just remember that life is a journey... embrace and enjoy it! Judy and Mark
Curious about what else we've written about?  Search our site for a destination or travel tip.

But... We'd love to have you share this page or comment on it…
Thanks, Judy and Mark

International Travel Tips l Europe Travel Tips
Hotel and B&B Tips l Packing Lists
Go from Enjoy Your Travel to MouseToursTravels Home Page