Shopping On Vacation
Learn About The Culture - Have Fun Too!
COVID slowed us down for a couple of years, and now a few health issues challenge us.  We're still traveling if not writing about it quite so much. Our goal in 2022 was get to all seven continents in one year... and we did it.

Going forward health issues may not allow us to travel.  No one can take away those memories though.  We hope all of you are well and staying safe... and that you find some inspiration here for YOUR future travels. 

Some people love shopping.
I'm not one of them, but I do like shopping on vacation.
I like going into stores to see what they're selling. Grocery stores are different in different parts of the world. And I love bazaars.

While I LIKE shopping on vacation...
I think some people vacation to shop!
Travel for what ever reasons you want...
And if shopping is one of your loves....
Why not shop while you're traveling?
Seriously... It's a great way to get into some cultures!  


Seeing more about the culture we're visiting... That's why I like it.

Bazaars And Flea Markets Are Fun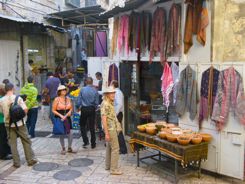 The antiquities, real and fake, were amazing in Jerusalem..
And they had some great shawls.
I like wandering in bazaars and flea markets...
But I like looking at big department stores in cities like London and Paris or almost anywhere else too.
Exploring big stores lets you see what the fashions are like in the country you're visiting, and it gives you a different perspective on the country and it's people.
If you're a real shopper... you probably just love shopping someplace new!


Just Go Prowling Around
I love prowling museums and historical sites, but grocery stores, department stores, and bazaars give you a glimpse of everyday life.
I like going to small boutique stores almost anywhere.
You find more local flavor...
Less "mass marketed" items.
If I can find a jacket that Bhutanese women wear over their "kira"....
I'll have a jacket at home that no one else will have... unless they, too, have been to Bhutan.
(Yes... I have the jacket.  And I wear it all the time!)

Grocery, MegaStores And Small Markets 
I like going into grocery stores.
There are supermarkets now all over the world in addition to small local markets.
It's fun to look at local grocery items and see what else is for sale. There are places like Carrefour and LeClerc in France and Lidl all over Europe... not to mention IKEA!
We went to a Safeway in Amman, Jordan. It was fun to try to buy lowfat milk in Arabic and see the kinds of goods they had for sale.
Small markets are fun to see too... You see exotic fruits and vegetables.
And if you're lucky enough to be in a town for the weekly market, you'll probably be doing some cheese or sweets shopping on vacation!


Shopping For Arts And Crafts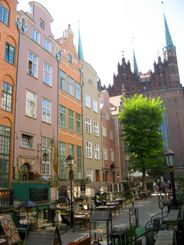 It's fun shopping for arts and crafts made by local artisans. It was great fun shopping for amber in Gdansk, Poland.
Sometimes we shop for something for ourselves to bring home.
We have gone looking for carpets in India, Nepal, Pakistan and Turkey... and we came home with a few.
We have bought "made for tourist" items like Tibetan horns, and African wood carvings, and sometimes jewelry.
We try to find things that are small and pack easily... except for the carpets anyway.

We also shop for interesting items that will make fun gifts for friends and relatives at home.
The amber earrings that we bought in Gdansk will make great gifts for my nieces come Christmas.

Even If You're NOT A Shopper...

Shopping On Vacation Is Fun
It's interesting...
There are thousands of sites trying to entice readers to go THERE and shop.... and THERE was any place in the world!
There are whole tours set up for shopping on vacations... either near home or far away!
We prefer to think that we go to those department stores and boutiques and bazaars for the cultural experience.
If I come away with an interesting new "ethnic" outfit that I could never get at home... that's a souvenir.
If we come home with a new carpet... that's a wise purchase.
If we come home with a "tacky tourist curio" to hang on the Christmas tree... that's just plain fun.
Psychologists say that the act of shopping someplace new can dose the brain with dopamine, a natural chemical that provides deep satisfaction and that often starts to flow when we confront something novel and exciting....
I love science...
Maybe that's why I like shopping on vacations better than shopping at home!

Happy travels... even if you don't travel the world... just remember that life is a journey... embrace and enjoy it! Judy and Mark
Curious about what else we've written about?  Search our site for a destination or travel tip.

But... We'd love to have you share this page or comment on it…
Thanks, Judy and Mark

International Travel Tips l Europe Travel Tips
Go from Shopping On Vacation to MouseToursTravels Home Page