Vacation At Home?
Sure, Save This Year, Travel Next Year
COVID slowed us down for a couple of years, and now a few health issues challenge us.  We're still traveling if not writing about it quite so much. Our goal in 2022 was get to all seven continents in one year... and we did it.

Going forward health issues may not allow us to travel.  No one can take away those memories though.  We hope all of you are well and staying safe... and that you find some inspiration here for YOUR future travels. 

Why would you want to vacation at home? We're into travel... adventure!
The world economy always has it's ups and downs. and that may affect your travel plans.

It's been improving, but it hasn't always been consistent... and even though the world economy may be OK... maybe yours isn't at the moment.

You might find that your budget just won't take a big international trip.

In the U.S., the press has even came up with a new word for this a few years ago…
"Staycation" instead of vacation.
You Still Need A Break

You still need a break from work, so.... you can find fun and adventure close to home.
Plan something a little less ambitious this year and save money to get back out into the world next year.
I don't know about you, but there really are quite a few fun things to do close to where we live; we just don't take the time to do them.
The same thing happens to our friends..., when we visit friends in other states or countries, we find that they take us to fun and interesting spots, but they say they never go by themselves because it's so close to home.
Vacation At Home - Play Tourist In Your Own Backyard!

So why not play tourist in your own backyard.... vacation at home when your budget needs a little rest.
Find A New Ethnic Restaurant To Try

When we travel, we love to try foods that are new and different to us.
Now think about it.... There probably is a Vietnamese restaurant, or an Indian restaurant or a Mexican restaurant close to where you live.
Paella Anyone?
Have you ever been there?
How about French, Italian, Middle Eastern, Japanese, Greek, Indonesian.... the list goes on and on doesn't it?
A Spanish restaurant? 
Paella anyone?

Pick one and go try the food.
A culinary vacation at home this year might have you planning a trip next year to a destination you hadn't considered before.
Find A Festival You've Never Been To

If you have a large ethnic group living in your area, do they have festivals or celebrations carrying on traditions from home?
Go to a Chinese New Year's Parade or a Tet celebration.
Is there a Greek festival with dancing?
A Japanese Obon Festival?
Scottish Games? We have all of those close to us and more.
Historic Sites In Your Area?  They've NOT Just For Tourists

Are there historic sites near where you live that you just take for granted? Are there significant buildings you've never been in?
If you live in London, have you ever toured Buckingham Palace or have you always said, "Oh, that's just for tourists."
If you live in Washington D.C., have you seen Mount Vernon, George Washington's Plantation?
OK... maybe you'll have to make it a day trip, but there could be something close by that you would not think of missing if you were traveling to your area instead of living there.
Vacation at home and see the history and significant sights near where you live.
How about museums you never go to.
Is there an historic battle field nearby?
Is there an old train that gives rides?
Little old towns that time forgot?
Those are the kinds of places that visiting tourists seek out... the kinds of places YOU look for when you travel. Look for them at home.
Brush Up On Your Skills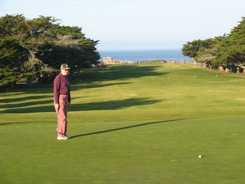 Have you ever wanted to play golf in Scotland?
Take golf lessons and polish up your golf game.
Save the money this year, and by next year, maybe you'll feel confident enough to try those links courses.
(Just so you know... I'll never be that good!)

Ever wanted to trek in Nepal? Spend this year hiking in parks close to home... then you'll be in good shape and ready to tackle... well, if not Mt. Everest, maybe the Annapurna Loop Trek.
We don't say to forgo a holiday, but once in a while you might just find that a vacation at home will give you more information and money for travel in the future.
Happy travels... even if you don't travel the world... just remember that life is a journey... embrace and enjoy it! Judy and Mark
Curious about what else we've written about?  Search our site for a destination or travel tip.

But... We'd love to have you share this page or comment on it…
Thanks, Judy and Mark


International Travel Tips l Europe Travel Tips
Hotel and B&B Tips l Packing Lists
Go from Vacation at Home to MouseToursTravels Home Page