Being Houseguests
Tips To Make It A Great Experience
COVID slowed us down for a couple of years, and now a few health issues challenge us.  We're still traveling if not writing about it quite so much. Our goal in 2022 was get to all seven continents in one year... and we did it.

Going forward health issues may not allow us to travel.  No one can take away those memories though.  We hope all of you are well and staying safe... and that you find some inspiration here for YOUR future travels. 

Being houseguests can be almost as much work as having houseguests.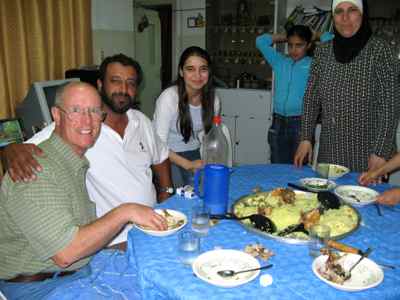 When we travel, it really adds an extra dimension to a trip to stay in someone's home...
...or even just to go to a home for an afternoon or dinner.
Our dinner with friends in this Jordanian home introduced us to family life...
...and a wonderful traditional dish... mansaf.


Being Houseguests Might Feel Awkward

One of the joys of travel is meeting new people... making new friends.
If you're lucky, you might receive an invitation for a dinner or a stay.
If you do it right, the experience of being houseguests will be a little bit of work...
...and it might feel awkward, but it will also be worth all the effort.
Know The Culture
If you are going to accept an invitation to be a houseguest in a foreign country, you really should learn some things about the culture before you go. Learn what is appropriate and inappropriate in their culture.
We were houseguests in Japan one time. The women did all the cooking and served the meals, but as guests we were expected not to do anything. I usually try to help in the kitchen, but sometimes it's better to do what's expected. This was especially true since we had hosted their son during a summer school visit, and they were intent on "repaying" us.
Staying with an Australian friend, it was fun cooking in the kitchen together.
Always be willing to morph into their lifestyle while you're a guest. Things go more smoothly.... and learning about those differences and similarities first hand is what makes this so much fun.
With a different Japanese family, the house was a very old and traditional house. The bath was in a separate bathing house. We were invited to use the bath first. Good thing we were up on Japanese bathing etiquette... you should read up on this too if you're ever invited to a Japanese house as a guest or if you plan to stay in a ryokan... a traditional Japanese inn.

Take Gifts, But Research What's Right
Learn the types of gifts that are acceptable where you are visiting. You should research this so you don't embarrass yourself.
For instance, flowers or candy are usually OK. But when it comes to flowers, be careful of chrysanthemums (reminders of death and funerals in some countries) and roses (which may have romantic implications).
Taking liquor as a gift in some countries is the best gift you can give, in Muslim countries, you should never consider it!
If you are going to be going to museums or venues that have an admission fee, discuss ahead of time if you will be sharing the costs or who will be paying. Staying with friends recently in Dubai, we decided we would all pay our own way. Having decided that, we paid for a couple of dinners when we were eating out to show our thanks for their hospitality.

Be Neat, Punctual, and Keep It Brief!
It should go without saying that you should always be neat and tidy, and you should be punctual for any activities that your hosts schedule.
We've found that being houseguests for two to four days is about our limit, then we're happy to get into a hotel room or get home. You'll have to establish your own comfort level, but always keep your hosts feelings in mind.
Visiting friends in their homes is a fantastic experience that will give you more personal memories of any country you visit, and you'll have those friends for life if you learn the art of being a houseguest.
Happy travels... even if you don't travel the world... just remember that life is a journey... embrace and enjoy it! Judy and Mark
Curious about what else we've written about?  Search our site for a destination or travel tip.

But... We'd love to have you share this page or comment on it…
Thanks, Judy and Mark

International Travel Tips l Europe Travel Tips
Hotel and B&B Tips l Packing Lists
Go from Being Houseguests to MouseToursTravels Home Page