Stretch Your Travel Budget
Watch What, Where, And When You Eat
COVID slowed us down for a couple of years, and now a few health issues challenge us.  We're still traveling if not writing about it quite so much. Our goal in 2022 was get to all seven continents in one year... and we did it.

Going forward health issues may not allow us to travel.  No one can take away those memories though.  We hope all of you are well and staying safe... and that you find some inspiration here for YOUR future travels. 

Eating and drinking in grand style can stretch your travel budget in the wrong way.
I have to admit, we're not foodies.
If you travel to go to Michelin star awarded restaurants or other famous eateries, you probably should skip this page. 
If you're like us, you want to make your money go further...
There are lots of little ways you can save on food when you're traveling.

Save On Breakfast (If It's Not Included)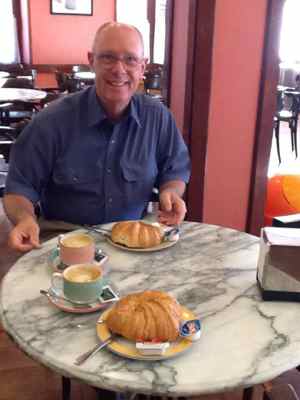 If your hotel doesn't include breakfast in the price of the room, check to see what your options are in the hotel.
You will probably save money venturing out to a corner cafe rather than paying the price for the hotel breakfast buffet.
In Paris, join the local crowd and have coffee, juice and a croissant.
Have churros con chocolate in Madrid.
There are lots of small breakfast places in the U.S. where you can get a great bacon, eggs and coffee breakfast for only a few bucks.
We like to go back to the same little corner cafe for two or three days... become a temporary "regular".

Enjoy A Picnic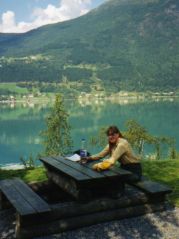 A great way to stretch your travel budget is to enjoy a picnic.
Think of this for either lunch or dinner.
Remember, in restaurants you can usually get a nice lunch cheaper...
The dinner menu is almost always more costly.

You can pick up cheeses and meats and breads at local grocery stores and specialty shops.
Grab a bottle of local wine.
Eat in your room or in a local park with a great view.

Avoid Tourist Restaurants

Avoid touristy restaurants.
If you see a restaurant on the main street that has menus in several languages, it's going to cost you more.
Find a "mom and pop" place down a side street or go with a recommendation from a local.... like your friendly B-and-B host.
Look for "prix fixe" menus or daily specials for great meals at good prices.
One of our most memorable meals was a little restaurant our host sent us to in Assisi. We had trouble finding it... there was no sign. There were only three or four tables. The owner was the cook, his wife was the waitress. Neither spoke English, and she had to get a dictionary to help us order... but the food was terrific, and the bill was surprisingly small.

Don't Be Afraid Of Open Air Markets

Find the open air markets in town and eat there.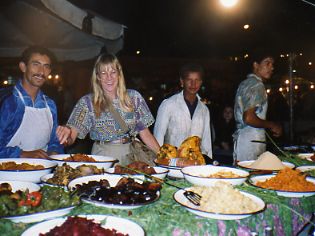 In Marrakesh, we ate at a stall in Djna Al Fnaa...
The food was good, fresh and cheap, and when the local "guides" saw that we were comfortable eating like the locals, they stopped bothering us!

Eat In Department Stores?

Cafeterias in department stores can also be a good place to find food cheap to stretch your travel budget.
This is a great idea in Tokyo.
It might not be so cheap, but you could graze the food halls in London... like at Harrod's or Selfridges'.  Or the food halls in Paris.


Eat And Drink Like Locals

Eat foods that are in season. That's what the locals do.
Today's fresh specials will cost you less and be healthier.
Another way to save like the locals do is to eat and drink what is special in that country.
Drink beer in Brussels and Prague, save the wine for Paris.

Don't Over Tip

Remember that in many countries in the world, the tip is included.
In those counties, if you leave anything, you should only leave small change.
If you're tipping 15-20% like Americans do at home, you're tipping way too much and adding that to the price of your trip.

Pressed To Stretch Your Travel Budget?

Don't feel pressed to order too much for dinner. It's easy to do when you're on vacation, but why spend more money if you're not that hungry?

For example, just having a "primi" (pasta dish), but no "secondi" (main dish) in Italy, may be plenty for you to eat... just add a salad, and you'll save money over a three course meal.
Ask for tap water instead of bottled water in counties where the water is safe.
If you just try a few of our tips, you can eat well and still stretch your travel budget to go farther.
Happy travels... even if you don't travel the world... just remember that life is a journey... embrace and enjoy it! Judy and Mark
Curious about what else we've written about?  Search our site for a destination or travel tip.

But... We'd love to have you share this page or comment on it…
Thanks, Judy and Mark

International Travel Tips l Europe Travel Tips
Hotel and B&B Tips l Packing Lists
Go from Stretch Your Travel Budget, Eat Cheap to MouseToursTravels Home Page