Avoid Theft When You Travel
Stay Alert And Wear A Money Belt
COVID slowed us down for a couple of years, and now a few health issues challenge us.  We're still traveling if not writing about it quite so much. Our goal in 2022 was get to all seven continents in one year... and we did it.

Going forward health issues may not allow us to travel.  No one can take away those memories though.  We hope all of you are well and staying safe... and that you find some inspiration here for YOUR future travels. 

People always ask us... how do you avoid theft when you travel?
I always say I'll go almost anywhere... and that's true.
We do avoid the dangerous hot spots of the world, however.
I don't mean to be facetious... I know people worry when they're planning a trip to a foreign place.
They ask...
Is it safe there? ...or...
Aren't there a lot of pickpockets?
And "there" could be any place from New York to Paris to Rome... or to...
Rio or Antananarivo!
What you have to do when you travel is to just always try to practice ways to avoid theft. Stay alert and be smart about your actions.
To Avoid Theft... Don't Make It Easy!
We had friends who were experienced travelers tell us about losing their passport and driver's license as well as their money in South America.
She was carrying all of this in her purse. At dinner, she hung her purse over the back of her chair in a restaurant. How many times have you seen people doing this?
Keep Purses and Backpacks Secure In Public Places
At the end of dinner, she went to put her purse safely back around her neck.... but it was gone.
She shouldn't have hung her purse over the chair...
When we're sitting in restaurants or crowded train terminals or any public place, we try always keep an eye on our belongings.  You can't do this if it is hanging on the back of a chair.  Put your bag under the table, between your feet... or secure a strap under the leg of a chair... anything to make it harder to snatch.

Even more importantly, she shouldn't have had all of her valuables in her purse!
Our First Rule - Wear A Moneybelt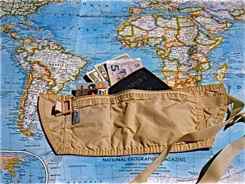 The first thing we tell people when they ask advice about traveling is to wear a money belt.
One of those zippered nylon pouches that fits under your clothes.
Keep your passport, most of your money, and credit cards in there. That way you can avoid theft, and you won't end up like my friend.


What Else Can You Do To Avoid Theft?
Consider Travel Clothing With Hidden Pockets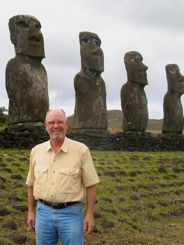 Marks favorite travel shirts have a deep, zippered pocket that he can use for credit cards when we want them out. 
The pockets are big enough for  your passport too in case you're crossing borders in out of the way places.
You can find pants and shirts with similar hidden pocket.

Try not to stand out.

Don't wear flashy clothes and jewelry.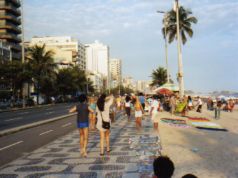 Rio de Janeiro is supposed to have lots of pickpockets.
When we were there, we wore well-worn clothes and no jewelry.
We did stand out from the bikini-clad beach crowd, but we weren't targets.
We read about a tourist who had been mugged and had his gold chains stolen...
After the first theft, he went and bought more gold chains and wore them to the beach. Know what happened?
Of course you do... he had them stolen again. Why temp thieves?
Don't try to hide valuables at the pool or the beach.
They're better off in your hotel room... BUT...
Don't leave cameras and valuables lying around in your hotel room
Keep them locked away out of sight....
     locked in your bags,
     locked in the room safe, or
     locked in the hotel lobby safe.
Hotel rooms are safe enough, but why provide temptation?
Be alert to pickpockets
They thrive in crowded places, but that's not the only place they can strike.
We were in an empty Paris metro station waiting for a train. We had just arrived, and we had our luggage with us. As the train came in, my hubby said he'd get both suitcases.
As soon as his hands were full, two men appeared out of no where and brushed up against him.
Men, keep your wallet in your front pocket.

Well, my hubby had his wallet in his front pocket (with fat rubberbands to make it harder to get it out), and he clamped his arms against his side....
I yelled and asked them what they were doing... in English since this was the "heat of the battle". When they figured there was too much attention being called to them, and they weren't going to get anything, they said, "Sorry, wrong platform." In English. Yea... right!
Watch Your Back

We foiled a pickpocket trying to unzip our daypack in a crowded market in Antananarivo, Madagascar.
We had nothing of value in that daypack.... it was all in our moneybelts.
Yelling at him sent him melting into the crowd, but it just goes to show, that even when you are alert, they can sneak up on you.
Keep Things Out Of Sight In Rental Cars

If you have a rental car, don't leave maps and suitcases visible in the car.  That's a sure sign that you're a tourist and you have valuables in the car.
Don't leave valuables in the car at all at night.
Rental cars sometimes have special license plates or decals that give them away... nothing you can do about that, so hide things away.  We've even heard some travelers say they buy a local newspaper and leave it on a seat. 

Stay Alert and Use Common Sense

I think some people travel in a state of suspended reality!  Just because you're on vacation, doesn't mean theives are.
With a few common sense precautions and just staying alert, you should be able to avoid theft on your travels.
It's much better to enjoy one more afternoon sightseeing than is is to spend it reporting a theft.
Happy travels... even if you don't travel the world... just remember that life is a journey... embrace and enjoy it! Judy and Mark
Curious about what else we've written about?  Search our site for a destination or travel tip.

But... We'd love to have you share this page or comment on it…
Thanks, Judy and Mark

Return to International Travel Tips
Go to MouseToursTravels Home Page