Romantic Weekends
Ideas For Short Romantic Travel Breaks
COVID slowed us down for a couple of years, and now a few health issues challenge us.  We're still traveling if not writing about it quite so much. Our goal in 2022 was get to all seven continents in one year... and we did it.

Going forward health issues may not allow us to travel.  No one can take away those memories though.  We hope all of you are well and staying safe... and that you find some inspiration here for YOUR future travels. 

Are you looking for travel ideas for a short break? Why not think about romantic weekends?
Are you listening guys?
We came home from a romantic getaway few years ago, and all of my friends were saying that my hubby should give seminars to the other husbands...
...So I decided I should write about it, and give you some tips and ideas.
Of course, we don't have to lay all of this onto the guys...
Ladies, you could plan a romantic weekend too.
I mean, if he won't, you might as well take matters into your own hands... maybe he'll get the idea and plan the next one.
It doesn't have to be Valentines Day or your wedding anniversary or even a birthday....
It can be a more obscure event...
Or even just a romantic weekend getaway for no particular reason.
That could win you big points!
A Romantic Weekend For A Special Event
What was the event for our romantic weekend? We celebrated the anniversary of when my hubby proposed to me.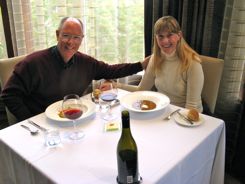 We went out to dinner at a little restaurant where we used to go... but we hadn't been there in years.
The next night we had a candle light dinner at home... then we drove to the spot where he actually proposed....
We picnicked there all those years ago, and that's what we did this time too.
Anniversaries are always good for romantic interludes. Your wedding anniversary, for example, but it could be the anniversary of your proposal like ours was, or the anniversary of your first date, or the day you met or when you bought your house... anything.
Take A Romantic Break From The Kids
Do you feel like you're always doing something for the kids, and you never have any time for yourself?
Don't wait for a special event.
Get someone to watch the kids, and have a weekend just for yourselves.
Where Can You Go For Romance?
Go wine tasting and stay in a romantic little B&B.
Head for the city and see a play or visit a museum and stay in a historic hotel.
Find a resort and spa where you can both get a little pampering.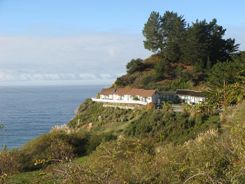 Or do like we did... We found a rustic little cabin at a lodge close to the spot where he proposed.
It wasn't luxurious or expensive, but it did overlook the Pacific ocean; there was a little restaurant right there...
...and we had a wonderful sentimental weekend reminiscing about all the years we've had together.
You don't even have to go away. If you get that weekend all to yourself with no kids, no obligations, just do something romantic locally.
     --Go to a dinner and a movie.     
     --How about a champagne picnic?     
     --You could have a candlelight dinner at home, but if you do that, remember, the cooking and cleanup duties need to be shared.
Make them fun to do together.... this is a romantic weekend remember.
We do love travel, but you don't always have to travel far away. We think even a weekend break like this can transport you out of your routine and refresh and revive you.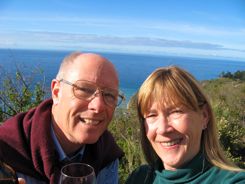 Oh, and what anniversary was it for us?
Our 40th... 
...of his proposal remember. 
We celebrated the rest of the year with a whole year of romantic travels!
Here's a P.S. to this romantic saga....
Want to know what we did for our anniversary day???

We went on an Airship! 
Read all about our great morning on the Zeppelin Eureka... Now that was a romantic splurge! 
We're all into antique airplanes too... so we were sad when a couple of years later, the company folded and the airship was sent back to Germany.  

Happy travels... even if you don't travel the world... just remember that life is a journey... embrace and enjoy it! Judy and Mark
Curious about what else we've written about?  Search our site for a destination or travel tip.

But... We'd love to have you share this page or comment on it…
Thanks, Judy and Mark


Return to International Travel Tips l Europe Travel Tips
Hotel and B&B Tips l Packing Lists
Go to MouseToursTravels Home Page