Australian Road Signs May Tease You
COVID slowed us down for a couple of years, and now a few health issues challenge us.  We're still traveling if not writing about it quite so much. Our goal in 2022 was get to all seven continents in one year... and we did it.

Going forward health issues may not allow us to travel.  No one can take away those memories though.  We hope all of you are well and staying safe... and that you find some inspiration here for YOUR future travels. 

Australian road signs tell you to watch out for them...
...those wonderful Australian animals that is.
Driving with a rental car is a great way to see Australia. Just be sure you stay on the left, and...

Pay attention to those Australian roadsigns...
They'll alert you to kangaroos and koalas...
...wallabies and wombats...
...echidnas... even penguins!
Whether you're wine tasting, birding, visiting national parks or cities, visitors want to see Australia's signature wildlife.

Australian Road Signs Caught Our Attention

We were driving through the wine regions of Australia, paying close attention to driving on the left, and watching for road signs.
The road signs warned of all the animals we wanted to see... there was the danger of hitting them.... The casualties on the side of the road attested to that, but since most of the animals are nocturnal, we didn't see many.
All the locals told us the danger was driving at night... and if they drove in kangaroo territory they had big heavy bumpers on their cars!
We saw kangaroo just often enough early in the morning and late in the evening to keep us looking...
But we tried not to drive at night... didn't want to hit Skippy!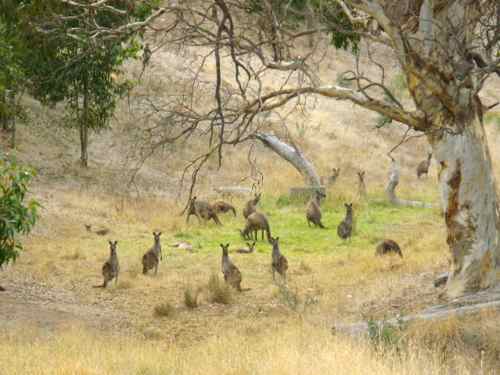 Kangaroos at the side of the road. This is what you want to see! But you don't want them bounding over the road... or into your car.

Skippy Did Show Up, But Not Some Others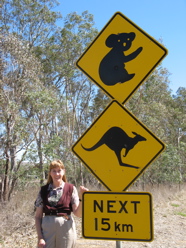 Sometimes the road signs would tease with two possibilities...  Oh boy!  Both koalas and kangaroos?
Didn't see them on that stretch of road... sigh!

Sometimes just for one... maybe a koala here?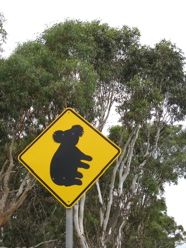 But the only koalas we saw on this trip were on the signs.
We remember well seeing one on the side of the road on a previous trip, so it's always good to stay alert.


Aussie Road Signs For Other Animals Too
There are lots of signs for wombats...
Road signs for echidnas... and wallabies...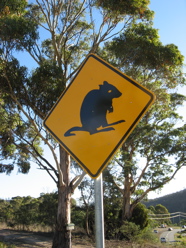 And roadsigns for birds as common as ducks... And as uncommon as penguins...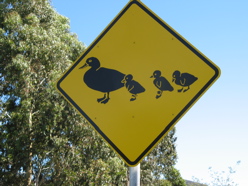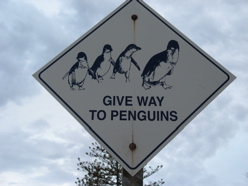 There are all the usual warning signs, including some pretty graphic signs about what can happen with loose rocks on the dirt roads you find in the rural areas...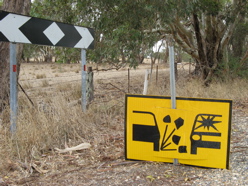 We still haven't figured out what they were trying to warn us about with the internet sign...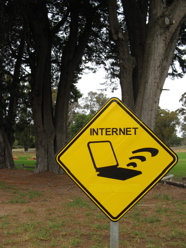 We were glad to find a wireless connection out in the middle of nowhere though.
Speaking of wireless connections, there are a couple of websites we'd like to pass on.  It's not only the Australian reassigns that are amusing…. our friend Marilyn is too… and she has a great website about Family Getaways Melbourne.

And if you get up into Queestland and really want some adventure check out this site about Fishing and Camping, FC4 Magazines.

And all those Australian road signs warning of wonderful animals out in the bush? Well, they'll have us going back for another look.
Happy travels... even if you don't travel the world... just remember that life is a journey... embrace and enjoy it! Judy and Mark
Curious about what else we've written about?  Search our site for a destination or travel tip.

But... We'd love to have you share this page or comment on it…
Thanks, Judy and Mark

International Road Signs    Go to Rental Car Tips
Australian Wine Tasting Road Trip   Share Amusing or Confusing Roadsigns
Go from Australian Road Signs to MouseToursTravels Home Page