Aussie goes to Scotland
by Faye Woods
(Gold Coast, Queensland, Australia)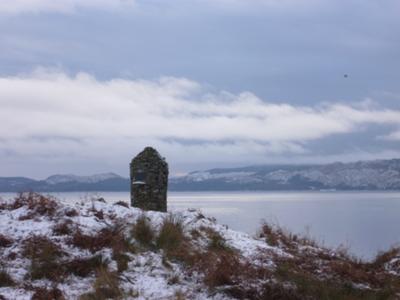 MacEwen Castle lovely in snow on Christmas Eve 2010
It is Christmas Eve 2010 and we set out from our Village of Culross near Stirling at 9.15 am and it is about -5 and has been snowing for days. We rang the Kilfinan Pub and they told us the roads have been gritted so off we set.

We got there about 12 after a slow trip down the loch as snow had made the journey very slow. Snow flakes started but soon stopped.

After a slight hiccup finding the right path in the snow off we set over paddocks and frozen streams and fences to the beach. What a wonderful sight with all the snow and clear blue skys. Going through the gate just before the last hill we had to get through a pack of very smelly cows but made it and boy was it worth it.

There was my Castle in all its glory, the view spectacular and so was the surrounding country side and just covered in snow. So fantastic for us Aussies as we never get to see snow.

I really feel this is my part of Scotland.

My GG Grandfather James McEwan came out to Australia about 1860. he was born in Tillicoultry, Scotland, in 1840 son of Alexander Mcewan and Agnes Marshal.

I will never forget my trip to McEwan Castle.
Happy travels... even if you don't travel the world... just remember that life is a journey... embrace and enjoy it! Judy and Mark
Curious about what else we've written about?  Search our site for a destination or travel tip.

But... We'd love to have you share this page or comment on it…
Thanks, Judy and Mark