Driving in Poland
Easy If You Can Read The Signs!

COVID slowed us down for a couple of years, and now a few health issues challenge us.  We're still traveling if not writing about it quite so much. Our goal in 2022 was get to all seven continents in one year... and we did it.

Going forward health issues may not allow us to travel.  No one can take away those memories though.  We hope all of you are well and staying safe... and that you find some inspiration here for YOUR future travels. 

We were warned repeatedly before our trip that driving in Poland might be a hassle...
That it is a dangerous place for foreign drivers... That we would really have to worry about car theft.... BUT...

That wasn't true for us...
We found we had no problems...
At least not with it being dangerous.
We had no problems with the car or safety... although... 
We did get confused a couple of times with roadsigns.

Off A Ferry To Driving In Poland

We actually took a Polish ferry into Gdansk from Sweden.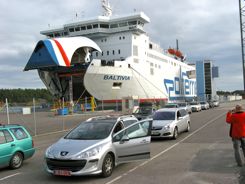 The biggest problem there was which way to go once we got off the ferry! 
At first we just followed the traffic. 
Then as we drove around Gdansk, we dove in where we saw what we thought was a hotel sign. 
We don't recommend doing it that way... but we got a great hotel right on the river.

Parking The Car Was No Problem
Parking seemed to be another thing people warned about...
...and theft while the car is parked.
Maybe we just got lucky, but driving in Poland was really pretty easy.

Many Hotels Have Guarded Car Parks

We actually had no problems parking in any of the cities we visited.
We were always able to park our car next to our hotels in guarded car parks, so we didn't have to worry about theft.
Or Be Sure To Choose A Secure Location

In Warsaw, it was actually a parking space in a "Pay and Display" zone, but it was directly across from the hotel entrance, so there were always doormen on duty watching.
You could put enough coins in for the full day and not worry about it. The parking fees did not apply overnight or on weekends when we were there.
We only had to pay for one day of parking because of that, about US$10 (30 PLN) instead of US$30 per day for hotel garage parking.... and we would have had to pay that on the weekend too.
If you choose to do something like this, make sure it is in a secure location.
Keep Documents Safe and Handy

We were also told to keep all necessary documents about the car available at all times...
But we never had to produce them...
Even entering the country.
Rules of the Road

As to rules and regulations for driving in Poland, they are pretty standard.
Wearing your seatbelt is mandatory.
Talking on a cell phone is illegal unless it is not handheld.
There are very strict drinking and driving laws, so save that beer for the end of the day when you're done diving in Poland.
Be Careful About Speed Limits

We were warned that radar speed controls operate most of the time, so we kept to the speed limits even when local drivers didn't.
Fines of up to 200 PLN (about US$ 70) must be paid on the spot.
The speed limit is 60 km/h (35 mph) in towns,

...90 km/h (55 mph) on rural roads and highways,

...110km/h (68 mph) on the motorway.... but... 
About The Roads

There aren't too many of those motorways yet.
Toll Roads

Most that you find are toll roads, and there is still lots of roadway construction along them.
Traffic tends to get congested at the toll booths. You pay for a section at a time.
When you do get on a free motorway, don't get too excited... it will end before long.
Two Lane Roads

Most highways are two lane roads.
They are reasonably good, but you will be sharing them with buses and trucks, so the going may be slow.
Passing lanes are few and far between.
Smaller arterial roads may get pretty narrow, but they are scenic.
Objazd Means Diversion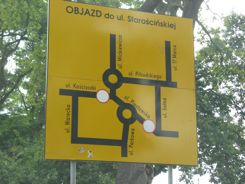 Watch for "Objazd" signs...
...that means traffic diversion.
You'll run into them fairly often as they upgrade their roads.
Get a good map if you plan to get off the main highways.
Road signs in Polish can be a little confusing.
We did manage to find all the little places we looked for with only a minimum of wrong turns and retracing our steps.
The people in rural areas will probably not speak English, but they are willing to point the way if you show them a map.
Don't Drive At Night

Other tips for driving in Poland...
Don't drive at night, but then we say that almost everywhere for travelers.
You should have your hotel before dark. That only makes sense.
City gas or petrol stations are open pretty much 24 hours, but get gas early in the day in the country side.
We Like The Freedom

The bottom line is, having a car gives you freedom to go where you want, when you want.
Follow all the usual precautions, and you won't have any problem driving in Poland.
Happy travels... even if you don't travel the world... just remember that life is a journey... embrace and enjoy it! Judy and Mark
Curious about what else we've written about?  Search our site for a destination or travel tip.

But... We'd love to have you share this page or comment on it…
Thanks, Judy and Mark

International Travel Tips l Europe Travel Tips
Hotel and B&B Tips l Packing Lists
Go from Driving in Poland to MouseToursTravels Home Page