Exploring Krakow
An Easy City to Get Around In
COVID slowed us down for a couple of years, and now a few health issues challenge us.  We're still traveling if not writing about it quite so much. Our goal in 2022 was get to all seven continents in one year... and we did it.

Going forward health issues may not allow us to travel.  No one can take away those memories though.  We hope all of you are well and staying safe... and that you find some inspiration here for YOUR future travels. 

Settle into a hotel near the Old Town, the Stare Miasto, and start exploring Krakow.
There is a lot to see,
And the Stare Miasto is where you'll do most of your sightseeing.
The best way to see this Old Town is on foot.
It's a great city for walking, but don't worry about getting tired.
You'll be strolling in the Stare Miasto, entertained by the crowds and the sidewalk performers.
You'll be popping into lots of churches to see the spectacular interiors and artwork.

You can always sit and rest a spell and reflect in the churches.
Enjoy The Square From Sidewalk Cafes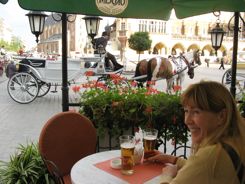 There are lots of sidewalk cafes where you can stop for a coffee or a beer...
It's fun to just watch the activity on the square.
It's so reasonable that you won't worry about stopping often.

Choices For A Quick Tour Exploring Krakow

If you want an overview, there are choices.
As soon as you start walking into the city, you'll be approached by drivers of little electric cars... or maybe they're better called carts.
They offer tours exploring Krakow... and they have recordings that will tell you about the city in almost any language.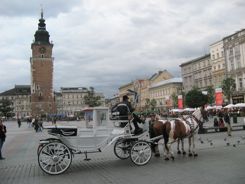 There are plenty of beautiful horse drawn carriages to show you the sights too.
They seem to be a favorite of brides.
Several times a day we would see brides and grooms riding in these carriages with photographers hanging off the side taking pictures.
We've never seen so many brides in one city... except maybe Warsaw. Maybe we were just there in the wedding season.
Parts Of The Old Town We Loved

Main Market Square

You'll spend a lot of time in the main market square.  It's probably the first place you will wander into.
It was the biggest square in medieval Europe, and it seems to be where everyone hangs out today.
The square is filled with flower stalls and outdoor cafes.... and those horse drawn carts.
Wawel Hill
Wawel Hill is where you'll find the Castle and Cathedral of the same name.... and you will have to walk uphill to get to the castle complex.
There is a restaurant and a tourists office up on top.
Exploring Beyond The Old Town

Exploring Krakow beyond the Old Town may involve taking buses or trams.
Getting to the Kazimierz neighborhood is about a 20 minute walk or you can take a tram.
A tram is also the best way to get to the suburb of Nowa Huta to see reminders of the Soviet past.
We took a tram to see the Polish Aviation Museum.
To get to the salt mines, you can take a tour, a local bus or an inexpensive mini-bus.
Ask about which tram to catch at your hotel or at tourist information offices.
If You Drive In

We drove into the city.  That's one way to see how big a city it is.
Any highway that you take in will have signs to the Centrum.
You'll know you've reached it when you hit the ring road that surrounds a park area. Planty park is a green belt just inside of the ring road.
This marks where the 13th century city walls and a moat once were.
Streets within this ring road are often one way. Some are pedestrian streets.
Where The Hotels Are

Hotels are concentrated here, but getting to them by car can be a little confusing.
Just take your time, drive slowly, get your landmarks, and you'll find it.
We only went around twice!
Ask about parking at your hotel.
Whether you fly in, drive in, or take the train from another city in Poland, exploring Krakow is easy, fun, and inexpensive.
Happy travels... even if you don't travel the world... just remember that life is a journey... embrace and enjoy it! Judy and Mark
Curious about what else we've written about?  Search our site for a destination or travel tip.

But... We'd love to have you share this page or comment on it…
Thanks, Judy and Mark

Return to International Travel Tips l Europe Travel Tips
Go from Exploring Krakow to MouseToursTravels Home Page