Polish Air Museum Krakow
COVID slowed us down for a couple of years, and now a few health issues challenge us.  We're still traveling if not writing about it quite so much. Our goal in 2022 was get to all seven continents in one year... and we did it.

Going forward health issues may not allow us to travel.  No one can take away those memories though.  We hope all of you are well and staying safe... and that you find some inspiration here for YOUR future travels. 

The Polish Air Museum (Muzeum Lotnictwa Polskiego) may not be one museum that every tourist wants to go to, but if you like aviation history and old airplanes, it's worth a visit.
It's in a suburb of Krakow at a historic airfield about 7 km (4.3 miles) east of the Old Town.

The museum took over a few buildings and part of the grounds of the Rakowice-Czyzny airfield...
...one of the oldest military airfields in Europe by the way.
It was an active airfield up through World War II.
After that the expanding city of Krakow encroached on the field.
The military moved out and finally so did commercial aviation. Activity at the airfield stopped in 1963.
Soviet Aircraft At The Polish Air Museum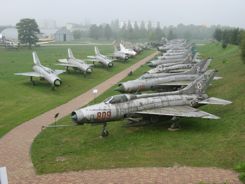 The outside aircraft are heavy on types not seen in Western Europe and North America.
The outdoor lineup we call "MiG Alley" is impressive even if the aircraft have seen better days. Most are not in great condition, but you won't see things like this at home.
Two indoor displays had us running around with my hubby saying...
"I've never seen that before... only in pictures,"
   ...or...
"I never thought I'd see that!"
What caused the excitement?  Well, you might have to be as much into airplanes as we are to get that excited.  There were interesting planes to see.

See the full story and more photos at our sister site...  Antique Airplanes.

How To Get There

You can take a taxi or a tram.
From the center of town near the Main Railway station you can catch a number of trams....
We took tram Number 4 out and Number 10 back to the center of town.
Don't go to the Czyzny stop...
Rakowice-Czyzny was the name of the old airfield remember...
...but, as we found out the hard way, this is a couple of stops too far.
Get off when you see the Polish Air Museum Logo.

The address of the museum is Aleja Jana Pawla II 39...
But the museum is tucked into the Park Lotnikow Polskich...
And it's behind some apartments.
It is open from 9:00 am - 5:00 pm Tuesdays through Fridays.
Saturdays and Sundays the hours are 10:00 am - 4:00 pm.

The museum is closed on Mondays.


If you like aviation history and old planes, take a half a day away from Old Town Krakow and visit the Polish Aviation Museum.
Happy travels... even if you don't travel the world... just remember that life is a journey... embrace and enjoy it! Judy and Mark
Curious about what else we've written about?  Search our site for a destination or travel tip.

But... We'd love to have you share this page or comment on it…
Thanks, Judy and Mark

International Travel Tips l Europe Travel Tips
Go from Polish Air Museum Krakow to MouseToursTravels Home Page