Malbork and Elblag Poland
A Big Castle and A Colorful Canal
COVID slowed us down for a couple of years, and now a few health issues challenge us.  We're still traveling if not writing about it quite so much. Our goal in 2022 was get to all seven continents in one year... and we did it.

Going forward health issues may not allow us to travel.  No one can take away those memories though.  We hope all of you are well and staying safe... and that you find some inspiration here for YOUR future travels. 

Malbork and Elblag are within an easy day's drive of Gdansk, Poland.
Neither may pop into your head when you are trip planning for Poland...
...but a visit to either or both would make for a pleasant surprise. 
Malbork comes up in the guidebooks as one of the tops sites in Poland.
Elblag, well, you'll have to go looking for that.
Both are in the northeastern corner of Poland, and close enough to each other that they make for a fun side trip.

Malbork Castle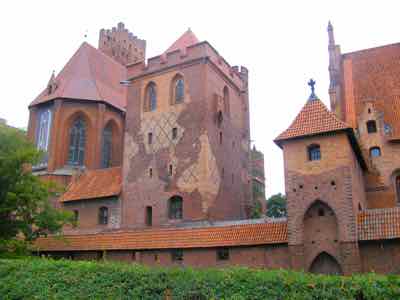 Malbork is a castle built by the Teutonic Knights. It was begun in the 13th century.
It's a huge, sprawling brick structure... really three castles in one.
The earliest section is the Assembly Castle also known as the Upper Castle, next comes the Middle Castle, and finally the Palace of the Grand Master. All were finished by 1399.
The battlements and towers of the walled fortress are amazing from afar.
It has been restored a couple of times; most recently after World War II. Photos of some of the interiors show you how beautiful it once was inside.  Reconstruction after the war is a common theme in this part of Poland.
It's the immense size of the castle and the architectural elements that you visit it to see. It is not a furnished castle.
The farm buildings and chapel of the Lower Castle have been converted to a hotel if you want to spend the night here. There are also hotels in the town.
Signs for driving to the castle from the highway seemed a little confusing, but maybe that was just us.


And The Little City Of Elblag?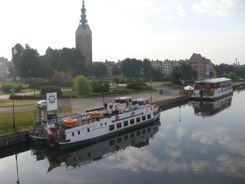 Elblag was once a port on a par with Gdansk, but today it is a little backwater. 
One thing that I have to tell you though, is we were looking for it... 
Well, for its canal...
and it just goes to show you that looking for something unusual can lead to good things.
We were looking for the canal boats on the Elblag Canal.

We found the canal boats in town, and later followed them up to the unique canal...
...but we also found that Elblag was a darling little old town

We Stayed In Elblag
There were plenty of hotels and restaurants.
The old section of Elblag along its namesake river has been reconstructed in the style of the old Hanseatic merchants' houses with their typical gables, but with a charming modern twist. 
The long history of Elblag is well chronicled in the surprisingly great museum with archeological findings going back to medieval times.
The younger population speaks English, and everyone welcomes tourists.

Malbork and Elblag Welcome Tourists
Well almost everyone.... the folks at the Malbork Castle were a little unwelcoming. They said "no" to questions before we could even ask them. Perhaps a remnant of the "old days", but just keep asking, sooner or later you'll find someone to help.


How To Get There
Leaving Gdansk, you'll come to Malbork first. It's about 43 km (27 miles) from Gdansk.
You could easily visit the castle on a day trip from Gdansk.
We drove and stopped for our visit to Malbork on our way to Elblag where we spent the night in that charming Old Town section.
Elblag is only 80 km (50 miles) from Gdansk and approximately 29 km (18 miles) from Malbork. The roads are two lane roads with lots of construction, so allow plenty of time for your drive.

Regional trains can get you to Malbork and Elblag as well. You can catch a train from Malbork to Elblag. You could spend the night in either, then return to Gdansk.
Malbork and Elblag are bits of Polish history that will round out your visit. They let you see a little of Poland outside of big cities.
Happy travels... even if you don't travel the world... just remember that life is a journey... embrace and enjoy it! Judy and Mark
Curious about what else we've written about?  Search our site for a destination or travel tip.

But... We'd love to have you share this page or comment on it…
Thanks, Judy and Mark

International Travel Tips l Europe Travel Tips
Go to MouseToursTravels Home Page