Tipping in Poland
One Little Thing To Watch Out For
COVID slowed us down for a couple of years, and now a few health issues challenge us.  We're still traveling if not writing about it quite so much. Our goal in 2022 was get to all seven continents in one year... and we did it.

Going forward health issues may not allow us to travel.  No one can take away those memories though.  We hope all of you are well and staying safe... and that you find some inspiration here for YOUR future travels. 

We felt like we needed to say something about tipping in Poland.
Tipping is a confusing subject, so we usually shy away from discussing it.
In Poland, there is a service charge that is generally added to the bill, so tipping is not necessarily expected.

So many things to take into consideration...
Is service added to your bill or not?
Is it customary to add a little extra?
...Or is that something only un-savvy tourists do?
Well, tipping in Poland adds a whole new level of confusion!
Tipping In Poland Not Necessarily Expected, But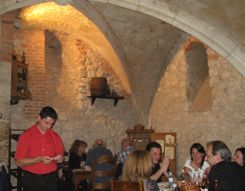 We've read both that you don't need to tip any extra, and also that a little extra is customary.
It seems like things are changing as there is more "western" tourism and influence.
Ultimately, whether you leave a little extra or not is up to you…
And we always feel if you leave a tip, it should be because you got good service.
Tourist Bureau Guidebook Warning

This is not something we experienced, but something that the tourist bureau guidebooks warned of, so we thought we should make you aware of it...
If you're paying cash for your bill at a restaurant... Don't say "thank you" as the waitress or waiter picks up the bill with your money unless you don't want any change.
We're not telling you to be rude. 
Here's the explanation... In Poland, if you say "thank you" when they pick up your payment, it means "keep the change".
This is a cultural tradition that you need to be aware of… it could lead to an embarrassing situation. Need we even mention that it could be an expensive cultural lesson? No one in the restaurant is going to warn you about this, but remember we did read it in some of the city guides we picked up.
We read stories that they will take this literally even if you have a lot of change coming. Also that they might try to make you feel embarrassed if you try to correct your mistake, or that they might just conveniently disappear until you give up. We never had anything like that happen, but then we were forewarned.
So Here's What You Need To Do...

When you get your check, if you put down a large bill, wait quietly for the change.
Once you get it back you can say thank you and leave what you think is appropriate.
Use this same rule for taxis too.
Wait until you get your change first, then say thank you and give a tip. Rounding up from your fare is a good way to go.
What About Tipping and Credit Cards?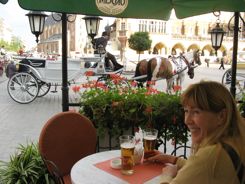 When we paid with a credit card and started to add a tip onto the credit card bill, the wait staff asked us not to do it that way.
We ran into this more than once, so we left our tip in cash to make sure that they got it.
We thought food and drinks were wonderfully inexpensive in Poland, and the waiters and waitresses we had were friendly...
...So we had no trouble leaving a small tip, but we didn't want to leave a big one unintentionally.
We're glad we knew about this quirk about tipping in Poland before we went.
Now you know too.
Happy travels... even if you don't travel the world... just remember that life is a journey... embrace and enjoy it! Judy and Mark
Curious about what else we've written about?  Search our site for a destination or travel tip.

But... We'd love to have you share this page or comment on it…
Thanks, Judy and Mark

International Travel Tips  Europe Travel Tips
Go from Tipping in Poland to MouseToursTravels Home Page