Elblag Canal Poland
A Canal On Rails? Read On!
COVID slowed us down for a couple of years, and now a few health issues challenge us.  We're still traveling if not writing about it quite so much. Our goal in 2022 was get to all seven continents in one year... and we did it.

Going forward health issues may not allow us to travel.  No one can take away those memories though.  We hope all of you are well and staying safe... and that you find some inspiration here for YOUR future travels. 

Calling all canal and train buffs... the Elblag Canal in Poland is like nothing you've ever seen before.
It's a canal with wide-gauge railway carriages.
Huh??
This canal is an extraordinary feat of hydraulic engineering, and it was all built in the mid-1800s.


They needed this system because water levels between lakes and waterways were too great for conventional locks...
...so the engineers of that time came up with this ingenious arrangement.
The entire system is operated by water power.


A series of rail mounted trolleys carry tourist boats and some private boats and their passengers across five inclined slipways.
The difference in water level is approximately 100 meters (328 feet) in only 9.6 km (6 miles).

Let's See If I Can Describe The Elblag Canal
A series of rail mounted trolleys carry tourist boats and some private boats and their passengers across five inclined slipways.
The difference in water level is approximately 100 meters (328 feet) in only 9.6 km (6 miles).
That's sort of the dry explanation... I didn't get it either.  Let me tell you what we saw...

Start In The Little City Of Elblag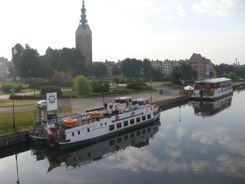 On a recent trip to Poland, we had to see the Elblag Canal for ourselves.
We first caught up with the boats that take passengers along this canal in the city of Elblag.
We didn't have time for the canal ride. The full trip, Elblag to Ostroda, is 80 km (50 miles) and lasts eleven hours.
We checked the departure schedule and left town about 10am.
Where To See The Canal "Works"
We had a rental car, so we drove to the first spot we thought we could see the boats.
We found the "Katy lift" on the canal. This was down a narrow back road. It took some searching.
We thought we had found it on our map, but we had to stop and show locals the photo to make sure we were on the right road. (Remember when you're traveling, the locals will almost always be helpful.)

Sure enough, we arrived just in time to see the first boat coming around the corner on the canal. We waited, still not sure what to expect.
And How It Works
Boats Float In At Each "Step" - Top Or Bottom Depends On Direction

The boat floated into what looked like a small dock with a narrow platform and handrails.
The lower canal keeper blew a whistle.
The middle man sent a signal further along to start an engine,
The top keeper it on, which turned an old fashion water wheel.
This all eventually started gears in motion turning big drawing wheels.
We were at the top of the hill, watching as the "dock" at the bottom emerged from the water with the boat cradled in it. The whole thing was riding on wide-gauge rails.
The surprise came when we turned around.... and an empty trolley had emerged from the depths of the uphill pond. It looked like a "ghost ship" coming out of the water with vegetation hanging off of it.
Guess we should have anticipated this as it is a counter balanced system like a funicular, but the surprise was fun.
And The Boats Float Out When They Reach The Next "Step"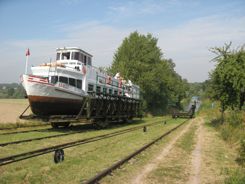 Once the boat floats out of the trolley/dock at the top, the waterwheel is turned off and the whole system shuts down until the next boat arrives.
We drove like crazy over very narrow back roads to Buczyniec to see it all over again. This time there were two small private sailboats taking the ride down as the tour boat came up.


Some Logistics

Buczyniec Is The (Very) Small Village At The Top

Buczyniec is the top of the five "ramps" or steps on the Elblag Canal.
There is a museum and a small snack shop where you can get Polish sausage.
You Can Take A Tour One Way

Tour buses bring passengers to this point to board the boats for the trip to Elblag or pick up tourists that came up only one way. You can catch the tour boats round trip from Elblag, or you can take the trip one way up or back.
In summer, boat trips from Elblag leave the pier next to the Old Town at 8am sharp. The tour boats are equipped with snack bars. It takes about 5 hours to get from Elblag to Buczyniec; the bus ride back is only about an hour.
How To Get To The City of Elblag

We were driving, so getting to Elblag and beyond was a great way to get out into the countryside.
You could also get to Elblag by train or bus from Gdansk.
It is only about 80 km (50 miles) from Gdansk.
For something just a little different in Poland, check out the Elblag Canal.
Happy travels... even if you don't travel the world... just remember that life is a journey... embrace and enjoy it! Judy and Mark
Curious about what else we've written about?  Search our site for a destination or travel tip.

But... We'd love to have you share this page or comment on it…
Thanks, Judy and Mark

Antique-Airplanes on The Polish Air Museum
Return to International Travel Tips l Europe Travel Tips
Hotel and B&B Tips l Packing Lists
Go to MouseToursTravels Home Page