Amsterdam Coffeeshops
You Could Be In For A Surprise
But... Things May Be Changing
COVID slowed us down for a couple of years, and now a few health issues challenge us.  We're still traveling if not writing about it quite so much. Our goal in 2022 was get to all seven continents in one year... and we did it.

Going forward health issues may not allow us to travel.  No one can take away those memories though.  We hope all of you are well and staying safe... and that you find some inspiration here for YOUR future travels. 

The scene in Amsterdam coffeeshops is changing, but we still want you to know about them while the rules are challenged and refined.

Oh yea... coffeeshops are different from coffee houses and cafés...
They all sound like places where you could stop for a bite to eat...
...BUT...
If you're traveling in the Netherlands, it will help to know the difference.


The New Law
We originally wrote this page a few years ago to give you fair warning what to expect when traveling in Holland... in case you didn't already know... but we have to tell you that things are changing.
The Dutch government has passed laws that will come into effect in the next few months if they are not stricken down... but we will leave the information here... for historical record, and in case things change more slowly for locals and tourists alike.
As things stand as of this writing, tourists and locals may still visit coffeeshops. 

 

What Is A Coffeeshop In The Netherlands?
Amsterdam is one destination where you could be in for more of a surprise than you planned for if you just wander into a coffeeshop for a cup of coffee.
They may look like a normal restaurant from the outside, like this one, but in the Netherlands, coffeeshops are totally different from cafes, restaurants, and even bars.
Walk into one, and you're apt to get a buzz just from the smoke... and we're not talking cigarettes here.

Amsterdam Coffeeshops Are For Marijuana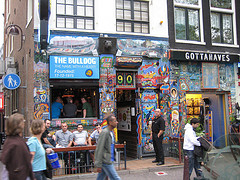 In Amsterdam coffeeshops are where the Dutch and tourists go to buy and smoke marijuana.... pot.... cannabis.
What???
Yep, very little coffee here. Since the 1970s, the Dutch have been tolerant of "soft drugs", and it is legal for coffeeshops to sell up to five grams of cannabis per person to their customers.
You can smoke there or take it with you. There are laws that govern these shops. They can't sell alcohol and cannabis on the same premises for instance. It's ironic that it's become harder to smoke cigarettes in public places than to smoke dope. Tobacco laws around Europe make smoking cigarettes more of a problem!
Some tourists go looking for Amsterdam's coffeeshops. Once inside, the bartender... yes, bartender... will give you a menu... yes a menu!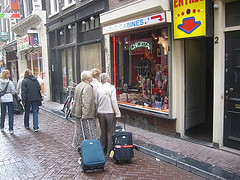 The menus tell you what kind of pot is available and where it came from. The bartender (or sometimes the patrons) give advice on what to try.
You'll find a selection of marijuana and hashish... and how you can smoke them. (The new law is limiting how strong any of this can be.)
Wow, did you know there were choices?
But... Where Can You Go For Food?
There are plenty of traditional restaurants and cafes and bars all over the city if you're not feeling quite so adventurous.
If you're looking for that cup of coffee... you might want to look for a coffee house or koffiehuis in Dutch.
And Then There Are Brown Cafes
For a tamer touch of local color, you might look for a brown cafe.
Brown cafes are local hangouts... they're sort of like pubs in England... places to get a simple meal and a beer... and meet locals.
Some have been around for years, so they'll look well worn. They may seem old and crowded. Think of them as cozy, and expect a warm welcome.

Don't Be Embarrassed
Even if you wander into Amsterdam coffeeshops, you don't need to feel embarrassed. People will be friendly and steer you to a restaurant.... or help you choose a soft drug.  They're used to it.

So when you're in the Netherlands, should you try Amsterdam coffeeshops and brown cafes? That's up to you, but at least now you know what you'll be getting into!
Happy travels... even if you don't travel the world... just remember that life is a journey... embrace and enjoy it! Judy and Mark
Curious about what else we've written about?  Search our site for a destination or travel tip.

But... We'd love to have you share this page or comment on it…
Thanks, Judy and Mark

Go to International Travel Tips l Europe Travel Tips
Hotel and B&B Tips l Packing Lists and Tips
Go from Amsterdam Coffeeshops to MouseToursTravels Home Page