Amsterdam Redlight District
Tour THIS For A Dutch Perspective On Tolerance
COVID slowed us down for a couple of years, and now a few health issues challenge us.  We're still traveling if not writing about it quite so much. Our goal in 2022 was get to all seven continents in one year... and we did it.

Going forward health issues may not allow us to travel.  No one can take away those memories though.  We hope all of you are well and staying safe... and that you find some inspiration here for YOUR future travels. 

If the coffeeshops stretched your tourist imagination, the Amsterdam Redlight District won't.
"It WON'T??" I can almost hear all you men out there. "Wait a minute...
...that gets my imagination going...!"
Well, it may boggle your mind to have all "that" out in the open and legal...
...but you won't need your imagination. 
The city's Redlight District leaves very little to the imagination.
It's all right out there in front of you.
It's a frenetic sideshow of humanity...
....and it's unlike any other place that has been on your tourist map... we're pretty sure of that!
Is It A Place For Tourists?

You may have heard about this district before we told you... but is it a place for tourists?
Yep... the place is crawling with tourists.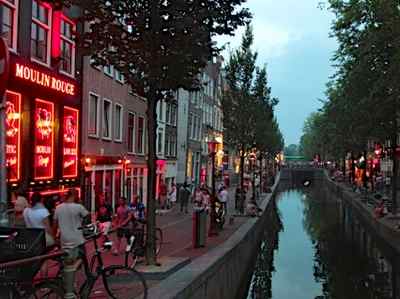 It's very likely that everything you've heard about the Redlight district -- the "Rossebuurt" -- is true.
You might as well check it out for yourself with all the other tourists.
Yes, it's a district full of sex shops and brothels. Ladies of the night, of all nationalities, parade their wares in red lined "parlor windows".
But here's the thing... you really won't feel all that out of place.
You'll be part of the tourist parade... couples pointing in feigned embarrassment, groups of women giggling at it all, and groups of young and not so young men gawking... with the ladies trying to convince them to "step right in."

Oude Kerk In Amsterdam Redlight District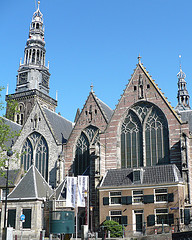 All these red lighted storefronts sprang up in the old sailor's quarters...
...and as an odd quirk of history and geography the Oude Kerk - the Old Church ended up surrounded by this district.
Church bells chime quaintly in the heart of this neighborhood selling sex.
The Old Church is, fitting with its name, the oldest church in Amsterdam.
It's a calm center in the middle of this storm with cute little houses clinging to its sides.
Spreading out from the Oude Kerk, the Rosseburrt is one of the oldest neighborhoods in the city. During the day you can wander the long winding narrow cobbled streets and enjoy the charming 14th century architecture along the canals.


The District Glows Red At Night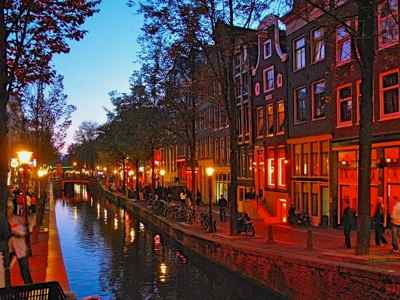 If your curiosity gets the better of you, just to see how tolerant the Dutch are and how well this all works....
Go for that stroll in this district at night. That's when all the lights are on and it really comes to life.
During the daytime, there is less going on and parts of it may even look a bit shabby.
Parts of the area are undergoing restoration to reduce the shabbiness, and you'll find upscale restaurants and music inviting you to linger without embarrassment.
Amsterdammers have a liberal and tolerant attitude towards all of this. Soft drugs and prostitution are legal. The prostitutes are even tax payers!
No need to worry about your safety here any more than you would in any part of the city. The Amsterdam Redlight district might actually be one of the safest areas because there are so many policemen on duty... not to mention bodyguards employed by the ladies themselves.
Changes are probably coming... the city is trying to "clean things up" so to speak. But for now, go ahead, take a stroll in the Amsterdam Redlight District...
Think what you can tell all your friends back home. Just keep in mind that you should never take pictures of occupied red windows... that is the one thing that is banned... though we have to say, we have seen some anyway.  We were just too, er, shy....

Happy travels... even if you don't travel the world... just remember that life is a journey... embrace and enjoy it! Judy and Mark
Curious about what else we've written about?  Search our site for a destination or travel tip.

But... We'd love to have you share this page or comment on it…
Thanks, Judy and Mark

Return to International Travel Tips
Go MouseToursTravels Home Page