Brussels
Capital of Belgium AND The European Union
COVID slowed us down for a couple of years, and now a few health issues challenge us.  We're still traveling if not writing about it quite so much. Our goal in 2022 was get to all seven continents in one year... and we did it.

Going forward health issues may not allow us to travel.  No one can take away those memories though.  We hope all of you are well and staying safe... and that you find some inspiration here for YOUR future travels. 

Brussels is one European capital that's easy to miss on your grand tour of Europe.

The whole little country of Belgium is easy to miss.
But it's one that you really shouldn't.
It has lots to offer and lots of diversity.
This grand old city is not only the capital of Belgium...
It's the Capital of the European Union.
A Little Country With Two Languages
Something you'll have to get used to in all of Belgium, is that there are two languages... everywhere. Well, actually three, because German is the third official language.

What you'll run into most often is Dutch (Flemish) and French, so you'll often see signs in both languages.
It's Brussels in English... "Brussel" in Dutch and "Bruxelles" in French.
You'll get along fine in either language or English. Our friends in Belgium slip from one language to another with ease that puts us to shame.


Explore The Old Center of Brussels

Right in the center of the city is where you want to be. "La Grand Place" or "Grote Markt" is the main square right in the heart of the old town.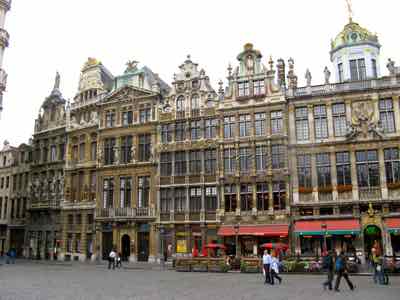 This huge cobble stone square is surrounded by the city tower and 300 year old buildings... most of which were guild halls.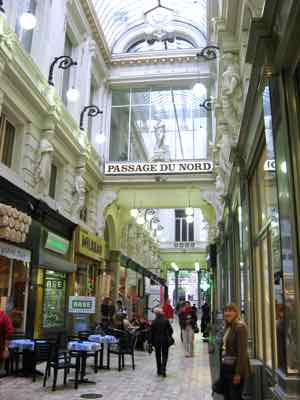 There are really only a few old streets left around the square, but they're fun to wander.
Shop for chocolates.
Have Belgian Waffles with caramelized sugar on the square. (Look for Luikse wafel or gaufre de Liege).
Definitely have a beer.
The Belgians are known for their beers...
There are over a hundred breweries in this little country...
and they're producing hundreds of different brands and many types of beer!


When You Eat

When you stop to eat, you'll have to have mussels (moules).  You can have French fries (fritjes or frites) with them.
Or have fritjes as a snack. If you want to eat those fries as the Belgians do, have them with mayonnaise.
The first time we visited friends in Belgium, they made it a point to serve us Brussels sprouts... but you don't have to eat those if you don't want to!
If you order any of these as a snack, you can take them and sit on steps or benches around the square just as the locals do.

And Then There's The Manneken Pis

Just a short walk from the Grand Place-Grote Markt is the Manneken Pis.
EVERYONE wants to see this fountain with its funny little statue.
And it is little.... smaller that you think it will be... especially since it's reputation precedes it all over the world.
You know what we're talking about...
The funny bronze statue of a little boy... well, Manneken Pis says it all doesn't it? Maybe he had one too many beers?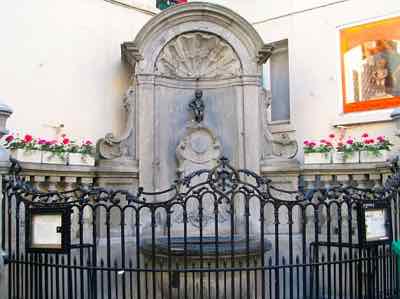 There is a museum full of little outfits that have been created for the little boy... if you're lucky (or unlucky depending on your viewpoint), you might even see him dressed in one, but they are usually kept in the museum.
Signs will direct you to the corner where he stands.
For A Little Culture

For a little culture, visit the Royal Museums of Fine Arts off one end of the main square.
There are two museums linked together here, the Ancient Art Museum and the Museum of Modern Art. If you like early Flemish masters, the Ancient Art Museum is for you.
You probably don't need to spend more than two or three days in Brussels to see it well before you move on to other areas of Belgium or Europe, but really, it's a great city that you shouldn't miss.
Happy travels... even if you don't travel the world... just remember that life is a journey... embrace and enjoy it! Judy and Mark
Curious about what else we've written about?  Search our site for a destination or travel tip.

But... We'd love to have you share this page or comment on it…
Thanks, Judy and Mark

Return to International Travel Tips l Europe Travel Tips
Hotel and B&B Tips l Packing Lists
Go from Brussels Belgium to MouseToursTravels Home Page