Trappist Monastery Beers 
See Where Monks Make Beer In Belgium
We love to travel, and 2020 was supposed to be a big travel year for us. Like the rest of you, that didn't happen. 2021 hasn't been so good either!

We're still dreaming about travel, reading about new destinations, and making (tentative) plans for the future. We hope all of you are well and staying safe... and that you find some inspiration here for YOUR future travels.
Let's hope we can all be traveling again in 2022! 

If you don't know it already, beer and Belgium go together.
Trappist Monastery beers are a unique and terrific little sub-set of Belgian beers.
You could set up a great tour around Belgium to include sampling what the monks so lovingly produce.
For centuries, the monks have been brewing these Trappist Monastery beers.
Six of Belgium's Trappist monasteries are authorized to use the Authentic Trappist Product label.

What Makes Trappist Monastery Beers Special?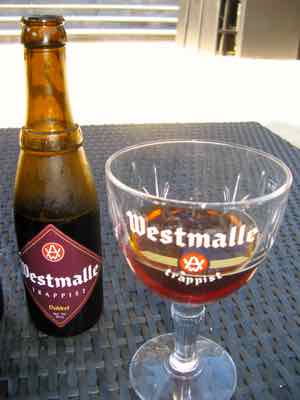 In order for beers to have this designation, the entire production process must be carried out, or supervised, by Trappist monks inside a Trappist monastery.
That doesn't mean that Trappist beers are all alike though.
There is lots of variety.
There are some twenty different beers brewed by those six monasteries.
Some of these monastery breweries are very old... the oldest having brewed beer for about 1,000 years.
They use only the best natural ingredients and the beers are made using traditional, non-mechanized processes.

How Can You See and Taste?
Rent A Car and Explore
These monasteries are scattered in a ring around the country.
Plot them out on a map, rent a car and drive.
You should allow about three days at least to see them all.
The monasteries themselves are not usually open to the public, but the churches are, and you can sample the beers nearby.
We always think it's fun to know where beer and wine are made... see the source even if you can't tour it... just like wine.
Open Door Days
There are occasional "open door days" when you can tour some of them.
You must have a reservation for those tours.
For the rest of the year, you can sample the Trappist Monastery beers in local cafes.
Some monasteries have an abbey shop where you can try them.
Most are also sold all over Belgium... you'll be supporting the monks if you buy some because all the profits go to monastery maintenance and the charitable work done by those religious communities.


Some Of The Monasteries
Here are the monasteries:
Saint Sixtus of Westvleteren -- near Ypres (leper)

Our Lady of Scourmont, Chimay

Our Lady of Saint-Remy, Rochefort

Saint Benedict, Achel

Our Lady of Orval, near the village of Florenville

Our Lady of the Sacred Heart, Westmalle
Sample Westvleteren's rich, malty beer in the welcome center cafe De Vrede across the street from the abbey. Their beer is sold only at the abbey and only with a reservation!
Taste Chimay's classic Blue Beer with a piece of the abbey's beer flavored cheese.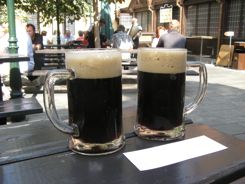 There is a museum in the foundations of the 18th century buildings at Our Lady of Orval. Tour Orval's medieval abby ruins, then taste the beer.
Orval also makes bread and cheese that go well with their beer. The abbey's beer and cheese can be bought in the abbey shop. Some of Orval's beers are even exported.
At the bottom of their webpage, they pray you drink with wisdom... They say, "A beer brewed with knowledge is tasted with wisdom."
Try Rochefort's dark, sweet beers, which are available in different strengths.
There are plenty of beers to try in Belgium...
And there are plenty of cute little cities to visit...
But if you want to take a driving tour with a different twist..
Hop in your rental car and ramble around the country sampling Trappist Monastery Beers.
I have to admit... it's funny.  We drink way more wine at home.  I mean, we even make a little.  But when we travel, it's a toss up.  Sometimes we drink the local wine... 
But if beer is a specialty... then we'll enjoy the local beer.  It's all part of the fun of travel.
Happy travels... even if you don't travel the world... just remember that life is a journey... embrace and enjoy it! Judy and Mark
Curious about what else we've written about?  Search our site for a destination or travel tip.

But... We'd love to have you share this page or comment on it…
Thanks, Judy and Mark