Belgian Beers
Sure To Keep Beer Lovers Happy
COVID slowed us down for a couple of years, and now a few health issues challenge us.  We're still traveling if not writing about it quite so much. Our goal in 2022 was get to all seven continents in one year... and we did it.

Going forward health issues may not allow us to travel.  No one can take away those memories though.  We hope all of you are well and staying safe... and that you find some inspiration here for YOUR future travels. 

If you like beer, then Belgian beers should draw you to visit this little country.
The Visit Belgium website says there are over 450 different varieties of beer.


Beer is more than just a drink here... 
This country cultivates beer connoisseurs. 
It's true... 
Belgians take their beer seriously. 
Many of the beers have specific beer glasses in which that beer...
and only that beer, may be served. 

Treat Belgian Beers Like Fine Wine
Just like some wine glasses, each glass is made to enhance the flavor of the beer it is designed for. 

Certain beers may be paired with food, just like wines are...
And some beers are aged for years in their bottle...
Beers Are Aged In The Bottle
Don't expect to go in and get a draft beer.  Almost all Belgian beers are "conditioned" in the bottle not in kegs...
So it will be different than if you go into a British pub to get a local beer on tap or if you visit one of the growing number of micro-breweries in the U.S.  

Expect your fine beer in a bottle.
Many Are Made In Small Quantities
Many of Belgium's beers are made in small quantities and don't travel well, so you'll just have to go to Belgium to try them. 

But you know, that's true of many local beers.  Even some that are exported are just not the same as what you get in the country of origin.
Many Different Styles... and Some Are Strong 
You'll find all kinds of styles and all kinds of strengths, so be careful when you're drinking. There are.... 

Blanche or White Beers... sometimes called wheat beer. 
Lambic beer... a non-malted wheat beer that is naturally fermented by airborne yeast. (This is made specifically in the Brussels area.) 
Gueuze, Faro and Kreik beers are Lambic beers. They have a secondary fermentation that makes them sweet or fruity. Kriek is a refreshing cherry-flavored beer. Our Belgian friends told us we had to try the cherry beer while we were in Brussels.
Other different types include...
Brown Beers... more like what you would consider an ale.
Red Beers that are produced from red barley and aged in oak.
Golden beers or blond beers that are like Pilsner lagers.
Trappist Monastery Beers
There are Trappist beers which make famous dark ales and great blond beers. Abbey Beers which are similar but are not made in monasteries.

Six of Belgium's Trappist monasteries make beer. There are some twenty different beers brewed by those six monasteries. 
These breweries are not open to the public except on occasional "open door days" and then only with reservations, but you can sample them in local cafes and some abbey shops. 
If you drive around to the Trappist monasteries to try their beer, you can try some cheeses too... Beer and cheese instead of wine and cheese.
Festivals, Museums And Tours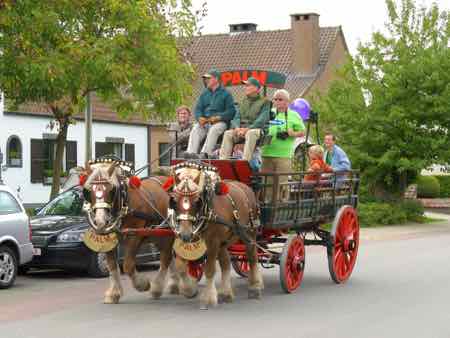 Many of the breweries have tours or museums. Some require reservations, some have admission frees for the tours and tastings and some are free. Check with the Visit Belgium website for more information. 

As you might expect with all these beer, there are beer festivals in many cities and towns the year round.
In addition to trying a variety of beers, you can buy beer glasses, bottles, labels, and coasters (though you can snag coasters for free when you buy your beer). You can also buy old ads, clocks, mirrors, pints, jugs and other collector's items. 
Not up for that kind of a festival? You'll find a number of Belgian beer museums, and there are also many Belgian beer tours. 
Don't worry too much about all the differences; just revel in the fact that when you stop in a little cafe or pub, you'll have lots of great Belgian beers to choose from.
Happy travels... even if you don't travel the world... just remember that life is a journey... embrace and enjoy it! Judy and Mark
Curious about what else we've written about?  Search our site for a destination or travel tip.

But... We'd love to have you share this page or comment on it…
Thanks, Judy and Mark