Stockholm By Boat
A City Best Seen By Land AND Sea
COVID slowed us down for a couple of years, and now a few health issues challenge us.  We're still traveling if not writing about it quite so much. Our goal in 2022 was get to all seven continents in one year... and we did it.

Going forward health issues may not allow us to travel.  No one can take away those memories though.  We hope all of you are well and staying safe... and that you find some inspiration here for YOUR future travels. 

Stockholm by boat? We don't mean you should sail there... though you could.
Cruises that go to the Baltic states and Northern Europe are one way to arrive in Stockholm...
And a pretty exciting way at that, but...

Whether you fly in or cruise in, you need a way to get around this watery city.
We're talking about ferries and hop-on-hop-off boats as an alternative to buses and trolleys.

In fact if you are a passenger arriving on a cruise ship, your shore excursion will probably show you Stockholm by boat!

Stockholm Is A City On Islands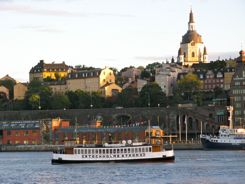 Stockholm is a city built on islands.... 14 of them.
They are woven together with many bridges. Trams and subways connect much of the city, but boats and ferries are a great way to get around this city by the sea.
If time is short, you really only need to spend time on the central three or four islands.

Norrmalm - Downtown and The Train Station

You will most likely be staying on Norrmalm which is the downtown area and where the combined train and bus station is.
The train from the airport ends here.

There are many hotels in this area, and it is within easy walking distance to the Old Town.... over a bridge of course.



Gamla Stan - The Old Town

Gamla Stan, the Old Town, is its own island of winding streets with shops, restaurants and the Royal Palace.

Stockholm By Boat To The Vasa Museum

A third island you'll want to visit is Djurgarden.
This is where the Vasa Museum is, and Skansen, Europe's original open-air folk museum.
This is where Stockholm by boat really works to your advantage.
It would be a really long walk to get here, but it's easy and enjoyable to get to by boat.

Ferries and Hop-On-Hop-Off Boats

There are several companies that run boat tours around Stockholm.
There are also several operators of hop-on-hop-off boat tours.
Tickets on the hop-on-hop-off boats are good for a 24 hour period. There is a recorded sightseeing tour in Swedish and English.
If you buy a ticket late in the day, you can stay on board for approximately an hour and make the whole circle, then use it to hop-on and off the next day to get from the Gamla Stan to the Vasa Museum and back.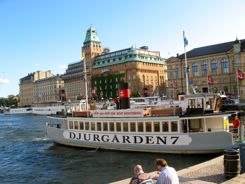 You'll also see vintage Djurgarden pedestrian ferries zig-zagging through the harbor.
You can buy single passage tickets between the main Djurgarden pier, the Vasa Museum, and Nybroplan.
The dock for these is near downtown Stockholm.
If you want to use the ferries, consider an SL Travel Pass for the public transportation system.
A Stockholm Pass for museums and transport is another possiblity.
As with all passes, make sure that it will be cost effective for you before you buy one.
See The Vasa

Since boats and the sea are so much a part of Stockholm, you need to get to the Vasa Museum whether you get there by taxi, bus or boat.
The 17th century Vasa sank on her maiden voyage, but she is beautifully preserved, and the exhibits as well as free guided tours in several languages will give you some insight into Sweden and the sea.
Stockholm embraces the sea, and so should you.
Seeing Stockholm by boat not only gets you around easily, it lets you enjoy the beauty of the city from the water.
A true sailor's delight... whether you're a sailor or not!
Happy travels... even if you don't travel the world... just remember that life is a journey... embrace and enjoy it! Judy and Mark
Curious about what else we've written about?  Search our site for a destination or travel tip.

But... We'd love to have you share this page or comment on it…
Thanks, Judy and Mark

International Travel Tips l Europe Travel Tips
Hotel and B&B Tips l Packing Lists
Go from Stockholm By Boat to MouseToursTravels Home Page